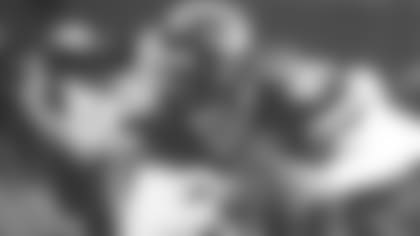 Nicknamed "RoboCop" because of his physique and resemblance to the 1987 sci-fi action movie character, James Thornton was a "RoboTightEnd" during the first four years of his NFL career.
After being drafted by Chicago in 1988 out of Cal State-Fullerton, Thornton was a machine, playing in 64 consecutive games, dating back to Week 1 of his rookie season. The streak, however, came to a close in 1992 when he was sidelined for the entire season.
"I needed to have surgery and the foot doctor in Chicago really didn't help me out," Thornton said. "Finally, the team went to Houston to play, and I went with them to visit a doctor down there. It took him not even three minutes. He just walked in the room, 'How y'all doing?' sat down, felt my foot, and said 'Yeah, you need surgery.'
"And so he took care of my plantar fascia. It had ruptured several times, had some scar tissue, and it floated into a sack on the side of your foot. Every time I pushed off on it, that scar tissue was pinching the nerve which caused shooters to go up my leg. He removed that and I was fine.
"I'd done everything I could do to get back in to play. I mean, I was in the training room from six in the morning until six at night, just trying to do things and get that foot better. But definitely coming out of that, you miss the game when you have to just watch and can't help the team. That was tough."
Tough for Thornton and the Bears, but ultimately good for the Jets. An unrestricted free agent in 1993, he visited with eight teams before choosing to sign with New York.
"That was a very interesting time because it was the first year of free agency," Thornton said. "The visits were a lot of fun, but at the end of the day, it really came down to the whole thing with ownership at the Jets. Mr. (Leon) Hess was getting older, and his son really was pushing for the Jets to get back to the Super Bowl for his father. They were very aggressive.
"And coming in and visiting with Coach (Bruce) Coslet and Larry Beightol, Pete Carroll and the coaching staff was really one of the things that sold me. The complex at Hofstra was the best complex I saw at the time. And the interactions with the players that were also thinking about coming in with Boomer Esiason, that kind of sold me. Boomer and I hit it off really well from the get-go. And then with Ronnie Lott and all the guys that they just kept bringing in, Leonard Marshall, Steve DeOssie, all that just showed me that they were committed to really making something happen."
Thornton didn't waste much time helping make things happen in his first season with New York. A strong blocker, he caught his first touchdown pass as a Jet, a 13-yarder from Esiason, in a Week 4 victory over New England. He scored a second touchdown, a 7-yarder from Esiason, the following game against Philadelphia.
"It was really gratifying to be able to actually go back into a system, and especially with Coach Coslet, who was an offensive-minded coach," Thornton said. "It was really great to be in a room with him and just let his mind go wild. He'd give me three or four different plays every week that he wanted me to do. Specifically, movements and different things that he knew I could digest and perform.
"With (Mike) Ditka (as my head coach with Chicago) coming in, I was very excited as a rookie to be a part of that. To be drafted by him, a former tight end, I was really excited to be in that offense. But I really didn't get to do the things in the Bears offense that I got to do with Coach Coslet and the Jets offense."
The Jets offense would be different the following season when Coslet was replaced by his defensive coordinator Pete Carroll, who would last just one year as the head coach.
"It's exactly what I said earlier, with the Hess family really pushing to get back to the Super Bowl. It was kind of a little baffling because you just put this team together with first-year free agency. And then they brought in some good free agents in the second year. You've got to give a team time to gel and time to show themselves. I don't think he gave Coach Coslet enough time in regards to free agency," Thornton said.
"And now, we've got Pete Carroll. To me, Pete was the exact equal to Coach Coslet with the offense, on defense. Pete was absolutely awesome as the head coach. I really enjoyed him. But again, look at what happened. He didn't really get a chance either. It was sad to see that they kind of so quickly turned the page with these guys. I respected and really had a great time playing for both of them. And Pete's shown what he's all about if you give him a little bit of time.
"I know the NFL's 'Not For Long,' but sometimes you've got to stick by some guys a little bit. Especially when you've got some quality people. We can speculate, but at the end of the day, we don't know the internal relationships, some of the position coaches' feelings on some of their players. And different things like that. But I would have liked to see both of them get longer shots."
With the Jets for two of his eight seasons in the league, wrapping up his career with Houston in 1996, what are among Thornton's fondest memories from his time with New York?
"Well, actually, Pete comes to mind," he said. "He only had a couple rules. He didn't want you sitting on your helmet. And I forget the other one. It was you can't chew sunflower seeds or something like that. But I remember we're in camp, and Hofstra had a nice meeting room for the team, and we're all sitting in there and everybody's talking.
"Pete comes out and everybody's still talking, and he's kind of pacing back and forth. So after a minute or so of this, everybody's paying attention to Pete. The room gets real quiet and he starts talking about how he gives us opportunities, and people have got to learn, and this and that. He goes through this whole speech and finally he goes 'Sometimes you've just got to say what the (heck)! Let's go bowling.'
"And unbeknownst to us, he had buses outside ready to go. He took us all to a bowling alley and put us on teams he made up of guys that don't normally hang out together, and we all bowled. It was just really a great team-bonding thing. That was Pete."
Following his playing days, Thornton made his home in Chicago and was contemplating what he'd do for his second career when he met with a gentleman from the investment and financial services company, Morgan Stanley.
"I told him, 'I basically want to do something that I feel like I'm helping people.' The logical thing was to go into coaching football," Thornton said. "But at the time, I already had a young son, I had a wife. I really didn't want to be subject to be moving around as I'd seen these coaches do. Every year, every other year, every five years, they're gone.
"I'd love coaching, but he made a good point. He goes, 'Well, if you're with me and my group here, you can help people and do what you want to do, but you won't be having to move every year, every other year.' And it made a lot of sense. So I went into business with them and passed all the exams and different licensing things that I needed to do."
Becoming a financial advisor in 1999, Thornton teamed up with Jeffrey Lesniewicz and Brian Ahern, and they moved to Merrill Lynch in 2013. They were there for seven years before opting out and joining Raymond James, forming the LAT Group.
"(What I enjoy most about what I'm doing is) pretty much the same as it's always been, to be able to be a benefit. Especially in times like this when things are a little uncertain," Thornton said. "And financially, no matter if you are worth $100 million or $100,000, and that's what you have to invest, it's the same thing. The guidance is important and just being relaxed and comfortable with what's going on.
"We have all these licenses in this industry, but one thing they really don't help you out with is the psychology of the whole thing. And a lot of times when the markets choppy and different things are happening in the economy, people tend to jump off what I call the first-floor balcony. You've got to calm them down and make sure they know directionally; this is what's going on. And informationally, this is what's going on.
"A lot of times when things go south, unfortunately in this industry, you have people that just cower and they freeze instead of calling their clients and talking to them and making sure everything's good."
Thornton's position as a senior partner allows him the flexibility to do other things such as being the NFL's uniform inspector at Bear home games. And for six years he was also the head coach at Libertyville High School. He and his staff will soon be enshrined in the school's Hall of Fame for having earned their way to two state championship games in those six years.
"I always felt like I had to give it back. Pay it back, because I had so many people when I was younger who helped me out. And hopefully some of the kids that I coached at the high school level are paying for it now that they're older, as well," Thornton said.
"I still do anywhere between 10 and 15 football camps for youth every year just to get the interaction and talk with them. You know, football is great, but you've got to play other sports. You've got to do a lot of stuff. So the mentoring there, I really enjoy, too."
Making their home in suburban Chicago, Thornton and his wife, Donna, have a son, Dylan, and two daughters, Payton and Tegan.