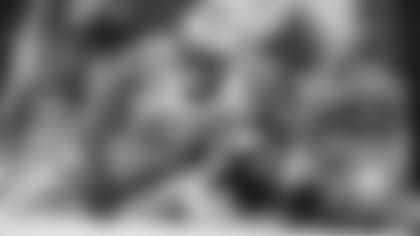 Jamaal Westerman wasn't likely on Rex Ryan's speed dial, but the first-year Jets head coach may have known the Rutgers defensive end's phone number by heart by the end of the 2009 NFL Draft.
"I was in constant contact with Rex, and then right before they drafted Matt Slauson in the sixth round, he said, 'We're not going to be able to draft you, but we want to sign you as a free agent,'" Westerman said.
"Looking at what they needed on the defense, I knew they were short on outside linebackers. I knew that it was a good spot from my pre-draft visit. So I looked around the league and they weren't the most money that was offered, but they certainly were the best opportunity for me to go do what I thought I needed to do.
"Plus, it was a New York team. It was 40 minutes away from where I went to college. And my dad's favorite team was the Jets. It kind of all came together right there."
Even though the Jets only had three picks during the draft and used them on offensive players – USC quarterback Mark Sanchez, Iowa running back Shonn Greene and Slauson, a guard from Nebraska – Westerman, a two-time second-team All-Big East selection with 26 career sacks, knew he had his work cut out for him.
"The first thing was just trying to make the team," Westerman said. "They worked me out at the OTAs at outside linebacker. And when I came back for the offseason, the OTAs schedule, they wanted me to learn middle linebacker. And when they put me at Mike [middle] linebacker, backing up Dave Harris, it was like a new world for me."
The first stop in Westerman's new world as an NFL player was in Houston's Reliant Stadium for New York's 2009 season-opening 24-7 victory over the Texans.
"It was funny because I was actually the first rookie to play because I was on special teams. And I think I might have had a penalty on the first play (of the second half), actually, on the kickoff return. I remember (special teams coach Mike) Westhoff was on my ass about something," Westerman laughed.
"But later in that game, I had a sack. Which was amazing to get your first sack in your first NFL game. It was a tremendous game for me because when you think about it, undrafted, I never really understood what it was to make the team as an undrafted player. I didn't understand how difficult it was because I was coming off having a torn bicep (during my senior season at Rutgers). And just having the ability to go play football, I was happy to do that.
"That first game was amazing. I mean, getting a sack, two tackles. I almost started calling home, getting ready for the Pro Bowl, because I figured if I get a sack in the first game, and I get one in every game after that, I've got to be a Pro Bowler."
With the Jets for three seasons, the Brooklyn native played in 36 games and is credited with 49 tackles, four and a half sacks and four fumble recoveries. What are his fondest memories from the Green & White days?
"It was the camaraderie," Westerman said. "We had a good linebacker room with Bart Scott, Dave Harris, Calvin Pace, Bryan Thomas. We had some good coaches: Bob Sutton, Mike Pettine, and all the other coaches. But I think those championship games, going through those, especially the (divisional) one that up in New England (in 2010), playing against that team and what they were at that time, I mean, that was an amazing game (which the Jets won, 28-21)."
After going on to play for Indianapolis, Arizona, Buffalo and Pittsburgh during the 2012 and '13 seasons, and then with Winnipeg in the CFL for four seasons, Westerman chose to follow a second gridiron passion.
"I had great coaches that were able to equip and inspire me. And when I got out of playing football in 2019, I wanted to go into coaching," Westerman said. "So I was at Rutgers working as an assistant defensive line coach. I loved that for that year and the next year, but I wanted to get more into the strength and conditioning part. There aren't many young Black head strength coaches in the collegiate and the NFL level. So I'm trying to work to that level.
"Throughout my NFL career, I know the movements that it takes to play on the field, but I was also a player that got injured. So I went through the process of having to learn how do you come back from certain injuries? What do you have to do to recover, to keep your body healthy and get it back healthy? I found those things very interesting.
"And I feel like the weight room, there's always going to be failure. But failure is kind of fun. You can fail at a rep and then you can get it next week. It's sort of like there is no failure, right? There's only forward progress. It's not just get in there and lift weights. It's also tracking the development. How are their numbers improving?
"And you have the football aspect where you take all of it together with the other parts and the other coaches that come into it, and you have to put that out there on the field. Then there's still the No. 1 thing they're measured by, the wins and the losses.  
"I think Greg Schiano was a tremendous coach for me. And to be able to work underneath him and learn from him, I think that's not only going to help me in strength and conditioning, but wherever my next endeavor is at."
Making his home near the Rutgers campus, Westerman has a daughter, Arielle, 9, and a son, Jrue, 5. And he also has a French bulldog named Gizmo. "I bought him my rookie year with the Jets. I think it was Bob Sutton who told me to buy a dog to stay out of trouble."