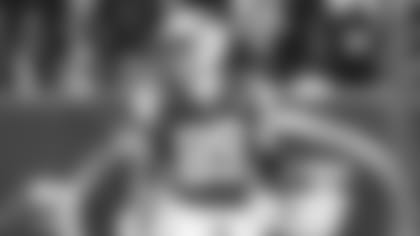 As an undrafted free agent in 2016, the Jets were getting Jalin Marshall, a wide receiver from Ohio State, who in two seasons with the Buckeyes, caught 74 passes for nearly 1,000 yards and 11 touchdowns.
While Marshall was getting an opportunity to play in the NFL for a team who made a strong first impression. An impression he appreciated.
"During the draft, they called and kept interest in me more than other teams," Marshall said. "Being undrafted, it's definitely discouraging, but they were that one team that kind of kept hope for me. There were two more with the Tennessee Titans and the San Diego Chargers. I just didn't feel like that was the right fit for me.
"And Devin Smith from Ohio State was there, as well. So I was able to be on the roster with another teammate of mine."
After joining the Jets, Marshall was thankful to find teammates, old and new, willing to step forward and show him what it takes to be in the NFL.
"Devin took me under his wing and kind of told me what they expected from a professional. And there were other guys there like Brandon Marshall and Eric Decker, who were league-wise vets who kind of showed me the ropes as well, and took me under their wings and helped me adapt to the new level of the game," Marshall said.
"Being undrafted, you've got to work a little bit harder and make a little bit more plays. And so (head coach) Todd Bowles basically said, 'It's going to be hard to make this team, but we see that you can be kind of a Swiss Army knife for us. And if you're able to consistently make those plays in practice then we'll keep you around.'"
Familiar with the end zone as a college player, Marshall's first trip there as a pro occurred in Week 9, when the Jets traveled to Miami, and he caught an 18-yard touchdown pass from Ryan Fitzpatrick in the 27-23 loss.
"I remember they called the play, and this specific look that the Dolphins were giving me, I was like, 'Man, this is going to be my first touchdown,'" Marshall said. "And once I ran the route and caught the pass, the first thing I remember is Brandon coming to me and looking me dead in my eyes and saying, 'And that's how you be great.' That was a great memory for me for my first touchdown."
Finishing his rookie season with 14 receptions for 162 yards and two touchdowns, Marshall contributed on special teams with 18 punt returns for a 5.6-yard average, and 13 kick returns for a 24.9-yard average. He'd spend much of the following year, his last with the Jets, on the practice squad.
"Me and Robby Anderson [now known as Robbie Chosen] developed a really close relationship out there," Marshall said. "And when I was able to play alongside him in that Miami game, I think we both had a pretty decent game that day. It was a great memory for me because we both came through undrafted, went through the fire together, and was able to reap the benefits of just sticking to it and working hard."
After playing with Orlando in the Alliance of American Football, and with Hamilton and Edmonton in the Canadian Football League, Marshall retired from the game, and looked at his past to help decide what's next.
And while finishing his degree in criminal justice at Ohio State, he has returned to his alma mater, Middletown (OH) High School, to work as a paraprofessional and assistant football coach.
"I have a lot of family here and I was living here in the offseason," Marshall said. "Middletown is my pride and joy and so I felt like a lot of schools in the area, they have the resources and they have people like me there to help those kids out. I felt like I was just needed most at home.
"I'm a one-on-one paraprofessional with a student with high special needs. He's in the 12th grade. You have to kind of be there with him all day. He doesn't talk. He doesn't really learn as much, but I'm just there for everyday basic needs. Help feed him. Help change him. Just make sure that he's stable in a classroom setting.
"And being able to be in a building with my team and them seeing me in a different type of light with a kid that needs more care than them, they're able to see that there's more to life than just football. You can be accessible to anything if you just put your mind to it, and the reward is greater in the end. But not that you do things for the reward."
A 2013 graduate of Middletown H.S., as a senior quarterback, Marshall rushed for more than 1,400 yards with 14 touchdowns and was an Under Armour All-American. He's now coaching wide receivers for the Middies.
"Once I was done playing, I felt like I could impact the kids by being their coach and allowing them to learn from what I went through, good and bad," Marshall said. "Just putting them in a successful situation to be whatever they want to be in life. That's my main goal, just pass my knowledge on to the youth and show them the way.
"It just brings a joy to my heart seeing a kid smiling and having fun and being able to believe in something greater than themselves. I had people that supported me that didn't have to be a coach. But being a high school coach, you're kind of like a second parent.
"I didn't really know that coming into it. And that's a joy to me, as well. Because you never can have enough support system. It's impacted my life greatly and hopefully it's done the same for the kids."
Making his home in Middletown and the father of Aliyiah, who will turn 8 in November, what else is the best thing about being Jalin Marshall today?
"Just knowing how much I've done and how much people appreciate the work that I've put in throughout the years," he said. "Being home, people walk up to you and say, 'Man, we appreciate you for representing the city in a positive way because there's not a lot of positive stuff that goes on around here.' I'm just glad that Jalin Marshall can be a positive light to the world and keep putting that out there."