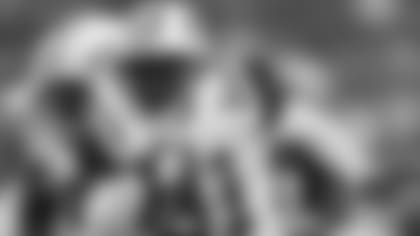 New York's first-year head coach Eric Mangini acquired some familiarity five games into the 2006 season when the Jets claimed defensive back and special teamer Hank Poteat off waivers one day after he had been released by the New England Patriots. The team Mangini had spent the previous six seasons with as an assistant coach on Bill Belichick's staff, the last one as the defensive coordinator.
Poteat, meanwhile, had spent those same six seasons with three teams: Pittsburgh, Tampa Bay and New England. And it was while with the Patriots, when he earned a Super Bowl XXXIX ring and made an impression.
"One of the things that I remember is even though we were off Tuesdays, you're really not off because there's still some type of preparation that you need to be ready for that Wednesday meeting. And during that early team meeting, I'll never forget, Bill Belichick, he asked me these questions about personnel. I can't remember the team that we would play, but he wanted detailed information," Poteat said.
"And I came into that meeting prepared. I was able to break down everything about that gunner that was on the punt team that they were looking for. And I feel like at that moment, I opened their eyes. I was maybe a guy who may be serious. Or a guy that knows how to prepare. Or a guy that they trust. I don't know what it was, but I feel like I got their attention and like I became a Mangini guy.
"I feel like Mangini knew exactly what he was getting out of me. And I knew kind of exactly what he wanted out of myself, as well. That was a guy that was going to be able to live by the standards with his core characteristics – be prepared week in and week out. And also, be a guy that can help the younger guys. Help them understand what he's looking for from a coach's perspective."
Released by one team and signing with another are more than blurbs on the league's waiver wire. Yes, some players pack up and move on, but there are times when they're not making the trip alone.
"The toughest part for me was doing that and not being sure about my future," Poteat said. "But also, there was more than just myself that was involved. At that point, I was married and I had three children. And it affected them with all the cuts.
"Having my daughter in school, and then getting cut, going back home to Delaware, getting her back into school, and then getting picked back up, at that point of my career I had already been cut a couple of times. So by the time I got to the Jets, I was able to deal with it, but it wasn't easy based off of family. And just all the hard work that I had put in to get myself prepared for a team."
Being prepared is what would lead Poteat to spend three seasons with the Jets. And being challenged as a player is one of the reasons why he respected Mangini.
"I was a role player and I was going to be ready to play wherever coach needed me. Mangini was the first coach that trusted me, to put me in different situations, to play multiple positions," Poteat said. "I enjoyed my time playing for Mangini because it was a challenge every week. I didn't know if I was going to be a corner. I didn't know if I was going to be inside at nickel or dime. And I didn't know if I was going to play safety. But because he challenged me as a player, it allowed me to grow and understand the game from a bigger picture."
Concluding his 10-year playing career with Cleveland, the next part of the game Poteat became involved with was coaching.
"When I was with the Jets, I did not know I was going to be a coach. At the time I didn't know that I was being prepared for that. But Mangini used to have us do different reports and present it to the defense. Whether it was the quarterback at the line of scrimmage, how far does he throw the ball from the opposing team. Different situations that may come up," Poteat said.
"I always saw myself as a teacher and a mentor and felt like I was doing that towards the end of my career. And then once football was over, I started to look for different things that interested me, and one of my old teammates from Cleveland Browns, Mike Furrey, gave me my first opportunity to coach at an NAIA school in Kentucky [Kentucky Christian].
"At the NAIA level, you see pretty much everything within a football program. We cut grass. We lined the field. We were the equipment guys. We were academic support. Anything you could think of in a football program, that's what we did. But I loved it. And I think that's when it really clicked that this is where I need to be."
Following his time at Kentucky Christian, Poteat was a graduate assistant at his alma mater, the University of Pittsburgh, for two years. He then coached cornerbacks on the college level at Kent State, Toledo and Wisconsin. Last month, he joined Matt Campbell's staff at Iowa State.
Coaching in college and in the NFL, more often than not, requires living a vagabond lifestyle.
"I lived it as a player. This is all I know. This is all my family knows. I was a journeyman as a player," Poteat said. "I don't even know what it feels like to be in one spot for a long period of time. The longest place that I've been was at Toledo, and that was four years.
"Now, I'm not saying that that's something that I want to happen, but it's not something that I'm not used to. Even in the NFL, I think the longest place I'd been is with the Steelers. So I haven't been anywhere for more than four years."
What does Poteat enjoy most about coaching?
"Really, the biggest thing are the players. The relationships that you build, the mentoring," he said. "I look at each and every player that I ever coached, when I had the opportunity to go to a school, that relationship that I build is not three to four years, it's a lifetime commitment.
"And getting to see the young man come in from a young age and just having the opportunity to see their development and growth as a player and a person, it feels great. I'm blessed with the opportunity to be part of a lot of young men's journeys. And that's what I enjoy about coaching."
Poteat and his wife, Jasmine, are the proud parents of three children.
"My oldest daughter, Ariana, is about to graduate from Towson University. She went to Towson to run track. When she left high school, she had the record as a 300 hurdler at her high school," Poteat said. "I have another daughter, Sierra, who is graduating from high school this spring. She has some adversity with her knee, but she's a really good athlete, as well. She'll be running track this spring, and she pretty much got into every school that she applied for.
"Then I have a son, Tre. He's a sophomore student at Verona (Wisconsin) High School. He plays football [and is a four-star cornerback] and basketball. The kid has done everything that I can only imagine at his age. I started working with him from when he was in Pampers because he always wanted to, because he was around it.
"I've been blessed and fortunate to coach for coaches that was all about family and allowed family to be around. Paul Haynes, when I was at Kent State, he used to let my son come to work out and to team meals the night before the games. All those little things, he was a part of all that, and it's fun to see his growth and development as a player."