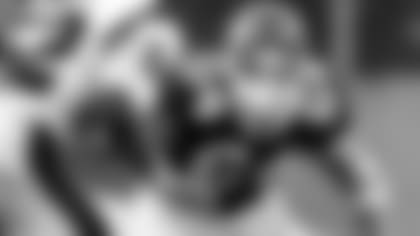 Guy Bingham didn't beat the odds, he pummeled them. And the Jets didn't do too bad either.
Chosen in the 10th round of the 1980 NFL Draft from the University of Montana, Bingham, who was named to the Big Sky Conference All-League team twice, as a tackle and as a center, would make his mark with the Green & White as a long snapper.
Over the next nine seasons, every time Pat Leahy attempted a field goal, or Chuck Ramsey, Dave Jennings or Joe Prokop punted, the play began with Bingham.
"I think that they had been unhappy with their previous long snapper for whatever reason I don't know. So, yeah, that's why they drafted me, because I could snap it," Bingham said.
In the NFL now, long snappers are not covered by opponents on the line of scrimmage. When Bingham played, they were. There is a difference.
"Well, you had your head down between your legs, looking backwards, and usually right when you snapped the ball, they'd hit you in the back of the head and try to knock you on your butt," Bingham said. "Yeah, they're a little more protected now than they used to be. I jokingly say that if the rules were the same when I played, I'd still be snapping.
"I would say that it hasn't changed all that much for the offensive linemen. There's still a lot of contact with their heads. But out in the open field, the receivers and running backs, the targeting rules protect people from all the head-to-head collisions that we used to have."
With New York for nine years from 1980-88, what are among Bingham's fondest memories from his time as a Jet?
"It was great fun," Bingham said. "New York's an exciting place to be when you're winning. Not so much fun when you're losing. But it's all the little stuff in the locker room because you get mixed up with people from all over the country, different regions and schools. It's hard to pin down. There were so many great guys, funny guys. That's what I remember, laughing a lot."
Prior to the 1989 campaign, the Jets traded Bingham to Atlanta, where he'd spend the next three seasons. He'd conclude his 14-year NFL career with the Washington Redskins. What was the key to his longevity?
"Well, honestly, the snappers did not play that much," Bingham laughed. "I was fairly consistent, and I worked pretty hard at it in the offseason. I was highly motivated to make the team and help us win."
Bingham actually initiated his post-playing career while he was still playing, when he co-founded a snack vending and office service company called Valley Vending. It later became Montana Coffee Express.
"My agent and I were partners and he passed away six years ago from cancer. I sold (the business) about a year ago. It wasn't quite the same after he passed," Bingham said. "And now I'm kind of in between.
"My son, Colin, just finished his last year of college football at the University of Montana, so I haven't really been looking for a job because I was gone a lot traveling to his games. He played tight end for four years and will graduate in the spring. The last couple years I think I made it to all of them. It was a lot of travel, but it was fun. They had pretty good teams."
Making his home in Missoula, Montana, with his wife, Sharon, Bingham has two children. Colin and Lauren, a student at Gonzaga University. He also has a stepson, Kyle. Kyle and his wife have three children.