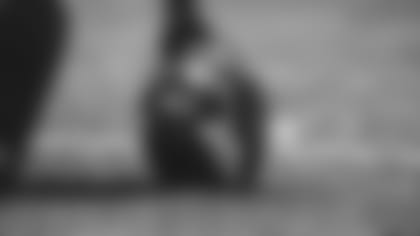 An All-American center in 1980, George Lilja started every game during his junior and senior years at the University of Michigan, and was drafted by the Los Angeles Rams in 1981. And then despite suffering an ankle injury and spending his rookie year on injured reserve, and playing mostly on special teams in 1982, he made an impression on his offensive line coach and a Pro Football Hall of Fame center himself, Jim Ringo.
That would lead to Lilja joining the Jets four games into the 1983 season.
"Jim Ringo was the offensive line coach with the Jets at the time, and he had just coached me with the Rams. So he was familiar with me. That's why he picked me up when he saw I was on waivers. He told me I was going to be a backup offensive lineman in a guard and center role," Lilja said.
"A funny story, as I was sitting out the four weeks before the Jets picked me up, the Rams played the Jets in New York, and Mark Gastineau would always do a sack dance after he sacked the quarterback. This was the game when Jackie Slater, the Hall of Fame left tackle, was going up against Mark. Well, Mark got past him and sacked the Rams quarterback and went into his dance, and Jackie pushed him to the ground which started a big brawl on the field. Both teams came off the bench. It turned into a big fight.
"The Wednesday after that game, I got picked up by the Jets. I showed up in the locker room and they asked me what team I came from. I told them the Rams, and they all thought I was in the fight against them. So they went and looked at the film and saw I wasn't even on the team at the time. That was my first introduction to the Jets' players, them being suspicious of me being in the fight on the field."
After concluding that he was no closer to the brawl than watching it on TV in his home, Lilja was accepted with open arms and became fast friends with his new teammates.
"I remember Joe Klecko was driving like five cars for dealerships as advertisements," Lilja said. "It was really nice because I didn't have a car, and he came up in the locker room and said, 'Why don't you drive my car for the season?' And Marty Lyons gave me some furniture.
"And then Greg Buttle owned a restaurant and he gave free meals to players. So my wife and I would go over to his restaurant, and one time we walked in and the place was completely empty. There was food on the table, but no customers. We stood there by ourselves and finally a manager came walking in and I said, 'Where did everybody go?' And he says, 'Well, there was a bomb threat in the building. Everybody cleared out.'"
While Lilja's time with the Jets was short-lived, parts of only two seasons, he was able to experience everything that their fans are all about.  
"Jet fans are diehard fans. They love their team," Lilja said. "If you win for them, they'll never forget you. But if you start to lose, they'll never forget you either. They were a rough crowd to play in front of, but they're a loyal crowd as long as you play hard and win."
Released by the Jets after the 11th game of the 1984 season, Lilja was signed by Cleveland, making the Browns his third team in the NFL. And after three seasons with them, he concluded his eight years in the league with Dallas in 1987.
What makes him most proud of his career?
"That I lasted eight years. The average in the NFL is like two and a half, and it's getting less and less now with free agency and (player) movement," said Lilja, who played in 54 games with 17 starts. "I did get a chance to play and start for the Browns and we made it to the (1986) AFC Championship Game against John Elway and the Denver Broncos. I was pretty proud of that. And I blocked for two Browns running backs, Kevin Mack and Earnest Byner, who both ran for 1,000 yards (in 1985). There's only like five or so tandem running backs that have done that in the NFL. But that all started after I got a good taste of football in New York.
"When I showed up, Joe Walton was the head coach, and he put the players through the hardest training camp I've ever been though. It was very grueling. Some of the players made T-shirts for the rest of the team that said, 'We Survived Camp Walton.' They were long, hard practices, but they had us ready to play."  
Now making his home in Warren, PA, with his wife, Meg, on April 1, Lilja retired from Warren General Hospital after 12 years as its director of marketing and business development.
"I turned 65 and collected my NFL pension and was eligible for Medicare, so I circled that date on my calendar and I've loved retirement," Lilja said. "I'm able to do a lot of things that I've wanted to do.
"Our daughter, Bethany, works for United Airlines. She's an executive for United Cargo, and so with that, she gets to fly around the world for free. And also, her parents get to fly around the world for free. So my wife and I are traveling, visiting old NFL friends around the country. Going to Europe and other countries. Visiting our kids.
"And I'm trying to stay in the best shape I can. Enjoying my family and my friends. I did volunteer coach high school football for eight years. I stopped after my sons got out of high school, but I'd like to get back into doing that.
"I liked coaching high school kids. They really respect you as an ex-NFL player. They look up to you right away and you can share a lot of the technique and the tricks of the trade. The things that you've done to make you successful. And they're funny. Fun to be around."
Besides Bethany who lives in Chicago, Lilja has a daughter, Danielle, who lives in Atlanta, is married and has a 1-year-old daughter, Eloise. And two sons, David and George III, who's known as Duke. They both work for an architecture firm in Charleston, SC.