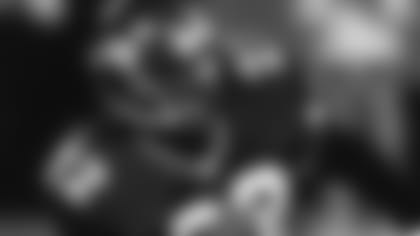 Erik McMillan arrived in New York as a rookie with experience.
Selected in the third round of the 1988 NFL Draft out of Missouri, McMillan – the son of Ernie McMillan, a 15-year NFL veteran and four-time Pro Bowl offensive tackle with the then-St. Louis Cardinals and Green Bay Packers, and who would later become an assistant coach in the league – had been around the game his whole life.
Little, if anything, about professional football was going to surprise him.
"I had some great role models to kind of emulate what every position looked like because I used to hang out with my dad," McMillan said. "So, I used to watch a lot of pro football players and just kind of emulated whatever they did at their position. That's what I thought it ought to look like.
"My cousin (Howard Richards) was the first-round draft pick of the Dallas Cowboys in 1981, and I've got uncles that played pro basketball. So, it's kind of like they're looking at me like, 'Well, if you don't make it, what's wrong with you?'"
The short answer to that question – nothing. That's because McMillan had another non-family related advantage.
"(Jets defensive coordinator) Bud Carson, one of the greatest defensive coordinators to ever step on an NFL field, was with the Pittsburgh Steelers during the Steel Curtain days," McMillan said. "And my college coach, Woody Widenhofer, was with the Steelers during the Steel Curtain days, as well. I went from Missouri to the Jets and was playing the exact same defense. They just had different names for everything."
In his first year, McMillan led the NFL with eight interceptions, two which he returned for touchdowns. He was named as the league's Defensive Rookie of the Year and selected to play in the Pro Bowl.
McMillan collected six interceptions the following season – returning one against Indianapolis 92 yards for a touchdown – and found the end zone two more times on fumble returns. He was again chosen to play in the Pro Bowl.
During his five seasons with the Jets, 1988-92, McMillan totaled 22 interceptions and returned five for touchdowns. He'd spend the 1993 campaign with Cleveland, Kansas City and Philadelphia.
"There are a lot of (fond memories from my time with the Jets). I don't really rate any of them more so than the other ones because I really valued my teammates and my attachment to them. We played for each other. I valued all the locker room time," McMillan said.
"Scoring touchdowns was great, playing in front of 70,000 every time you stepped on the field, that's a great feeling. Having fan support in the community, that's all great. Those are all things that I really cherish. It's not so much that one game stood out more than the other to me. I had a job to do, but it was something I loved to do so it really wasn't work. I just value the whole experience.
"I'm glad that I was able to make it to that level. And when I got to that level, I was able to do something with it. I set the mark for today's players to strive for and see if they can break my record because I was always looking at people that played before me to see if I could reach their pinnacle and surpass it."
Now making his home in Atlanta, McMillan and his wife, Jamilah, have five children: Chievanne, Elijah, Jasmyn and Charles. A financial advisor with WFG, the World Financial Group, McMillan works for the Gwinnett County School System as a fill-in administrator, as well.
McMillan is also the defensive backs/corners coach at Eastside High School in the Atlanta suburb of Covington.
"Out of everything that I do, I love coaching," McMillan said. "I can't play anymore so I kind of live through these guys. I give them all the information that they need to do their job. I try to teach them to practice the principles of athletics in your everyday life because if you can be a successful athlete, there's no reason you shouldn't be a successful guy in your community.
"And we win. We went undefeated (in the regular season) this year, 10-0. We made it to the playoffs, like we do every year, and we finished up 12-1. We got knocked out in the quarter-finals. If we had won the game that we lost we'd have been two games away from the state championship. So, we fell short of our ultimate goal, but we had a historic season for the school and a historic season for the county.
"To see these guys matriculate to the next level, we've got some guys in the pros right now, it's a wonderful thing. I look at them and say, 'Hey, I had something to do with this. I made some kind of contribution one way or another.' And then those guys come back and they tell you how great the experience was and how well prepared they were when they got to the next level. That's like payback in itself."