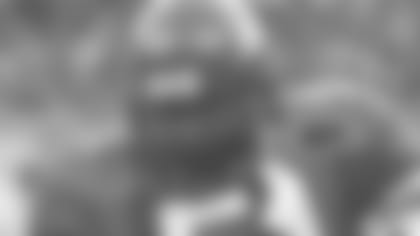 Shining in the 1994 Sun Bowl changed Eddie Mason's plans and in turn, his future.
The University of North Carolina senior planned to join the military and test to be a Navy SEAL after he graduated, but in the linebacker's final game, he had eight tackles, an interception and two pass defenses in the loss to Texas.
And while Mason didn't win the game, his performance led NFL scouts to take notice. The Jets more so than the others, and they chose him in the sixth round of the 1995 Draft.
"Growing up, it's the best thing that ever happened in my life," Mason said. "Especially coming from a situation where I felt like it was an uphill battle for me in regards to the whole process. But when I had that great bowl game, I kind of started wondering, 'Here's an opportunity. I might be able to play at that level.'
"San Fran actually called me right before the Jets and said, 'Hey, we're going to pick you next.' And I was kind of like, 'Wow!' I told my wife, 'It looks like we're going to be heading to the West Coast.'
"And when the Jets called, man, I couldn't believe it. I still remember it like it was yesterday. It's one of the greatest moments I went through. When you're a young man and get an opportunity to get your name called in the draft, it's an amazing experience."
The only linebacker New York selected, and along with free agent Chad Cascadden, the only two to make the team, Mason made his niche on special teams with a team-leading 25 tackles. He would be as voted as the unit's MVP.
"What an honor. Especially with some of the veterans that were in that room. Victor Green, who's a legend, I mean, to be able to be voted above him. Chad Cascadden, who had a great year that year, as well. I couldn't have been more happy," Mason said.
"Mo Lewis and Marvin Jones and Bobby Houston, all of these guys we're really mentors to me. So when the entire team voted me, as a rookie coming in it, it was just one of those deals where it's like the ultimate sign of respect. It gives you so much confidence as a young player. I just felt like the sky was the limit for me."
In a sense, the sky fell on Mason the following year when during the last preseason game in Oakland, he suffered a season-ending knee injury.
"Yeah, strange enough, here I am vying for a potential starting position, I had a great camp pushing those starters for playing time," Mason said. "And I merely dropped out in the flat, a typical screen play. The running back caught it, came up and accelerated to the ball. I made a sudden cut and it was just that right amount of momentum and the right area on the turf. The knee just shifted, and the rest is history. Down for the season.
"It was the first time I'd been injured, a major injury. I tore my ACL. I had a bone bruise. I had some other cartilage damage in the knee. It was a pretty significant tear. One of the doctors was kind of like, 'Yeah, I think you may be done.' I couldn't believe it. It was numbing. A numbing effect. A lot of great things were happening, a lot of momentum. And then have it all come to a sudden stop like that because of that ACL injury… It was tough."
Just as quickly as Mason had established himself as a key member of the Jets, he was sidelined and spent the season on Injured Reserve. He was released in 1997.
The injury shortened his time with New York, but it was memorable.
"When I think about one player that really was a guy I wanted to emulate, and a guy that I really wanted my career to model after, it was Mo (Lewis). Mo had so many great conversations with me as a young rookie, so many life lessons. I admired how he carried himself as a man, as a husband, as a father. Just so many things," Mason said.
"Bobby Houston, as well. His wife, Wendy. Marvin (Jones') support. The way he took me under his wing. Chad Cascadden. He and I were like brothers. Vance Joseph, who's now one of the top coaches in NFL. Hugh Douglas. Carl Greenwood. Just the brotherhood, the fellowship.
"New York is a special place to play football, especially in the National Football League. It's a big market. You're always under the microscope. We didn't have the success that I hoped to have during my short career there, but I can say this – I'm extremely grateful to have been a Jet.
"Obviously, playing speaks for itself, but the things I think that matters most are the locker room relationships, and most importantly, remembering the fans and how they supported us win, lose, or draw."
Spending time in Tampa Bay's training camp in 1997, and in Carolina's the next year, Mason was signed by Jacksonville in December 1998. One season with the Jaguars was followed by four with Washington.
"I never gave up on the dream of playing," Mason said. "But really looking at life from a whole different lens and perspective, I had faith and had hope that I would go back. But you really don't know. It was an 18-month recovery. And by the time I got that call by Jacksonville, I was ready to rock and roll."
Retiring from the game in 2003, Mason then founded Mase Training LLC in Sterling, Virginia.
"I get to come to work every day and take all those life lessons I learned via professional, collegiate and high school sports, all the life experiences I've had, and really pour into the hearts of men, women and children every day," Mason said.
"And the reason I've tried to create this culture is because it's more than just fitness. It's about impacting lives. It's about changing our community. It's about giving back. And it's about getting people healthy. That's really what it's about for us.
"Oftentimes people don't find something that they genuinely love doing in life one time. I've been able to find it twice, and be able to make such an impact on so many lives over the last several years.
"And one of the major reasons I really take health, fitness and wellness so serious now is because one of my former teammates, Kevin Mitchell, who I played with during my Redskin days, Commanders now, passed away from a massive heart attack. That was a real eye-opener for me in regards to my purpose. It really gave me a different sense and a different mindset towards how I coach and mentor and help develop people in this space."
For the past 10 years, Mason has also coached and mentored men leaving the game of football as an NFL transition coach. He's now a senior director over 10 other coaches.
"Our role and responsibility is to be peer-to-peer mentors to these men that are transitioning out of the NFL," Mason said. "The reason for why I'm doing it is because I never got a call when I left the NFL. Like many, we sometimes don't know what's next. We don't have that game plan, if you will.
"And so to be able to come alongside our men and their families, and talk with them authentically about my personal transition, the things that I struggled with, but the things that helped me create success in that process, being able to be here for a man really is a gift. It's a blessing to do every day. I'm grateful that I have the opportunity to direct a group of men that genuinely care about our community and genuinely care about helping our guys create a bridge to success for life after football.
"I'm so grateful to Troy Vincent, who I think has been one of the most instrumental pieces in the National Football League (as its Executive Vice President, Football Operations). He has been one of the key leaders that have developed a Player Engagement department, our Legends department, our total wellness, our mental health department. And to Dr. (Nyaka) Niilampti, who's the Vice President of Wellness and Clinical Services. She has been a key figurehead in helping us develop the program and oversee that program and has given me the reins to be able to direct our men on how to best approach our guys."
A businessman. A coach. A mentor. Mason is above all, a family man.
"My beautiful wife, Sonya, and I have amazing kids," Mason said. "Our oldest son, Tyler, he's finishing up his engineering degree at San Diego State University and is in construction management. Our daughter, Sydney, she's a graduate of Liberty University and works in the school system.
"And then our youngest son is Eli. He's a running back at the University of Maryland, and just finished up his freshman year as a redshirt. We think he's going to be a pretty good football player, but more importantly for me with him is he made the Dean's list this semester. I'm really, really happy for all my kids."