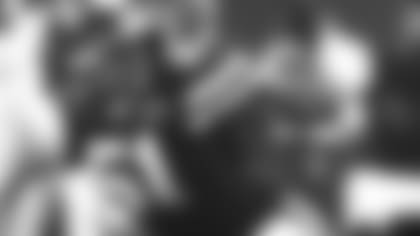 A two-time All-Pac-10 linebacker who helped the University of Washington share the 1991 national championship with 11.5 sacks, Donald Jones may have been drafted by New Orleans in 1992, but his first game in the NFL later that year was as a Jet.
"I was with the Saints all the way to the first game and then what happened was they told me that I made the team and everything, but the kicker, Morten Andersen, got hurt. That was back when they had 48 guys on the roster. So they let me go to make room for another kicker because they didn't want to put Morten on the I.R. for the whole year," Jones said.
"After I got released, I got a call from (the Jets general manager) Dick Steinberg to come up there and work out. They were looking for somebody to be able to help with the pass rush. That was kind of my thing. I had a real good workout with them and they picked me up. I was on the practice squad and then got placed on the active roster."
Jones' debut came late in the season when the Jets hosted Miami on nationally-televised Sunday Night Football. "I remember I got in there and the offensive lineman jumped offsides because he was concerned about my speed. And then a play later, I jumped offsides," Jones laughed.
Achieving his goal of playing in the NFL, Jones spent parts of two seasons with New York. He wasn't on the field for his fondest memory as a Jet, but it occurred on the Giants Stadium turf before the 1993 season opener, and was also memorable for millions.
A little over nine months earlier during a game against Kansas City, Jets defensive end Dennis Byrd and defensive tackle Scott Mersereau collided while they convened on Chiefs quarterback Dave Krieg in the backfield. Byrd suffered immediate paralysis.
Through surgeries, rehabilitation and prayers, he eventually regained the ability to walk. And aided by canes, at that '93 season opener, Byrd walked out to midfield and represented the Jets in the pregame coin toss.
"Dennis Byrd, we were good friends," Jones said. "I actually stayed in his house after he got injured. And him walking out after we thought he was going to be paralyzed, you got goosebumps."
Following his playing days, Jones became involved with a business that would lead many others to experience playing days themselves, as a co-founder of Under The Radar Sports Media (UTRSM).
"How we got started, a buddy of mine, Stephen Thomas, accepted a job coaching high school football in Inglewood, California. He asked me to come help him, and I was like, 'Man, I don't want to do that with them gangbangers or whatever,'" Jones laughed. "But then he talked me into it. 'You'd be great for the kids.'
"So we started doing it and I realized these kids are just like any other kids. They just needed guidance, that's all. They weren't any different even though they were exposed to gangs. And I fell in love with the kids. My goal was to help them get out of the hood and help them to get in college."
After successfully turning the program around, college coaches including Nick Saban, who was then at LSU, and Pete Carroll, who was at USC, started showing up to recruit players. Jones and Thomas took those opportunities to pick the coaches' brains about what they'd like to see on highlight films.
"We put together highlight tapes for the kids, to market them. And right around the same time, YouTube started to come into play," Jones said. "So instead of sending out disks, we decided to figure out how to create our videos on YouTube. So we started a YouTube channel with our kids' highlight tapes. And all of a sudden, we started to have a lot of success with people watching them.
"We thought with what we were doing, we could really improve and make it much more better-quality content. But then at the same time, the administration at the school was trying to take the money we were raising for the kids. So we decided, let's just quit and do our own thing. We started Under The Radar and started filming kids across the country.
"I moved back east and started covering kids on the East Coast, while my partners, they stayed on the West Coast. And lo and behold, the channel we created, it just grew and grew to now we have over a million followers altogether on our social media outlets."
Besides following kids who are under the radar, beginning from Pop Warner youth leagues, (UTRSM) also creates content on five-star recruits.
"It's kind of evolved. There are so many avenues. We cover some of the top high school games during the season, and we try to tell a story in the highlights. We kind of consider ourselves the NFL Films of high school football," Jones said.
"We've helped thousands of kids get scholarships. And then we have kids, for example, Bunchie Young, when he was a youth football player, we did a small docuseries on him. He got so popular on the internet, social media, that the NFL decided to make him the opening act of the Super Bowl two years ago. I don't know if you remember that little kid that ran into the stadium during the Super Bowl, well, we discovered him.
"A lot of players today that you see in the NFL would say the exposure that Under The Radar gave them helped them get recognized. And then the kids today, we've helped them increase their NIL value. We get letters from parents thanking us for getting their kids exposure and helping colleges find out who they are."
Making their home in Charlotte, NC, Jones and his wife, Karen, have three children. Nia, who is a medical sales rep for Johnson & Johnson; Chloe, who will graduate this week from UCLA with a degree in psychology; and DJ, who will be a senior this fall at Mallard Creek High School, where he plays linebacker and running back.
And besides being a senior partner at (UTRSM), Jones is also an enterprise account manager for Conterra Networks.
"We provide fiber-based services for enterprise companies," Jones said. "I always try to help people that don't have quality internet service, not enough bandwidth to be able to operate their business. I like to come in and solve a problem for people. And I love meeting people and seeing what they do to be successful, and try to learn from those people, as well."