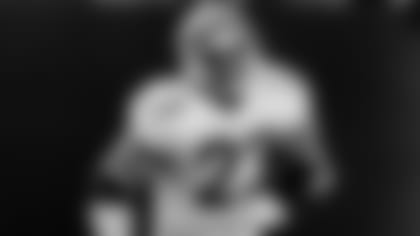 Raised on the Lower East Side of Manhattan and playing for the 7th Precinct Roadrunners to being a walk-on at St. John's to signing as a free agent with the Jets in 1984, Dennis Bligen has always been football's answer to a New York State of Mind.  
"It was my dream to play for the Jets in Shea Stadium, in the old Joe Namath-style uniforms," Bligen said. "(And while Vikings running back Chuck Foreman was my favorite player because I wore number 44 for the Roadrunners), I had Jet players that I liked and some of them ended up being my teammates."
A two-sport all-star at Murry Bergtraum High School for Business Careers in Lower Manhattan, Bligen didn't play football because, well, the school didn't have a team.
"I played basketball and baseball, but they didn't really interest me like football did because they were easy," Bligen said. "In fact, I went to St. John's as a basketball recruit and decided to walk-on to football."
Walked on and into the starting lineup. Playing both running back and cornerback, Bligen hoped the neighborhood NFL team would somehow take notice.
"I was one of our better players and my last three years, we had some pretty good teams," Bligen said. "We were Division-III, and if I'm not mistaken, I think we lost five games my sophomore, junior and senior years. So, I would think someone would at least take a peek over at us, being right in Queens.
"I had a few teams come through and time me and give me workouts. The Jets weren't one of them. So, I really didn't think I was on their radar at all."
But he was. New York signed Bligen to a free agent contract to play running back the same year it drafted Tony Paige, and one year after drafting Johnny Hector. Add veterans Freeman McNeil and Marion Barber to the mix, and Bligen clearly had his work cut out for him.
And while he was up for the job, it wouldn't be easy. 
"I don't think they gave me a snowball's chance in hell of making the team. My rookie year, there were 12 running backs in camp," Bligen said. "There were different drills, and let's say there was a 12-play period. They'd say, 'Freeman (McNeil), you get the first three. Johnny (Hector), you get the next three. And the rest of you guys get the others.'
"We'd look at each other and try to figure out who gets what. It was a battle of attrition. Who was going to step in there and take it? Some of the young guys were afraid because they didn't want to make mistakes. Other guys really didn't want to be there. And I made sure I'd try to push my way in and get an opportunity.
"My very first carry in the very first practice, I took it to the house. I must have run 70 yards before they blew the whistle. I had two more plays in that series, and when I got back, they were breaking the huddle already. I didn't get a chance to hear what the next play was. Ken O'Brien was the quarterback, he turned around to hand it off, but I didn't know what the play was, so I ended up getting yelled at, 'Get off the field and get me somebody out here that knows what they're doing!'
"I remember (then-assistant coach) Rich Kotite telling me that was done intentionally to check my mental toughness. To see if I was going to sulk or hem and haw about not having an opportunity to get back to the huddle or if I was just going to suck it up and be a man about it. So, I guess keeping my mouth shut was a good thing in that situation."
A versatile contributor, Bligen saw time at halfback, fullback, tight end and on special teams during his four seasons with the Jets from 1984-87.
"I'm most proud of the fact that I competed, the fact that it wasn't easy to become a Jet as a free agent," Bligen said. "It was a battle every day for every year I was there to make sure I gave myself an opportunity to stick because they weren't handing me an opportunity. It was like, you'd better find a way to get it. And that's what I did."
Bligen is now in his 12th year coaching football at Chaminade High School on Long Island, where he is also the facility supervisor for its activity and athletic center.
"I started out as the JV's offensive coordinator and then I became the varsity's offensive coordinator," Bligen said. "The head coach was Stephen Boyd, who played linebacker for the Detroit Lions. We won a couple of championships and when Stephen left, I wasn't really looking to become a head coach. I like coaching kids, but I don't particularly care for the administrative end of it.
"So, I actually stepped down to JV so I could teach kids football. I love to watch them grow. I like to see them come in almost completely unaware of what the game of football is really about, and how much of a microcosm it is of the real world."
Aside from his responsibilities at Chaminade, Bligen's world is full. Misdiagnosed, and in turn, mistreated, for two years, including undergoing chemotherapy for four months as part of the treatment, Bligen learned that he had chronic kidney disease in 2004. He received a transplant eight years later, which is around when the Dennis Bligen Kidney Foundation was founded by his siblings.
"It was a shock to them. I was diagnosed 10 years prior to me ever telling them anything," Bligen said. "I got to learn a lot about the disease and how prevalent it is, particularly in the African-American community. And once they started learning a little more about it, they realized it's really an epidemic in certain communities, and if we could contribute in some small way to help a few people out.
"I find myself quite often just talking to people that are going through the process. You begin to feel that you're kind of in this world by yourself because most people speaking to you have not experienced what you're going through. When they hear it from someone who has gone through it and doing fine afterwards, I think it tends to help out quite a bit."
The Foundation helps by hosting an annual Gift of Life Gala, which will be held this year on September 19 at the Crest Hollow Country Club in Woodbury, NY.
"We honor different individuals for their contributions not only to the medical industry, but the other aspects of life," Bligen said. "We honor those that give the gift of life. We honor kidney donors every year and let them know just how special they are. It's a fun night, but it's also educational in that we explain to them what's going on in the world of chronic kidney disease. How prevalent it is.
"Approximately 15 people die every day in this country waiting on a kidney. We've always been taught that you have to get a biological match to get a transplant, which is no longer the case. A non-profit that we support bigtime is the National Kidney Registry."