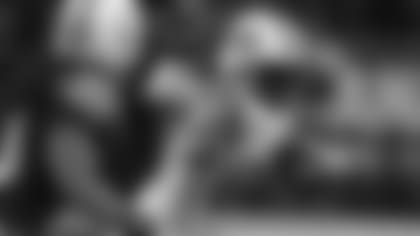 Virginia Tech's leading wide receiver as a junior and senior, David Clowney was selected by Green Bay in the 2007 NFL Draft. The Packers then chose to look at the rookie as part of their future by placing him on the practice squad.
However, a month after doing so, Clowney's future was now, and it'd be in New York after the Jets put in a claim for him.
"That was a surprise. I was there with Brett Favre and thought that I was working my way into the rotation to get moved up," Clowney said. "I was nervous about it at first, but once I got there, I was super excited. Jumped right on the roster and was hands-on with everything. So I was nervous at first, but I'm glad it happened."
With his second team only four games into the season, Clowney felt fortunate that he could rely on veteran teammate, Jerricho Cotchery, to show him what's what around the Green & White.
"He was the team's leading receiver," Clowney said, "and when you talk about a guy that just held the (wide receivers) room together, he spoke with actions, not necessarily words. Jerricho was a solid guy. He would be a guy that I would say got everybody right in that room."
Unfortunately for Clowney, a sprained knee would mean that he'd spend his rookie season on Injured Reserve. But making lemonade out of lemons, he used the time he was healing to learn about life in the league with less stress.
"I was never a person that felt like I had a bunch of pressure on me anyway. Growing up in Florida, they raised kids to just have the confidence that you can be anybody, outplay anybody, be the best on the field. So I walked in the building with that mindset and with that confidence," Clowney said.
"But that '07 season, the frustration came from getting hurt in practice and not being able to be on the field. But that also encouraged me to go even harder, which I did when I came back for my second year."
"Yeah, so we played against the Cleveland Browns in the first game of the preseason, and I ended up having four catches for like 130 yards [163] and two (70-yard and 71-yard) touchdowns. It was huge. I got to put my name back out there," Clowney said.
"We came back the following week to play against Washington and I was out there from start to finish. Everything was going well. Catching the ball. Making plays. And then made a big play on the sideline, jumped up on a crossing route, and one of the defenders came down and just rolled my shoulder into the ground. I ended up breaking my collarbone."
Clowney would see action in two late-season games, and when he and the Jets came back the following year, they'd have a new head coach, Rex Ryan.
"I mean, I'm a big fan of Eric Mangini. I definitely wish he would have been there the whole time," Clowney said. "But Rex is a player's coach. When he came in, he came in with that mentality that, 'We're going to be hot stuff throughout the league. People are going to hate us. We're going to have a crazy defense. The offense is going to be amazing.' Rex is by far one of my favorite coaches of all time."
Playing in 13 games in 2009, Clowney caught his first career touchdown, a 35-yarder from Mark Sanchez, during a 38-0 shutout in Oakland. What does he remember most about that trip to the end zone?
"Just me telling (offensive coordinator Brian) Schottenheimer, 'Oh, come on, give me a chance,'" Clowney laughed. "That was actually one of my first starts. It was a great opportunity for me, because I believe Jerricho was hurt that game. And I think Brad Smith was hurt that game.
"It wasn't my only catch of the day, but it was my biggest catch of the day. I had been waiting to be able to grab one during the season for a while, just getting that opportunity. And Brian Schottenheimer gave me the opportunity.
"He said, 'Hey, right after this next play, we're going to line back up. Just go deep! Just go as fast as you can and don't look back.' And that's exactly what I did."
Clowney hasn't looked back in his post-playing career either. Participating in the Bill Walsh Coaching Fellowship program, he coached for the Jets and the Buffalo Bills. He has also coached collegiately at ASA Miami, Florida International University, Howard University, and is now in his first season as the wide receivers coach at Stetson University.
"I didn't realize how much I love coaching until I had started doing it, how much this was my passion. It changes lives. That's why I enjoy coaching college ball, you're changing lives," Clowney said. "We've got young men on our team that are experiencing the same things that you experienced. You get to make sure that they do all the things right that you did right. And you're able to make sure they don't do the things wrong that you did wrong.
"One of the best experiences for me was the first time I got offered a full scholarship. Howard Schnellenberger, he was at FAU, and he sat in my living room and offered me a full scholarship, and my mom is right there. That was really cool to see how excited my mom was about that.
"And those are the things that we get to do as collegiate coaches. That's exciting, being able to change a guy's life because of the hard work that he put in. Those relationships that you build as a coach mean everything to me."
Making their home in DeLand, Florida, Clowney and his wife, Ashley, have three children: David V, who they call "Cinco," Destiny, and Daniel.