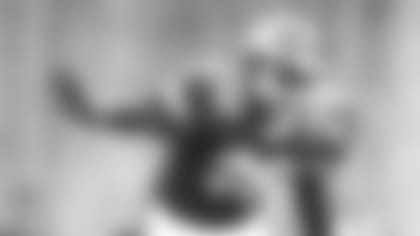 After choosing wide receiver Johnny "Lam" Jones in the first round of the 1980 NFL Draft, the Jets used their second pick to select someone who would slow down opposing receivers, Oklahoma's Darrol Ray.
Becoming the starting free safety during his rookie training camp, Ray was joining a team that was coming off of back-to-back 8-8 seasons and was more than open to getting advice from veteran teammates.
"You had guys that were a little bit quieter in their conversation like (Joe) Klecko. He would just look at you and say, 'Come on, let's go,' That was it. I think by his demeanor it meant, don't let us down and don't let me down. You don't want to let Klecko down," Ray said with a laugh.
"And Jerome Barkum. I remember one of the things he always said was, 'Rookie, when the phone rings, be ready to answer it.' You didn't know what he meant by that, but it meant that this is your opportunity. The phone is ringing, and you want to make the most of this opportunity."
Ray would do just that. In in his first game, the 1980 season opener against the then-Baltimore Colts at Shea Stadium, he returned a fumble recovery 75 yards for a touchdown.
"I felt like I was just running in mud. Like I was slower than I'd ever been in my life," Ray said. "I looked at the video a few times over the last 30 or 40 years, and it just seemed like I was running on the moon. Just slowly bouncing along, getting nowhere fast. But I guess getting to the end zone is all that mattered. You don't have to be pretty doing it."
Ray also collected his first interception in that game when he swiped Colts quarterback Bert Jones.
"You have a lot of highs and lows in football. The ball popped up in the air and I got it and basically went to my knees," Ray said. "Kind of like how I criticize players now when I watch on TV. 'Come on, let's go. Get something out of it.' I could have exploited that a little bit further and done something more helpful to the team. I just caught the ball and basically went down in a heap. I should have just taken the ball and do the most I could."
Tied for sixth place on the Jets' all-time career interceptions list with 21, Ray had another one during the 1982 playoffs when he picked off Cincinnati's quarterback Ken Anderson and returned the ball 98 yards for a touchdown. And while he didn't exactly threaten to break the sound barrier, putting points on the board is still putting points on the board.
"I'm running up the field with nobody around me, moving kind of slow. I hadn't done any 40-, 50-, 60-yard sprints in a while because it was the end of the season. I kind of pulled up a little lame halfway through and just ran it out. I didn't feel like I was in slow motion, I felt like I was in kind of like a parallel universe," Ray said.
"I'm out in the middle of the field all by myself and I'm looking around and see our sideline going completely crazy. I get to the end zone and it was as cool a feeling as ever. A big portion of the team got to the end zone and we do the dog pile on the rabbit thing with me being the rabbit. That was a really fun moment."
With the Jets for five seasons from 1980-84, what are other fun moments from Ray's time donning the Green & White?
"In 1982, we were on the march and had a chance to get to the Super Bowl. We made it to the (AFC) championship game and lose to Miami. We rallied around our team flag, we all were on the same page, playing together as a team. We were that close," Ray said.
"We were not the chosen ones that day or for us, forever. You look at Kansas City going back to the Super Bowl 50 years later. The Jets were in the same boat and we had a chance to do that in the early '80s. We didn't, and that was one of my highs and my lows. That would have been really, really the crowning jewel in our lifetime of sports."
Ray continued. "I played with a bunch of good guys. We went out of our way to be sociable and agreeable and we liked each other. There was just something about that team. I came back (to New York) this past summer for the first time since I left in over 35 years for the reunion weekend. It was just really the neatest time.
"I asked a dozen different guys, 'Did all of us really like each other? Did we have anybody that had problems with anybody?' And to a man, we couldn't think of anybody that kind of grinded us the wrong way. We all enjoyed being together. I think that's one of the things I felt really good about."
Making their home in Norman, Oklahoma, Ray and his wife, Diane, have three daughters: Kendall, Kourtney and Kaila, and two grandchildren. In 1998, they opened Ray's Smokehouse BBQ in Norman, and now have a second location in Moore.
What does Ray enjoy most about being in the food service business?
"On some days I would say, 'Not much,'" Ray laughed. "It's entry-level help. You're constantly re-training, you're constantly having to poke and prod kids. It's a little bit different animal now with them being so governed by their electronic this and that. But just when you say that, you realize there's so many good kids out there. We have so many good people that work with us.
"And to be perfectly honest with you, you get a lot of notoriety playing football in this area. So, you get a door cracked opened for you just by doing that. And if you can provide a good product, things will work out well for you. We've made a little bit of a name for ourselves over the years, and that's a comforting thing because if we were serving crap and not taking care of people and have a no big deal, don't care kind of restaurant business, I don't think we'd have the notoriety and the positive stuff that we have going on with our name and our recognition."