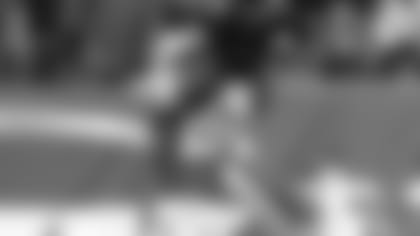 In the high school football-crazed land that is Texas, former Jets wide receiver/kick returner Clyde Gates played in a youth league while in middle school, but then chose to play basketball instead. He would go on to enroll at Abilene Christian University in 2007 intending to keep doing so.
"I was a walk-on on the basketball team," Gates said. "And then I worked out that summer and the football coaches liked my speed and told me to try out, but no scholarship. I was like, 'Okay, whatever.' I got through the first year and they gave me a partial. Then after the second year, I started understanding football and I got a full scholarship."
A three-time first-team All-Lone Star Conference selection, during his senior season, Gates caught 66 passes for 1,182 yards and 13 touchdowns. He also rushed 14 times for 189 yards and four touchdowns. And averaging over 28 yards as a kick-returner, Gates was a NCAA Division II first-team All-American.
After arriving on campus with plans to shoot 3's, dish out assists, and come up with steals on the basketball court, Gates ended up hauling in passes, scoring touchdowns, and helping the football team win two conference championships.
"I didn't have to give up (playing basketball), but I was just figuring my chances of which one I'd go pro in. And I was like, 'I think football might be it,'" Gates said. "I was faster than everybody and so I knew that'd get me in the door. I just had to learn football. I didn't really know football that well, but I didn't like to be touched. But it was fun. Maybe that's why I was so fast, because I just wanted to get away from everybody."
Gates didn't get away from the Miami Dolphins, who would choose him in the fourth round of the 2011 NFL Draft. And as a rookie, he led them with 34 kick returns for a 24.8 average.
But perhaps trying to sneak him through the final cuts in 2012, Miami waived him. The Jets may or may not have spoiled the Dolphins' plan, and put in a claim for him.
"Honestly, I didn't know how that part of it is. That business part of it. I'd never even heard of waivers or anything of that nature because of my football background. I didn't know what that was until it happened," Gates said.
"But I was excited because one of my best friends, but I called him my brother because of how close we are, he was already there, Jeremy Kerley. So it was a hurry up and get me there type of thing."
Even though Gates became a Jet only eight days before the season-opener against Buffalo, learning a new playbook in a hurry wasn't going to be a problem because for all intents and purposes, he'd already seen it.
"I really didn't have to cram because my (head) coach my rookie year (with the Dolphins), Tony Sparano, rest in peace to him, he was the offensive coordinator there," Gates said. "So it was the same playbook. There were just a few little things changed here and there, different kinds of audibles. But no, it was definitely easy with the playbook because I had already run it often in Miami."
Despite knowing the plays, Jets head coach Rex Ryan decided not to have Gates suit up for the 48-28 win over the Bills.
"I didn't get to play the first game. I had to watch because, I don't know, I guess that I just came in," Gates said. "But we were working out the day after the game, and Rex came in with a piece of paper. It had an X on it with a line underneath the X. And he wrote out, 'You will be playing the next game.' And he signed it. He said, 'Keep that with you. That's my word.' So that was cool. He never told me what role I'd have, but I was playing the next game."
Gates saw some familiar faces in New York's Week 8 home game against the Dolphins, and had a career-high and game-high seven catches for 82 yards to go along with two kick returns for 63 yards.
"I already had my mind set to play well against them as I would any other team, but it wasn't personal. It was just like, I wanted to show them, 'Look, y'all let this go. So regardless of what the score is, I'm going hard every play. So y'all be ready,'" Gates said.
"But afterwards, there was a lot of stuff going around saying I was saying this, saying that. I didn't understand it. Jeff Ireland, he was the G.M. of the Dolphins at the time, and my family tree, my grandmother's mother or something like that, used to watch his grandmother. So we had a different kind of connection. They were saying that I was saying things about him. And he called me, 'What's going on?' So somebody was saying some stuff. I don't know what it was."
With that small controversy squashed, the Jets finished the year with a 6-10 record, and Gates looking to help them do better during the 2013 season. His left shoulder had other ideas.
"The entire season, I was nursing that shoulder. A ligament tear. It was (torn) like 12 to 4 (if you were looking at a clock)," Gates said. "They asked me to have surgery, but I said, 'No, I'll play through it.' I knew I wasn't going to last the whole season, but I was just trying to rack up enough yards so that the team would know that I'm trying to do the best I can do.
"It popped out every day. In practice, everything. If I put my hands out there to block or if a defender would knock me down or something, it would pop out of place and I'd have to go to a trainer to pop it in. I knew it was going to happen sooner or later."
"Later" came on October 13 when New York hosted Pittsburgh at MetLife Stadium. Making his second start of the season, Gates had a team-high five catches for 36 yards and also a game-high two kick returns for 56 yards. The Jets lost the game and Gates. They had to put him on injured reserve.
"I had to get labrum surgery," Gates said. "I tore it all the way, 12 to 12. The normal tear in a shoulder like that is like 12 to 6, 12 to 5. It was just hanging. I tore it all the way, but I kept going and going. I shouldn't have, but it's okay."
A playing career unfortunately shortened because of the injury; Gates was with New York for two of his three seasons in the NFL. What are among the fondest memories from his time with the Jets?
"Every day, everything about it, it was all fun. And we had the best receivers coach, Sanjay Lal," Gates said. "Everybody liked me there. Everybody wanted me to tell jokes. That was every day. I made a great teammate.
"And what makes me most proud (of my career) is that those that I love dearly are proud of me. I know that's kind of weird, but that's what makes me most proud of everything in life. The NFL was just part of the journey. But as long as my people that I love dearly are proud of me, then I'm proud. Period."
Living in his hometown of Vernon, Texas, Gates has a fiancée, Shelby, and is the proud, active father of three children: E.J., Delilah and Quincy. "I instill everything into my children when it comes to sports," Gates said. "And we're travelers. We're adventurers, so we go to a lot of places and learn a lot of different things. We're nature people."
And on October 13, Gates will become a member of Abilene Christian University's Sports Hall of Fame.
"Abilene Christian University just changed my life," he said. "So to now know that I'm tied in with them forever in sports programs, it just blows my mind. I don't know how to feel about this, but it's awesome. That's where it all started for me."