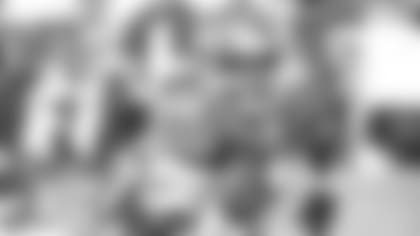 If Clark Gaines hoped to continue playing football after graduating from high school, he'd have to prove himself. And so, with no Division I or II schools lining up to offer a scholarship, he enrolled at Lees-McRae Junior College, and did just that.
"I ended up my second year making Junior College All-American," Gaines said. "I left there and transferred to Wake Forest and went there because my mother always wanted me to really get a good education. And academically, Wake did the job."
It was deja vu for Gaines in 1976. Undrafted by NFL teams, if the running back hoped to continue playing football, he'd have to prove himself one more time. And, again, he'd do just that.
"The Jets called, wanting to sign me as a free agent. But I was also talking to the Cowboys at the time," Gaines said. "I think (New York's veteran running back John) Riggins had just gone to Washington, so I figured I had a better shot with the Jets. I took less money thinking that my opportunity and my chances of making the Jets were better."
He was right. After making the team, Gaines began his rookie season playing near anonymously on special teams and during infrequent spot duty on offense. That, however, changed during New York's sixth game of the year, which was against the New England Patriots.
"Eddie Marinaro was the starter, and I think he got injured," Gaines said. "I was doing what I normally do during a game when I wasn't in on special teams – sampling the water to see which flavors taste the best – when I hear this voice saying, 'Gaines! Gaines! You're in! Where are you?'
"I look around and said, 'Me?' And they said, 'You're the only damn Gaines on his team aren't you? Get in there!' And that was it.
"I went in and (quarterback Joe) Namath says, 'OK guys, we got a rookie. Rookie, do you know the plays?' And I said, 'Yes.' He called the play out and I got to the line of scrimmage and realized that I didn't really know it.
"By that time, the ball was snapped, and a linebacker is coming. I was supposed to block him, but I didn't. Namath threw it to me anyway after the guy beat me. I caught it and out of fear ran maybe 10 or 20 yards. We go back in the huddle and Namath says, 'Oh, we got a running back. We got a running back, gentlemen.' He didn't know that it was an accident."
Starting the final eight games of the season, Gaines would lead the Jets in rushing and receiving. His teammates voted the rookie as the team's MVP.
"I couldn't figure it out. I was playing a game I love. I thought that I'd died and gone to heaven when I was playing with Namath, who had been my hero all through high school and college. I'm actually playing with him and he's handing me the ball and actually knew who I was," Gaines laughed. "It was a dream come true.
"One of the things that the players had done my first year, they voted me as the player rep to the union, to representative the 53 guys on the team. And as a rookie, to me, that was an honor that I never expected would ever happen.
"I was the only rookie at the (NFLPA) meeting carrying the vote for a club. There were more and probably better qualified people to hold that position, but they honored me with it. I was really touched."
During his five seasons with the Jets from 1976-80, Gaines led the team in rushing three times and in both rushing and receiving twice. He concluded his seven-year career with the Kansas City Chiefs.
Following his playing days, Gaines moved to the sideline in 1984, and was the running backs coach on his former Jets head coach Walt Michaels' staff with the USFL's New Jersey Generals.
"My backfield coach at the Jets was Bob Ledbetter. Bob passed and I saw Walt at Bob's funeral," Gaines said. "He wasn't coaching with the Jets; he was out of a job. And I just mentioned to him that, 'If you ever get another job, I'd love to be able to coach with you.' He said, 'I will keep you in mind.'
"And then probably a couple of months later, he got the job with the New Jersey Generals and he called me and said, 'Do you want that job?' And I said. 'Yeah. When would you need me?' And he says, 'Tomorrow.' So, I ended up coaching Herschel Walker and (Doug) Flutie for two years in the USFL."
After playing in the NFL and coaching in the USFL, a phone call in 1986 would initiate the next 27 years of Gaines' professional career.
"I had been a rep for the Jets, and during that time I was a pretty outspoken rep and knew Gene Upshaw, who was president of the union and became executive director after Ed Garvey left. And Gene and I saw eye to eye on a lot of issues," Gaines said.
"The phone rang one day, and he says, 'I need you.' I said, 'What do you need me for?' And he says, 'You know, what we talked about, free agency.' I said, 'I know what we talked about, but I have a job.' And he says, 'This isn't a job. This is what we talked about. This is fate.' I said, 'If I told you I would do it, when would you need me?' And he says, 'Yesterday.'
"I said, 'OK' and walked in the house (on Long Island) and told my wife we're moving to (Washington), DC. A day later I'm in DC. I think we maneuvered and tactically did some things that the players are, I think, benefiting from today."
Among those things – organizing the NFLPA Collegiate Bowl, starting the Native Vision program, educating players during strikes and lockouts, and mentoring countless player reps.
Retiring in 2013 as the NFLPA's assistant director, Gaines and his wife, Susanne, make their home in Ashburn, Virginia. They have four children and four grandchildren.