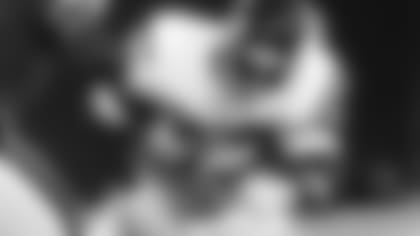 A two-time All-America offensive tackle at Ohio State, Chris Ward didn't have to wait long for his telephone to ring during the 1978 NFL Draft. And as it turned out, he also didn't have to wait long for the conversation to be over.
"I got a call from (head coach) Walt Michaels, and I remember it like it was yesterday. 'Chris Ward, this is Walt Michaels from the New York Jets. We want to take you in the first round. Will you play for us?' I said, 'Yes, I will, sir,'" said Ward. "He told me they were going to select me No. 4 in the first round. I was there by myself. It was a great time at Ohio State, but I was looking forward to what the pros would hold for me."
During his first training camp, Ward was shown the ropes by fellow offensive tackle Marvin Powell, who was drafted the previous year, also No. 4 overall.
"We were tackles, so we were in all the drills and what have you," Ward said. "He did kind of take me under his wing and tell me about the New York culture and things to watch out for and what to do. I really appreciated that."
Even though Ward was named as the starting left tackle from day one, it wasn't a simple transition from college to the pros.
"I came into camp and I had some adjustments to make from Ohio State because we didn't throw that many drop-back passes. (Buckeyes coach) Woody Hayes liked to run the ball," Ward said. "It's a totally different skillset necessary to block some of these big, strong defensive ends while backing up. There's a certain technique that you had to maintain, keeping your shoulders square, and you had to be quick off the ball to get back depending on if it was a three-, five-, or seven-step drop. And you had to calibrate that based on where you anticipated the quarterback being. So, I had to learn how to pass block."
After back-to-back .500 seasons and a dismal 4-12 record in 1980, the Jets turned the corner and made the playoffs after going 10-5-1 in 1981. They played in the AFC Championship Game against Miami the following year.
"When I came into the league, my rookie year, we were the youngest team in the NFL. Literally, 80 percent of the players that we had, I don't want to say they were rookies, but they didn't have extensive playing time and experience inside the NFL as far as minutes played, games played. We had to mature, but we had a great talent base there," Ward said.
"We went to the AFC Championship Game, but one thing that people don't tell you is when you retire and years afterwards, you don't remember the great wins. You remember the bitter losses more than anything. You remember those for the rest of your life."
Experiencing those great wins and bitter losses with the Jets for six seasons from 1978-83, and one year, 1984, with the New Orleans Saints, what makes Ward most proud of his gridiron career?
"Well, one, I loved the game," he said. "I always wanted to go to the Pro Bowl. I never did quite get there, and most of the time it seems that Pro Bowl selections for tackles and interior lineman, they're in the playoffs continuously. When you look at Hall of Fame stuff, I had hoped to have a Hall of Fame career. I thought I was good enough. I played as hard as I could.
"But at this point, what brings me most satisfaction about it is I was able to take care of my family. And more than anything, especially now as the president of the National Football League Player Association Los Angeles (former players) chapter, I noticed the platform that it gives you. It was the number one reason why I was able to bring the Ward International Corporation into the schools, because I was retired football player."
An ordained minister with the Global Apostolic Ministerial Network, Ward founded the corporation in 1998.
"I've been mentoring young people for over 20 years. I had a bible study program, the Ward International Ethics Program," Ward said. "We went in under the school club system. I used that as a springboard to get my program in, and we went in as a corporation, which is a non-profit. We operated after school, and all the children were there by written permission so that their parents were fully advised as to what their children were doing.
"We had a tremendous response in that 20-plus years. None of our kids that who were involved in the program were ever incarcerated. None of them were ever arrested. None of the girls ever had babies before they were married. And we found that most of the kids that came to our ethic classes, their GPA went up one letter grade."
Making his home in Los Angeles with his wife, Blanche, Ward is also a real estate agent, a life insurance agent, a mortgage loan officer, as well as a financial consultant.
Ward is also the president of Pro Players North America, an organization of professional athletes and entertainers committed to changing the lives of young people in North America.