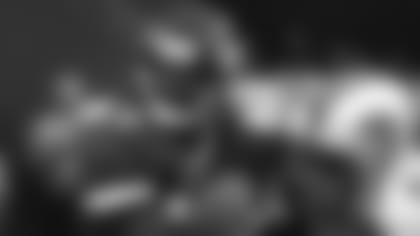 One AFC East team's loss is another AFC East team's gain.
After playing with Buffalo for four seasons, two games into the 1989 campaign, wide receiver Chris Burkett and the Bills fell out of favor and he was released. He was immediately claimed off waivers by the Jets.
"I was in the prime of my career and I thought I was a pretty good receiver. The year before, I had made the second-team All-Pro Team. The Bills and I just didn't agree on things," Burkett said. "I had played against the Jets for four years and I was just excited about being in the AFC and to be able to play for a team like the New York Jets. I had got drafted with Al Toon and a couple of the guys, so I knew them. I was excited."
After less than so-so seasons in 1989 and '90, New York posted an 8-8 record in 1991, and made the playoffs for the first time in six years.
"One of the main keys was I felt by that time I had got acclimated and felt good about the team," Burkett said. "We had brought in some pretty good players. Bruce Coslet came in (as the head coach in 1990) and did a pretty good job. He brought some pretty good coaches and made a big difference."
That year, Burkett was named as the Jets' MVP, now called the Curtis Martin Award, by his teammates.
"I was a little surprised because quite frankly, at that time I was a third-down receiver," Burkett said. "We played three receivers a lot – myself, Rob Moore and Al Toon. Bruce Coslet told me I was the MVP. He said, 'You really deserve it. You did a heck of a job.' I just appreciate the fact that I had transitioned from Buffalo and to come to the Jets and continued to strive, I was just proud of myself.
"For your team to vote you as the MVP after you had made the transition from where I felt I wasn't appreciated, I think me being named the MVP is one of my favorite memories. I feel like I had a really good career with the Jets. I really felt at home in New York."
Burkett played nine seasons in the NFL from 1985-93, tripling the average length of a player's career. He finished with 292 receptions for 4,352 yards, a 14.9 yards-per-catch average, and 19 touchdowns. What does he attribute his longevity to?
"I was one of those receivers that went across the middle pretty regularly and wasn't concerned about injuries. That didn't take away from the fact that I didn't get injured or wasn't going to get injured, but I mostly focused on the game," Burkett said.
"We had three strong receivers at the time with Al Toon and Rob Moore. We were competitive in the locker room. We had a good strength coach and I put a lot toward that, how prepared we were as receivers. And we had Terence Mathis, so we had a good group of receivers that really worked out and worked on our endurance and stayed in the weight room a lot. And on top of that, I was just lucky."
Burkett may have felt at home in New York, but following his playing days, he returned to his native home and is now the CEO and Executive Director of Big Brothers Big Sisters of Mississippi.
"My last year in the league, I did a lot of mentoring, a lot of presentations. I'd go to schools and talk about certain scenarios," Burkett said. "So, this has always been special, always been a part of my life. And as soon as I transitioned out of the league, I continued to work with kids in single-parent homes.
"One day, I was trying to start my own non-profit and wanted to get some experience. I started volunteering and the CEO at the time asked would I consider working for Big Brothers Big Sisters. So, I started working for the agency. That was back in 2003. I was vice president of programs for a long time and then in 2012, I had the opportunity to become the CEO."
Serving up to 1,000 children per year in the Jackson, Hattiesburg and Tupelo areas, what does it feel like to see he's making a difference in these young lives?
"Oh goodness, it's like catching an 88-yard touchdown pass from Boomer Esiason with 75,000 people watching," Burkett said. "To see some of these kids that come into our program, their dispositions aren't where they should be, and by the time they leave our program after a year, we see these kids' grades get better, we see their dispositions get better, their personalities. To see the kids grow like that and know that we as an organization made a difference…
"Everything is focused around the kids that we work with, but the mentors that comes in and work with these young boys and girls, they get a lot from it also."
Many of the mentors participated in the Big Brothers Big Sisters program themselves as young boys and girls.
"I've been with this agency long enough to see this transition. We see kids go to college and then they come back and become mentors," Burkett said. "That's really special just because they've got first-hand knowledge of how this program works. It's kind of a domino effect."
Burkett and his wife, Sarah, have five children: Brea, Courtney, Chris, Kentreal and Krystal. As well as three grandchildren.
"I feel like I had a very good NFL career. Nine years is not long, but it's not short. It's way beyond the average," Burkett said. "But one thing I'm really proud about is the fact that I was able to transition out of National Football League and start a life after football. I've had longevity in both the NFL and my job after the NFL. I was prepared. I feel really good about that."