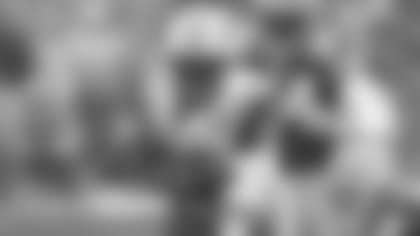 Born and raised in Queens until he was 15 years old and moved to Michigan with his mother and siblings, former Jets tight end Chris Baker grew up following all of New York's pro teams and was as neutral as Switzerland.
"I was a Jets and Giants fan growing up, but I'm really not a Giants fan anymore having played for the Jets and been in that rivalry. Well, I semi-root for them," Baker said with a laugh. "Growing up, I was a Mets and Yankees fan. Still am. I was a Knicks and Nets fan. I don't root for either right now because I can't deal with the Knicks anymore, unfortunately."
Understandably, being chosen by the Jets in the third round of the 2002 NFL Draft out of Michigan State was "like a dream come true" for Baker. He and the other rookies went to training camp hoping to keep their aspirations alive by watching and learning from the veteran players.
"As rookies, we had a small (draft) class. There were only five of us, and then the undrafted free agents, we kind of bonded and really just kind of grew together," Baker said. "We had some really good veteran players on the team, and we watched how they went about their business and learned from them along the way. Richie Anderson was very good to me in terms of showing me how to be a professional."
Playing in all but four games during his first three seasons as a backup and on special teams, Baker totaled 34 receptions for 333 yards and four touchdowns. In 2005, head coach Herm Edwards made him the starter.
"When (veteran tight end) Anthony Becht departed (in 2005 for the Tampa Bay Buccaneers), I remember Herm came to me and said, 'Look, we're going with you. You're our guy. I expect you to take over and take this thing to the next level,'" Baker said. "And so, I took that as it was my responsibility. I knew before camp that I was going to be the guy. So, I was ready for it. That was my goal the whole time, to become the lead dog in that (tight ends and receivers) room."
Missing half of the 2005 season because of a broken left ankle, Baker was back and healthy the following year and playing for a new head coach, Eric Mangini.
"Yeah, I got hurt in 2005, but that year, everybody got hurt. We had very high expectations coming into that season. And I mean, literally, half the team was on Injured Reserve. We kind of felt like we let Herm down a little bit," Baker said of the 4-12 campaign.
"When I came back into the locker room at the end of the season for the final meeting, I didn't know half the guys in the auditorium. It was that stark of a difference in what we came into the season with and what we finished with.
"But when Mangini came in, it was like, OK, let's get to work. Coming from New England, obviously he had had a lot of success up there. So, it was let's see where we can go with this."
During Baker's first six seasons under both Edwards and Mangini, the Jets either made the playoffs or posted a 6-10 or a 4-12 record. They clearly were not a synonym for consistency. For a roller coaster? Maybe.
"That's basically what it was," Baker said. "My rookie year, we made it to the playoffs and knocked off the (Indianapolis) Colts, 41-0. And then coming back into the following year we expected to do well. Didn't do well. Completely unexpected, we just didn't do well.
"The next year we come up and have a great year, and then we go down and can't do anything. Both times, we went into the second round of the playoffs. So, that was the toughest part of it. We never could really get consistency and really build on our success from the previous year. It was always, 'OK, now we've got to basically start all over again because we finished out of the playoffs.'"
With the Jets for seven of his nine years in the NFL, he also played one season each with the New England Patriots and the Seattle Seahawks, Baker caught 145 passes and scored 12 touchdowns for the Green & White. What's one of the fondest memories from his time with New York?
"That playoff game that we had against the Colts. I actually scored my first touchdown in that game (on a 3-yard pass reception from Chad Pennington)," Baker said. "And that was tremendous. Just the electricity in the stadium, I'd never felt that in a stadium. Not even in college or anything like that. It was just a different feel.
"We had a lot of ups and downs. I met a lot of great people and we had a great time in terms of being able to compete and get the team going in the right direction. I'd been a fan for a long time, so I knew some of the bad things in the past, in terms of how well we were perceived. So, we kind of started to get that turned around to get us a little bit more respectability.
"It was a great run. I really enjoyed being there and had a lot of fun. To be able to play for your hometown team as a kid, there's nothing else you can ask for."
Retiring from the NFL in 2011, Baker, and his wife, Yadira, make their home in the South Florida city of Parkland. They have one son, Chris Jr., 13, whom they call C.J.; and a daughter, Tamia, 8.
"I spend a lot of time with my kids. I coach my son in flag football and baseball. And my daughter's getting to an age where she's starting to compete in some things, so I'll probably be coaching her, as well," Baker said. "I spend time trying to fish and I've got into a gardening habit. That's actually been pretty fun. I never thought I would be doing that. I won't say I'm busier than when I was playing, but I stay pretty busy."
And other than being able to spend quality time with your family, what's the best thing about being Chris Baker today?
"To have the freedom to be retired and be able to go where I want to go. Not be restricted by the common stresses of everyday life," he said. "Just the freedom to be able to think, learn, and grow as a person. And being able to have a hands-on guidance of your family. That's huge because when you're playing, you have like literally no time to really focus on anything but playing and the game itself."