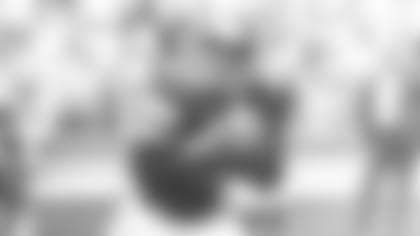 Good timing and a personal reference helped Bruce Harper, a running back at Kutztown State, then a Division III college in Pennsylvania; get a tryout with the Jets in 1977.
"Walt Michaels was the (first-year) head coach at that time, and his son, Walt Jr., was a freshman at Kutztown when I was a senior," Harper said. "I asked him every day to call his dad and try and get me a tryout. Every day! I hounded that dude. So, finally, he did and (Coach Michaels) invited me to come and try out."
Raised in Englewood, New Jersey, Harper didn't follow the Jets or the Giants. Or for that matter, anyone that played on defense.
"I grew up as a football fan. I didn't care what team was playing. I just watched football," Harper said. "I watched the guy that had the ball and I wanted to do that. I didn't know the AFC, NFC. None of that stuff mattered to me.
"I just always watched the player that had the football in his hand. The defender is looking for trouble. He's looking to hit somebody. I'm the offensive guy. I'm too small for that. I like to run from trouble."
Harper also discovered that he liked to return kicks and punts. And he was good at it. So much so that he led the league in kick returns in each of his first three seasons.
"Well, believe it or not, I wasn't really a kick-returner. I didn't do that in college. I was a running back," said Harper, who had set single-season school records in rushing and scoring at Kutztown. "They said the only way I was going to make the team was if I played special teams. So, I learned how to catch a kickoff. I learned how to read it in the air, which direction it's going. I worked so hard with (special teams coach) Joe Gardi on catching punts and kickoffs. My mindset like any other time, just run with the ball."
In 1980, Harper's teammates voted him as the Jets MVP.
"Oh, man, just like now, your heart just smiles. It was wonderful. It meant so much," Harper said. "Them saying I was the most valuable player, I mean, come on. It was very gratifying. It made me feel so good."
With New York for eight seasons, 1977-84, Harper is the team's all-time leader in kick returns and is the only Jet to gain 1,000 or more career yards in rushing [1,829], receiving [2,409], kick returns [5,407] and punt returns [1,784].
Along with the 11,429 all-purpose yards, Harper found the end zone 21 times including his most memorable touchdown on a 45-yard reception in a 31-28 victory over the Houston Oilers at Shea Stadium on November 23, 1980.
"(Future Hall of Fame running back) Earl Campbell was the man. And somehow the defense shut him down that day (15 carries for 60 yards). We were playing with a tied score and not much time was left in the game. Richard Todd threw me a screen pass and I ran it (45 yards) into the end zone for a touchdown to put us ahead," Harper said.
"The guys came and they picked me up. I can just hear them, 'Bruce! You're the coldest! You're the coldest!' Wesley Walker and Jerome Barkum, I can just hear it. Man, it was great. That is my greatest memory, no doubt about it."
After working with a similar organization on Long Island, in 1998, Harper founded a non-profit program – Heroes & Cool Kids. Based in New Jersey, it connects former professional athletes with role model-type high school students, the Heroes, at conferences where the teens learn how to become mentors to fifth- and sixth-grade students, the Cool Kids.
The teenagers advise the middle school students on different life skills, including sportsmanship, conflict resolution and positive lifestyle choices. The program itself assists in building courage, character and perseverance in both the Heroes and the Cool Kids.
"It just makes sense. The little kids look up to the older kids like the older kids look up to pro ballplayers," Harper said. "You've got to take advantage of that. If they're going to influence them, we give them something good to influence them with."
Now celebrating its 20th year, Heroes and Cool Kids, which began in just three schools is now in 65 schools. It takes pride in that 2,800 Heroes have reached over 22,000 Cool Kids. In addition to the mentoring, it offers various programs: Student Leadership Team, Sidekick (4th – 8th graders), S.H.E - Self Honor Everyday (young girl's program), Young Men's Program, Assemblies and Coaches Workshop.
What does it feel like when Harper sees that he's made a difference in kids' lives?
"It brings tears to my eyes to realize that for so many years, we've been reaching out to the kids and so many kids come back and tell me that they were in the program and how much of a difference it made," he said. "It's really, really wonderful. Aside from bowing down to God, Heroes & Cool Kids is the best thing I have ever done. Even more than marrying my wife, Nancy, who I love. It has touched thousands of people. My wife and I, that's just one person. It is the most effective thing I have ever done in my life.
"We went to a high school to train them and then we went to the elementary school where these kids are working. It turned out the teacher was in the fifth grade Cool Kids and when she got to high school, she was a Hero. And now she's a teacher that's having it in her class. It's really great."