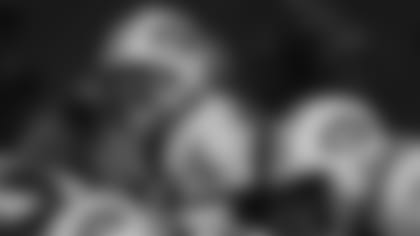 The son of a coach and a quarterback practically since birth, Brooks Bollinger, who was drafted by the Jets in 2003, still found himself heading into the gridiron unknown. And he couldn't have been happier.
"I walk into the quarterback room with (offensive coordinator) Paul Hackett, (quarterbacks coach) Jim Hostler, Vinny Testaverde, Chad Pennington and Todd Husek. I played quarterback my whole life and just loved the position, the details of the position and the complexity of the position. I go into that room with those guys and really learn the game on a whole nother level. It was intimidating, to be sure, but it was an absolute thrill for me to be sitting in that room," said Bollinger, a four-year starter at the University of Wisconsin.
"It expanded my mind and the game of football. Some of my best memories of playing the game at any level was talking ball and being exposed to the level of knowledge that those guys had.
"But really what it was, I've got to figure out just how to get out of a huddle. It's kind of like you jump into the deep end and you find a way to swim and keep your head above water. Things were certainly moving fast, so I think for everybody, your initial intuition is just to survive the waves that are hitting you in the face. And certainly, it was no different for me."
What was different for Bollinger away from the game is that the New York area was not quite like his hometown of Grand Forks, North Dakota, a city whose population is roughly 25,000 less than would fill MetLife Stadium.
"The thing that I think I learned and continued to be proven through (future) moves to Minneapolis, Dallas (where I played for the Vikings and Cowboys, respectively) and Orlando (where I played for the UFL's Florida Tuskers), is that there's good people everywhere," Bollinger said. "It's really not all that much different, you've just got to navigate a little bit more. And as overwhelming as the city is, and fast paced, once I spent a little bit of time there, I found some great people. I loved the people. As different as it is, there were just a ton of similarities."
Idle during his rookie campaign while behind Testaverde and Pennington on the depth chart, Bollinger would see little playing time in 2004.
The following season, he played in 11 games with nine starts, passing for 1,558 yards with seven touchdowns and six interceptions.
One of his fondest memories with the Green & White occurred during a
2004 preseason game against the Philadelphia Eagles. Coming off the bench in the fourth quarter, Bollinger passed for 168 yards and two touchdowns in a come-from-behind 28-27 win
"One of the most fun nights I can remember, and I think I only played five minutes in the game," Bollinger said. "We had just signed Quincy Carter and I didn't even think I was going to play in the game. We were down (by 20 points) and Hos [Hostler] said, 'You're going to go in.' And we had a run like I never had before in my life to win the game at the buzzer. That was a blast, it was just a fun night.
"I think through that whole year, 2005, and obviously it's not going to go any Jets Walls of Fame, there were a lot of guys on IR and a lot of shuffling of the lineup and I was kind of making my first run playing the position at that level. There were some downs and there were some ups. We had a great group of guys and getting the support from Chad and Vinny and the guys in that locker room, that's what you always remember, the people you were able to share with. Being able to play in those games in '05, the fans in New York were the favorite fans I played for."
Bollinger spent three years with the Jets from 2003-05, two with the Vikings from 2006-07, and the 2008 season with the Cowboys, before becoming the quarterbacks coach at the University of Pittsburgh. That was followed by being a high school head coach in the Minneapolis area. He then chose to leave football for a fulltime career in finance.
"It was because of what I had seen in the locker room, the anxiety and poor decisions," Bollinger said. "I think that kind of came with the territory of guys making the kind of money they make in the NFL at that stage in their life. Really what I saw was a lack of value provided by plan advisors and a lack of understanding of what guys were really going through, things they were struggling with and how they saw the world.
"I'm kind of a teacher and a coach by nature and I backed into it. I said, 'Well, I'm going to get my Series 7and 66 (financial licenses) and kind of figure this thing out. See what's behind the curtain and really try to and understand it. And then hopefully help some guys along the way.'"
Making his home in Eagan, MN, with his wife, Natalie, and their children: Miles, 13; Beau, 11; Livi, 8; Isla, 5; and Ike, 1; Bollinger is a VP/Senior Wealth & Fiduciary Advisor with Bell Bank in Minneapolis.
What does Bollinger enjoy about what he's doing?
"The same as playing and coaching, it's the people," he said. "The people that I get to work with as clients, work to partner with them and live their best life. I think that's really where my job has changed. The industry has obviously changed, but my purpose hasn't.
It's a different vehicle, but it's really just building those meaningful relationships with people and trying to put them on their way to living their best life."