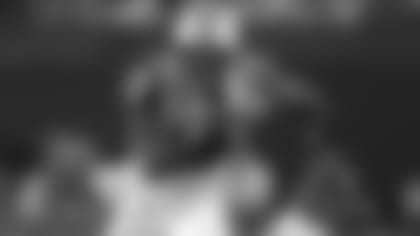 Braylon Edwards needed a fresh start.
A unanimous All-America wide receiver at Michigan, he was selected by Cleveland in the first round of the 2005 NFL Draft. Over the next four years, the Browns had three less than successful seasons, losing 40 of their 60 games.
"We were bad my rookie year. We were bad my second year. We were 10-6 my third year," Edwards said. "And then we were bad again my fourth year, everyone was hurt. I said, 'I don't want to be one of those guys who you look up and you have a career like (six-time All-Pro and 10-time Pro Bowl left tackle) Joe Thomas.' Don't get me wrong, he's a first-ballot Hall of Famer. An amazing career, but it's a career that's just full of painful Christmases and painful Thanksgivings and painful New Year's."
Cleveland's start in 2009 under one-time Jets head coach Eric Mangini, who was experiencing a fresh start of his own, was painful as well.
"People are familiar with Mangini, with his style. He's very aggressive, but he's an amazing person one-on-one," Edwards said. "He's arguably the most knowledgeable football mind I've ever been around in terms of X's and O's, inside, outside, offense, defense, special teams. He has that Bill Belichick thing going. He knows the game of football. But when he gets around the team, he'll embarrass you. He's very direct, very strict. He has a lot of tactics, I guess you could say, that a lot of players don't like.
"The Monday after we lost to Denver (to start the season 0-2 en route to losing 11 of the first 12 games), Eric had a team meeting and he said, 'I noticed a lot of guys aren't buying in, that's (bull), we don't need guys like you here. I'll tell you what I'll do. After this meeting, if guys don't want to buy in and don't want to be here, come talk to me and I'll see what I can do. I'll do my best to try to move you and get you to a space where you'll be happier.'
"Right after the meeting, I made my way up there discreetly and I kind of shared my views. 'I've been here four and a half years and I think you're a heck of a nice guy. I just don't think that this is a situation or a team that's conducive to winning right now. I don't know if it's ownership, if it's management, if it's coaching, if it's whatever. This is just a place I need to get out of. So, if you can do anything, I'll be happy.' He appreciated my candor."
After four games, Edwards was traded to the Jets for wide receiver Chansi Stuckey, linebacker Jason Trusnik and two picks in the 2010 Draft. And in his first game for the Green & White, a Monday night contest against Miami, he had a game-high five catches and a touchdown.
"It made me have a sense of want," Edwards said. "To come to the Jets where it seemed they wanted to get me the ball. 'OK, we'll throw to him on first down. We'll move him in the slot. We'll move him around.' It seemed like of the times football. When I was with the Browns, we were like in '93 or somewhere.
"It just felt good. I liked the energy and the facility. Anywhere from the chefs to the custodians to the equipment managers to the training staff, everybody's energy was upbeat and bright. It was really like the epitome of symbolism for a new start. It was great. We got things rolling."
The Jets rolled through the 2009 and 2010 seasons and finished in the AFC Championship Game both years.
"We were a scrappy, gritty team. We did the little things. We were a team you didn't want to play," Edwards said. "We were physical. People don't like that physicality in mid-November through December. They don't like that physicality in January. Our receivers hit better than most team's linebackers. Jerricho Cotchery would put you on your butt. I would demolish you. Dustin Keller could catch and block. David Clowney was a guy that would take you out. Brad Smith too. We had so many different personalities, but we were all for the greater whole.
"We would always be a fifth- or sixth-seed in the playoffs, and so you're always playing teams that are looking through you.
"And then Rex (Ryan) was a player's coach. I know that's used a lot, but that just means he treated you like a man. You played well. You practiced well. He would tone down practices. He would give you days off. Little stuff like that goes a long way with players. We were able to appreciate that about him, so we played harder. It was just a heck of a fun time."
With the Jets in 2009 and '10, and back again for three games in 2012, Edwards also played for the Browns, 49ers and Seahawks. What set New York's fans apart?
"Jet fans didn't care about anything else and that's what made them so special," Edwards said. "They watched everything. They watched how a player played, what a player was going through on the field, and they were very loyal to them and very protective of their players."
Now retired from the NFL, Edwards has two sons, Braylon Jr., and Maddox, and makes his home in West Bloomfield, Michigan. An author, his first book – Braylon Edwards: Doing It My Way: My Outspoken Life as a Michigan Wolverine, NFL Receiver, and Beyond – was released in September.
"I think fans, a lot of times, make what they want to about who a person is. A lot of times it's what the media says. A lot of times it's just catching touchdowns or whatever," Edwards said. "They create their own persona of who a person is. Sometimes it's good. Sometimes it's bad for no reason.
"So, the book was just to give you an in-depth look at the life of a football player from my point of view. How one grows up. How one makes the decision to go to college, what happens in college. Going to the NFL. Being a first-round draft pick. Being a Pro Bowler. Being traded. Being cut. Show the ups, the downs, and also provide some perspective."
In the process of writing two other books, Edwards also works with SMA, the Sports Management Agency. Not a representation company as the name may suggest, he and other athletes visit addiction centers, churches, youth homes and middle schools to discus substance abuse and the opioid epidemic.