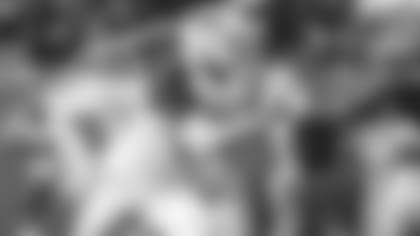 A graduate of the University of Pennsylvania's Wharton School of Business in 2013, Brandon Copeland probably could have figured out how to fit a square peg into a round hole. The thing is, he could play football, too.
A three-time first-team All-Ivy League defensive end, Copeland spent time on Baltimore and Tennessee's practice squads before an impressive performance at the NFL Veteran Combine led him to sign with Detroit in 2015.
After three seasons with the Lions, the third spent on I.R., the converted linebacker signed as a free agent with the Jets in March 2018.
"I think that Coach (Todd) Bowles was definitely a huge attraction being a Penn guy and him being a Temple University guy," Copeland said. "And New York being the Big Apple, my grandfather (Roy Hilton) played with the New York Giants, and he always said, "You know, there's nothing like playing in the Big Apple.'
"And most importantly, I think it was the right time. They were going to give me the right opportunity at that point in my career to go out and compete for a starting outside linebacker job, and to really get to live my dream in the NFL.
"Also, we had a home there. My wife is from there. And so it was just a great opportunity to not only live my dream, but also have my family be a part of that dream with me. So it worked out to check a number of boxes."
When Copeland checked into New York's linebacker room, besides opportunity, he also saw that he'd be sharing it with some young teammates.
"Outside of Jordan Jenkins, I think he was drafted two years before, they had Lorenzo Mauldin at that point. It was the room that could use leadership," Copeland said. "I think I was the oldest vet in the room. And so it gave me an opportunity to go in to be a leader, but it also gave me the opportunity to go in and compete.
"They didn't come and say, 'Hey, you're going to be a starting outside linebacker,' because that's not what it was at all. It's like, 'Hey, you will have an opportunity to let your play speak for itself.' And that's all I've ever asked for."
That opportunity came in his first year as a Jet. During his first two seasons with the Lions, Copeland started in one game. His third was going to be different, but…
"As you gain your footing, so to speak, you just look for more and more opportunities to play. And being a perennial – quote, unquote – special teams player, the year before (joining the Jets) I was coming off of a pec(toral muscle) surgery," Copeland said.
"I tore my pec the first preseason game. And the day before that preseason game, my linebacker coach told me that I'd be the starting Sam (strongside) for the season. And unfortunately, I go out that next day and tear my pec. So that didn't last too long.
"But to have an opportunity to come back and do that is literally a dream come true. The amount of pride that I had walking around and knowing that on Sunday, I'd be playing and I'd be going out and competing for New Jersey, New York, priceless. It was a priceless feeling."
Playing in 28 games over two seasons for New York, Copeland made his presence known on the field with 77 tackles, 6.5 sacks and 17 quarterback hits. And it was his first game as a Jet that he finds most memorable.
In the starting lineup for the nationally-televised Monday Night Football 2018 season-opener against his former team, New York shut down Detroit's offense and scored 31 points in the second half to win, 48-17.   
"That was just a moment. That was my first opportunity as a full-time starter. The only time I left the field was for offensive snaps. I played every punt, punt return. I played field goal as the wing. I played field goal block, kickoff return, and literally played almost every snap on defense," Copeland said.
"I was extremely exhausted after the game. But before that game, I called my grandmother, she's on dialysis. And she was talking to me about how exhausted she was, three times a week going through that process. It was new for her at that time.
"I remember going into that game telling myself, 'Stop crying. You have nothing to worry about with your exhaustion. My exhaustion is totally different than hers. You've been praying for this opportunity. You've been praying for the chance to start. You get to play against your former team on Monday Night Football. Enjoy it.'
"And I remember having these different thoughts, coming off of a pec surgery, not knowing whether I'd be able to come back or not. That definitely was a true highlight of my career because it was a combination of my hard work to get there."
Going on to play one season each with New England, Atlanta, and Baltimore, Copeland retired in August, and he and his wife, Taylor, are making their home in Florida with their young sons: Bryson and Braylon.
Copeland has been preparing for his post-playing days for years, and now with his helmet and shoulder pads beginning to gather dust, he's tackling a few careers. One, which he began in 2019, is as a professor at his alma mater, the University of Pennsylvania, where he developed and implemented a curriculum titled Life 101.  
"When I came into the NFL, I was learning a lot about money on the fly, and I'd gone to some of the best schools in the world," Copeland said. "But when it came to understanding a 401k and IRA and all these things, I was learning new terms while in the NFL. And I was just like, 'This is backwards.' There are certain decisions in life that we know we're going to make and we go through all these years of schooling, and we don't talk about them."
He's also the CEO and co-founder with Jim Cavale of a 501c3 non-profit – athletes.org.
"We're the Airbnb of professional services for athletes. What does that mean? When you go to Airbnb, you get to see a directory of different houses, profiles for the houses, ratings, reviews. I think you should be able to do that as an athlete for the people that you choose to do business with or that want to do business with you. So this platform we built is a legal directory so that athletes can get contracts reviewed for free. We built a medical directory so that athletes can get a second medical opinion. We just secured our first mental wellness partner, so that athletes have access to mental wellness resources," Copeland said.
"We have college athletes and professional athletes and some former pros. We call it a locker room for life. And with college athletes and the NIL, athletes are just going pro earlier. You can have an opportunity to make money for yourself. And you making the right decisions with that money and you structuring those deals the right way, that's the difference between generational wealth or 'if I only would have known.' Or 'if somebody would have told me.'
"Ultimately, this becomes a one-stop shop verifier of people that want to do business with athletes. For the first time ever, we can hopefully push bad actors out of the space. And we as athletes have power to connect with each other within a community. We want to make sure that athletes in this community are blanketed with the knowledge, access, and protection that we're giving them."