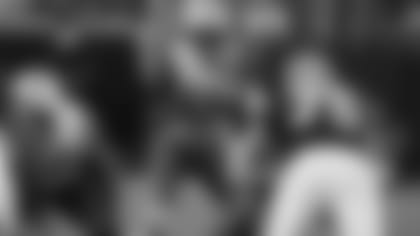 Since the franchise became known as the Jets in 1963, it has played on Thanksgiving five times.
Once, the holiday consisted of turkey, stuffing, cranberry sauce and a victory, when in 2010, New York beat the Cincinnati Bengals, 26-10.
That was thanks in large part to fifth-year wide receiver Brad Smith. In the second quarter, trailing, 7-3, he took a handoff from Mark Sanchez on an end around, and raced down the sideline 53 yards for a touchdown.
"We were definitely a very good running team with the offensive line and the backs we had," Smith said. "They were keying in and I was going in and blocking on a lot of those plays. I remember kind of pointing to a guy that I would normally block in that formation, just to kind of get him thinking that it was that same run play. After that, just run and try to make it happen and get as many yards as I could."
After a Bengals field goal in the fourth quarter, Smith took the ensuing kickoff and zig-zagged down the field – even losing his left shoe near the 50-yard line – 89 yards for another touchdown.
"Coach (Mike) Westhoff, he really is the best special teams coach I've ever seen," Smith said. "The mentality was do what we always do, and that's go score. Every time somebody kicked it to us, and this was the case. I remember getting through and having to wait and weave a little bit, let the guys get to their blocks because the kick was short.
"Once you get through and see some green grass, you try to hit it. But I couldn't really because the guy grabbed my shoe. The first few steps after getting through the first wave was trying to slam my foot in the ground to try to get my shoe back on. And then after a few steps, I realized that wasn't going to happen. So, I just kicked it off and started running."
"My wife and my son couldn't be there, but they texted me to say how they were able to watch it on TV," Smith said. "They were just proud of me and that meant the world. And then the people you hadn't talked to in a while, they knew you played but didn't know where you played. They were just supportive. Seeing those messages that people were able to watch, and to just so happen to have some success that day, that was cool. I'll never forget that."
A quarterback at the University of Missouri, Smith joined the Jets after being selected in the fourth round of the 2006 NFL Draft.
"I was excited. Of course, you see guys drafted before you and you were hoping that you'd get drafted a little higher," Smith said with a laugh. "But I was just happy to be part of the scene. You get to know people and build relationships and it kind of goes from there. Jerricho Cotchery was a guy that I looked up to and set a pattern of how to be a pro for me."
In addition to learning how to be a pro, Smith was also learning about his role on the team. He would see time at wide receiver, running back, kick returner, punt returner, and also at quarterback.
"Coach (Eric) Mangini said, 'Just come in and do everything.' Kind of whatever we ask you to do was really what I heard," Smith said. "That would change from game to game, so it was really come in and do whatever we need you to do to help the team.
"It was intimidating physically because it was just learning a whole new pattern of movements playing receiver. As a quarterback, I would run but it's a different type of movement and my body hadn't been through that. So, it just was intimidating in that aspect that it hurt.
"Other than that, mentally, I think I was prepared to battle and to grind, but the physical part was learning different skills. And then trying to play quarterback at that high level with not a whole lot of time to practice it was a challenge, as well."
With the Jets for five seasons from 2006-10, other than shining at Thanksgiving, what's another fond memory from his time wearing the Green & White?
"I think the thing that sticks with me most is the first training camp as a rookie," Smith said. "I remember the stuff we had to do. It was Coach Mangini's first year, and I remember D'Brickashaw (Ferguson) and Nick Mangold, Leon Washington, Eric Smith and the guys, just the sheer amount of work that we had to do day in and day out.
"Just that bond that we have to this day, those are my fondest memories just because nobody else can imagine what we went through. And we did it together."
Smith went on to play four seasons with the Buffalo Bills and Philadelphia Eagles. Both teams are well known for having extraordinary fanbases, but what sets Jet fans apart from them?
"They care about performance. They care about wins and losses. I wouldn't say they care more, but they can definitely make an instinct about your effort and how you handle yourself on and off the field," Smith said. "You can gain Jet fans' respect just by how you come to work every day, how you treat other people.
"Not saying those other fans don't appreciate that. Just from my experience and my time there, I wasn't Mark Sanchez or Brett Favre or any of those guys, but just tons of Jets fans have come up to me and say they appreciated my hard work and appreciated what I brought to the team. I appreciate that so much about Jets fans. They'll always have the most special place in my heart of the teams I played with."
Now making his home in Austin, Texas, with his wife, Dr. Rosalynn Smith, and their children: Bradley II, whom they call Alex, and Brea; Smith is a venture capitalist.
"Depending on what area or what specialty we want to be involved in, we'll partner with somebody in that particular field," Smith said. "I enjoy getting to experience different disciplines. It's kind of almost like how I ended up playing in the NFL, just being versatile and getting to experience and learn so many different things. And meet a lot of different people, I enjoy that the most."
In 2007, Brad and Rosalynn founded Brad Smith's True Foundation. It works to promote education, discipline, and organized activities for youth in the Youngstown, Ohio community.
"It was kind of influenced by Jerricho Cotchery, just seeing what he was doing in his community and with football on and off the field. I got inspired by him and his wife, Mercedes, and we kind of took that blueprint and put it to place in Youngstown, where I'm from," Smith said.
"It's for people, kids, adults, families who struggle from time to time or who just need a little bit of guidance or some information that otherwise they wouldn't receive. So, just providing that, my wife and I, this has been a passion of ours.
"It means everything (to give back to my hometown). Each of us has that capacity to provide something, to pay it forward to somebody with something of value to us that we can deposit and give to somebody else. That's been our top push and our why of why we do it. You have the opportunity to really affect someone's future. And not only theirs, but their family. That carries a lot of weight for us. It changes the way we look at things and deal with things on a daily basis."