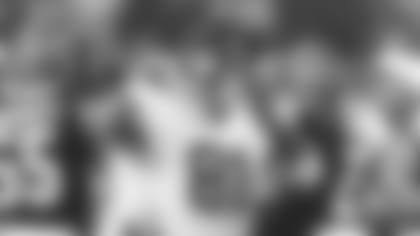 The odds of five kids growing up together on the same block each making it to the NFL would seemingly be greater than Lynyrd Skynyrd not performing "Sweet Home Alabama" during a concert. But it happened.
Former Jets tight end Bill Griggs and his brother, David, who played for the Dolphins, were raised in the same Pennsauken, New Jersey neighborhood with former 49ers receiver John Taylor, his brother, Keith, who played for a few teams including the Colts, and Todd McNair, who was with the Chiefs.
"We all had aspirations of making it, but millions of kids have that," Griggs said. "The farther you go along on high school and college; I think you kind of get the confidence that maybe I can do this. But there's so many things that can happen that it's weird when you get that many people from one small town playing.
"I think once they saw that I made it in the NFL, especially my brother and my cousin, Todd, they were like, 'If you did it, I'm definitely doing it.'"
Selected by New York in the eighth round of the 1984 NFL Draft out of the University of Virginia, Griggs spent his first season on Injured Reserve.
"I twisted an ankle and rehabbed it in a week or so," Griggs said. "I think the teams pretty much if you got nicked or something in training camp and they saw something in you that they could develop, they'd put you on IR for the year. (Head coach) Joe Walton, the first thing he said was, 'This is a good opportunity for you to learn the offense and get acclimated to the NFL without the pressures of playing right away.'
"So, I was able to kind of slow down and take everything in at a lot slower pace, which allows your abilities to come out once you know what you're doing. How to run routes in the NFL and things that you need to do to give you that little edge."
On the active roster in 1985, Griggs was used mainly as a blocker, while fellow tight end, Mickey Shuler, was a key target who would lead the Jets in receptions.
"Mickey, of course, could block, too, but he was used primarily as a receiving tight end," Griggs said. "I thought I could catch just as good as anyone, but we ran a lot of two-tights and a lot of three-tights (formations), so you certainly had to block. And you had to play special teams. One thing I think I learned early was the easiest way to get on the team was to excel on special teams.
"It was relatively new. I mean, in high school when you're young, you play special teams, but it's a whole different mindset. But at the end of the day, it is some of the same things. You might not be catching the ball, but you have to block and there's footwork and everything, so a lot of things translate over.
"(It was) a lot funner to tackle somebody than to be tackled. Not to say it didn't hurt as much because running down full speed on a kickoff to tackle somebody is no walk in the park. But you learned to do it and when you'd make a tackle, it's exciting."
Griggs experienced more excitement during the 1986 wild card playoff game against Kansas City when he caught his first career pass and scored his first touchdown on the same play in the 35-15 victory over the Chiefs.
Understandably, it's one of the fondest memories from his days with the Jets.
"It wasn't a long touchdown, but it was a special play," Griggs said of the 6-yard score. "It was a play put in specifically, I think it was called the 'Billy pass' because it was a three-tight end set. We practiced this thing and if it didn't work, it wasn't going to be good for me. It worked to perfection. That was a big moment for me, the first NFL touchdown.
"And it was satisfying because Kansas City, at the time, had some defensive backs that grew up near me in New Jersey. So, it was fun playing against them and actually scoring and beating them. That was a big play, a good day."
With the Jets for six seasons including the one on IR, Griggs is now a Senior Sales Executive for Tours & Travel with the Gaylord National Resort & Convention Center in National Harbor, Maryland.
"I enjoy my job. I enjoy coming to work every day. I'm in the group sales department, so it's really like coming into a locker room every day," Griggs said. "Basically, what I do is put together groups, 20 rooms or more, that want to come to Gaylord and experience what we have here. When I first retired, I had several travel agencies that I opened because I was always interested in travel and tourism. It kind of goes hand in hand with that, except I'm on the other side where I'm the hotel now instead of the travel agent bringing groups, I'm here receiving the groups.
"We have a big meeting and convention proponent to Gaylord, and I handle the tour and travel. They said, 'Look, we want you to build the plane and fly it.' I've built that over the last three years and we're doing well with it."
Making his home in Northern Virginia with his wife, Christine, Griggs has two sons: Billy IV and David.