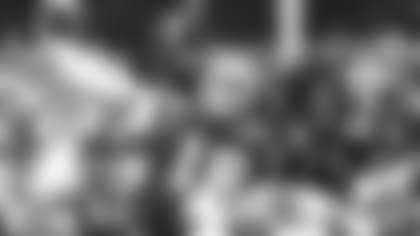 As a senior quarterback at Duke University in 1969, Al Woodall had two drafts weighing on his mind – the NFL and the military. They intersected when the Jets chose Woodall in the second round while he was otherwise occupied.
"I was in basic training in Fort Jackson, South Carolina" Woodall said. "I was two days into it and at that point they had me buried. You don't even know the outside world's there. Somebody called the base and told them they were looking for me. And all of a sudden, I get called out of ranks and am thinking, 'Now what'd I do?'
"And that's how I found out. Vietnam was still up and running pretty strong. I had to do something because I knew I was going to get drafted. So, I joined the (National) Guard."
Woodall was also joining a team that 16 days before the NFL Draft, had fulfilled star quarterback Joe Namath's guarantee, and won Super Bowl III.
"Quite honestly, I was surprised I was drafted that high. But I guess I wasn't so surprised that the Jets would draft a quarterback. Once I looked at it, I said, 'OK, Babe Parilli's the backup and he's getting up there a little bit. And so, obviously, they were looking for an heir apparent," Woodall said.
"When I talked to (head coach) Weeb (Ewbank), he basically just said, 'Look, we're looking for someone to back up Joe. We still have Babe, but we think that we need a young guy to start filling those shoes.' And that was really about it. He didn't elaborate. He didn't say, 'We expect you to beat out Joe Namath.'
"I only played 13 games in college. I was hurt and other things happened, and I needed some experience. I never did have the body for football. I was just a tall, skinny kid. My talent was I could throw pretty well, but I needed to get stronger."
Besides muscling up, Woodall also needed to prepare for a culture shock. Raised in Erwin, North Carolina, a farm and cotton mill town of 2,500, he didn't come anywhere close to New York until after signing with the Jets.
"Our training camp in those days was at Hofstra. And I remember when we took two or three buses into the city for some sort a luncheon, the New York Jets Club, or whatever it was," Woodall said. "I remember looking out at the streets of New York and I thought something had happened like a fire. Where are all these people going?
"I had no idea that this was just a daily occurrence in New York City. So, yeah, it was a rude awakening. I didn't know how to ride a subway or anything. It was an education in itself."
Because Woodall didn't get much playing time until his senior season at Duke, he admittingly needed more experience, and took advantage of the opportunity to watch and learn from his veteran teammates: Namath and Parilli.
"They led by example," Woodall said. "Joe and Babe were both very accommodating, very nice. And as I like to say, 'Joe wasn't worried about me beating him out.' So, there was no reason not to be nice. Babe was good, too."
Woodall became New York's starting quarterback in 1970 when Namath was sidelined with an injury and totaled 1,265 yard passing yards with nine touchdowns and nine interceptions. One of his fondest memories from the five seasons he spent with the Jets occurred that season in the game against the Los Angeles Rams, when he went 10 of 17 for 261 yards and three touchdowns in a 31-20 upset victory.
"In those days, there was one (nationally televised) game on a week on Sundays," Woodall said. "And there was a big buildup that the Los Angeles Rams, the 'Fearsome Foursome,' versus Joe Namath. A couple weeks before it, Joe got hurt, but they kept the game on (TV). We were, and I believe I'm right, 17-point underdogs. And we beat them.
"I never quite felt like I played as well as I could (during my time in the NFL). Maybe everybody feels that way, I don't know. My best moment was that year when we played the Rams and I believe the Vikings might have been back-to-back. And we beat both teams. I felt pretty good about winning those two games."
Woodall actually led the Jets to three consecutive victories over the Rams, the Patriots and the Vikings. He was New York's leading passer again in 1973.
Following his football career, Woodall got into the insurance business – first in New York City, and then in Denver, and finally in New Canaan, Connecticut. Initially with Northwestern Mutual, he later became a partner in the agency, Woodall, Stoia & Associates.
Now retired after 25 years in that field, Woodall and his wife, Jackie, make their home in New Canaan. They have two adult children, Matt and Jenna, and two grandchildren.