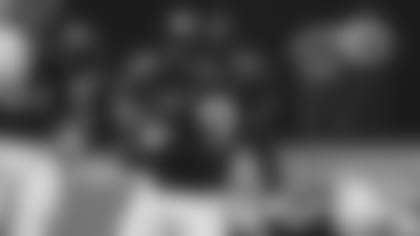 Adrian Murrell discovered the value of patience during his five seasons as a running back with the Jets from 1993-97. It began when he had to watch ESPN's coverage of the 1993 NFL Draft much longer than he would have liked.
"I was excited to finally hear my name called," said Murrell, one of three players New York chose in the fifth round. "I was hoping for an earlier time like anyone else that was drafted later, but I was excited to be with the Jets."
During his first two seasons, Murrell played behind Johnny Johnson and rushed for 317 yards. As the starter for nine games in 1995, he more than doubled that with 795 yards and added a career-high 71 receptions.
"I think that Boomer (Esiason) had some comfort with (throwing to me) if things weren't happening downfield," Murrell said. "There was some rapport that was built between Boomer and myself and I caught the balls that were thrown for the most part."
It was good news, bad news for Murrell in 1996. The good news was that he rushed for a career-high 1,249 yards – fourth highest in the AFC – and scored seven touchdowns, six on the ground. The bad news was that he and the Jets posted a less than stellar 1-15 record. The victory was over the Arizona Cardinals in Week 9, 31-21, when Murrell rushed for 199 of the team's 208 yards and scored a touchdown.
"Each week we'd go in with the mindset that we've got a good game plan and we felt that our chances were very good to win," said Murrell, who led the Jets in rushing three consecutive seasons, 1995-97. "And each week I would come in with the renewed confidence that we can get something done. I'd still have to give credit to guys like (offensive coordinator) Ron Erhardt and his system that they brought in.
"I watched Pittsburgh (where Erhardt was the Steelers' offensive coordinator the previous four seasons) and watched how (running back) Barry Foster and those guys had executed within that system. I was excited about that because it gave us kind of an identity of what our offense would look like.
"We would get down in games and unfortunately we'd have to stop running the ball in the second half. But I was excited about that year and was always optimistic that we could win games."
Even though he experienced only one winning season and four head coaches – Bruce Coslet, Pete Carroll, Richie Kotite and Bill Parcells – in five years, Murrell has fond memories of his time as a Jet.
"We had guys on our team like (veteran safety) Ronnie Lott and I can remember staying after practice with him working on things that he felt like he needed to work on for the next game," Murrell said. "That kind of taught me how to be a professional. Aaron Glenn, Victor Green, we all kind of grew up together and we were optimistic about what we could do with the Jets.
"Unfortunately, the wins or some of the other things that come along with winning, I didn't realize much in my career. But I enjoyed playing in New York. The city was very kind to me and I always tried to do my best.
"Sometimes the season got long for them, I can imagine, but they for the most part were always there wanting to see us do well. The fans were diehard fans. When the Cowboys or a bigger team would come into town that may have had a little bit more success, the stadium wasn't blue. The stadium still was green with Jet fans and Jets paraphernalia, actually true fans of the team."
Murrell and his wife, Tonia, make their home is Davidson, North Carolina. They have a son: Tylan, 22, who is a running back at the University of Utah; and two daughters: Aryn, 20, and Amari, 15.
The president of the NFL Alumni's Carolina chapter, Murrell is a regional development partner and works with West River Construction.
"They essentially build student housing," Murrell said. "I do business with developers and construction firms. I broker deals and I'm enjoying it. I think I've actually found what I like and what I feel like I'm good at. I wake up every day with promise of continuing to gain business and build relationships. It's been fun."