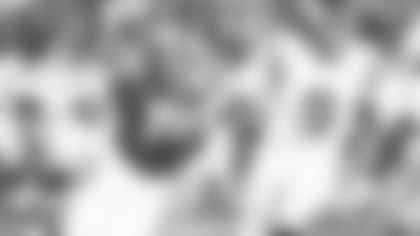 After giving up the most yards per carry in the NFL in 1975, the Jets needed to shore up their defensive line. That began in the following year's Draft when they selected Abdul Salaam, a defensive end from Kent State University.
"We had a celebration after the Jets drafted me," Salaam said. "I thought Cleveland would (choose me because of its proximity to Kent State)."
Salaam, who had been chosen in the seventh round, was actually the only defensive lineman New York picked during the 17-round Draft. Even with those improved odds to make the team, Salaam realized he had his work cut out for him. And that he'd have to do it on his own.
"It was every man for himself when I got to camp. It was a struggle all the way," Salaam said. "But I was a scrapper, so anything goes."
The Jets added another scrapper to their defensive line in 1977 when they drafted Joe Klecko. The gang grew two years later when they picked Alabama's Marty Lyons in the first round, and Mark Gastineau from East Central (Oklahoma) in the second.
They would, of course, become known as the "New York Sack Exchange," and in 1981, set an all-time team record with 66 sacks. That helped the Jets post a 10-5-1 record, and make the playoffs for the first time in 12 years.
"We made the adjustments and learned very quickly. That's why we were successful. I went from defensive end to tackle and he had some great help in bringing Marty and Mark in," Salaam said. "It was like a heavyweight fight. You had to be scrappy and know that you were going to be hit. You had to stay up on your feet and keep going. It was just a coldblooded struggle."
While Salaam, Klecko, Lyons and Gastineau put up a battle in the trenches and helped the Jets reach the AFC Championship Game in the strike-shortened 1982 season, they took time to celebrate their on-field accomplishments. Especially Gastineau, who introduced the sack dance.
Salaam may not have been busting a move, but he was right there with the defensive end.
"I worked very close with Mark, so when he did the sack dance, I knew he was sincerely happy about getting the sack. So, it was kind of a dance for me too," Salaam said. "I did (plan a dance of my own) at first, but I was in the middle (playing at tackle) and wasn't able to get as many. So, I wasn't able to dance as good."
With the Jets for eight seasons from 1976-83, what makes Salaam most proud of what he and his teammates were able to do? "That we survived. It was a game of survival, and we passed the test."
Now making his home in Cincinnati with his wife, Debbie, Salaam retired in 2013 as an officer and football coach in the city's school district. He's enjoys spending time his family and watching his granddaughters play basketball.
He also follows the Jets and feels better things are just around the corner.
"I know they're going through some struggles, but I think if they keep going, they'll learn the lessons," Salaam said. "It takes hard knocks. In order for them to pass through to the other side, they have to struggle. And with struggle comes ease. So, they're struggling now, but you start out at one, and then go to two, then three, to make it happen."