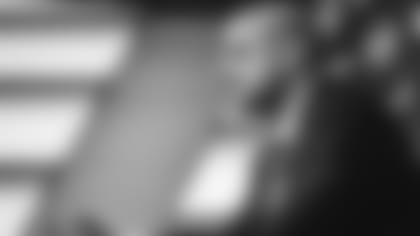 The Jets are under construction as Head Coach Robert Saleh begins to implement his philosophy encapsulated by the mantra "All Gas, No Brake." On offense, Saleh brought in Mike LaFleur from the 49ers to be the offensive coordinator.
"Mike LaFleur has been with [49ers Head Coach] Kyle [Shanahan] for, I think, eight years now of professional football and nobody in the world knows it better than he does," Saleh said, referring to San Fran's style of the West Coast offense. "So to be able to have him and to get John Benton along with us as run-game coordinator, I'm really excited about them being able to install the system and implement the vision that we all we all want to see. A lot of pre-snap movement, a lot of help for the quarterback, run mirroring with pass.
"There's going to be a clear identity of what we're trying to accomplish down in and down out on the offensive side of the ball, defensive side of the ball and special teams for that matter. I'm really excited about the vision that we have in place for the offensive side and there's no one better in the world then the people that we've hired to be able to do that. So, it's going to be an exciting time for this organization."
LaFleur, 31, is the younger brother of Packers' HC Matt LaFleur and worked under Shanahan since 2015, when they were with the Falcons. He spent the past three seasons as the 49ers' passing-game coordinator. San Fran had 13 players with at least one touchdown reception in 2019, which tied an NFL record. In 2019, TE George Kittle was named an Associated Press First-Team All-Pro, leading the team with 85 catches and 1,053 yards and tied for first with 5 TDs. Kittle became the first tight end and fifth player in franchise history to have multiple 1,000-yard seasons, joining Jerry Rice, Terrell Owens, Anquan Boldin and John Taylor.
After the 2020 season finished, Jets' GM Joe Douglas said that the team had a big decision to make this offseason regarding QB Sam Darnold. Saleh complimented Darnold, who completed 59.6% of his passes in the 2020 season and threw for 2,208 yards, 9 TDs and 11 INTs, in his introductory press conference.
"What I can tell you with regards to Sam is that he's got an unbelievable arm talent," he said. "There's a reason why he was the No. 3 pick in the draft. He's fearless in the pocket, he's got a natural throwing motion, he's mobile, he's extremely intelligent and he's tough as nails. His reputation in the locker room is unquestioned. You can see all those qualities on tape and around the building and the way people speak about him."
Saleh said it was to early to name Darnold the starting QB, adding that he wants to evaluate every position on the roster along with the coaching staff, and Douglas and his staff.
"There are a lot of tapes to watch, a lot of discussions to be had and that's what I love about Joe [Douglas]," Saleh told Eric Allen on nyjets.com. "He's ready to talk ball. We're already starting to talk and just give ideas and I can't wait to really sit down and go over the roster, the different plans he might have and how we see it and the collaboration that will take place. You can have all the draft capital in the world, all the money in the world, but unless you do it together, communicate and do what's best for the organization, it won't matter. Having that mindset that Joe has, I can't wait to get to work with him and it's going to be awesome."
See the Top Images from Robert Saleh's Introduction as the Jets Head Coach