Eric Decker (WR), Quincy Enunwa (WR), Jeremy Kerley (WR-PR), Brandon Marshall (WR), Kenbrell Thompkins (WR), Jeff Cumberland (TE), Kellen Davis (TE), Chris Owusu (WR/IR), Devin Smith (WR/IR), Jace Amaro (TE/IR), Zach Sudfeld (TE/IR)
Kellen Davis (UFA), Chris Owusu (UFA), Kenbrell Thompkins (RFA), Zach Sudfeld (RFA)
The passing game totaled 4,057 yards of offense for the Jets with immense contributions from the dynamic duo of WRs Brandon Marshall and Eric Decker. Marshall led the offense with 14 touchdowns, 1,509 yards and 109 receptions — the best single season by a Jets wideout in the history of the franchise — while Decker broke the 1,000-yard mark for the third time in his career and his first as a Jet.
The Green & White received big-time plays from WRs Quincy Enunwa and Kenbrell Thompkins late in the season. Enunwa caught a 48-yard pass that led to the game-winning touchdown in overtime against the Patriots, while Thompkins grabbed a 43-yard pass that set up the go-ahead field goal by K Randy Bullock in the comeback win at Dallas.
The peak of the Jets passing game came during the five-game winning streak that started in Week 12, when quarterback Ryan Fitzpatrick averaged 305 passing yards per game and connected on 13 touchdowns while throwing only one interception.
As a first-year Jet, Marshall surpassed WR Don Maynard's single-season record of 1,434 receiving yards in 1967 and Al Toon's mark of 93 receptions in 1988, and his 14 TD receptions equaled the franchise mark set by Art Powell in 1960 and matched by Maynard in '65.
Decker finished his second year with the Green & White with 12 touchdowns, just one shy of his career best of 13 established in 2012 with Denver. Ten of this season's scores came in the red zone. One of Decker's highlights of the year was against the Jets' stadium rivals, the Giants, when he registered his only 100-yard performance of the season, 101 yards in all, on eight catches.
After battling through injuries during training camp, Jeremy Kerley returned to action and served as the primary punt returner during his fifth season with the Green & White. Against the Dolphins, Kerley recorded a 58-yard punt return, the second-longest of his career and the longest of the season. "JK" showcased his receiving talents in Game 6 at New England (three catches, all for first downs, one for a touchdown) and Game 7 at Oakland (season-high 63 yards on four catches).
TEs Jeff Cumberland and Kellen Davis combined for eight receptions for 95 yards in 2015. But the primary role of the tight ends in Chan Gailey's offense was to block for the solid running game that ranked 10th in the NFL with 1,868 yards.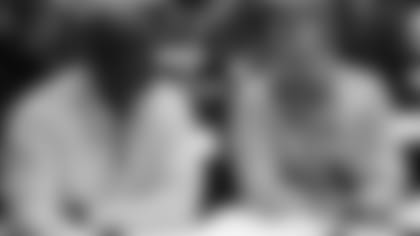 GM Mike Maccagnan and head coach Todd Bowles will have hefty jobs finding and developing the complements to Marshall and Decker in the receiving game. The Green & White have high hopes for Devin Smith, the second-round rookie who showed flashes of being a dangerous WR (nine catches, 115 yards, TD reception vs. Miami) before suffering a season-ending torn ACL.
Then it will be interesting to see how OC Chan Gailey will use TE Jace Amaro, who had 38 receptions for 345 yards and two TDs as a the second-round pick of 2014 but suffered a season-ending shoulder injury in training camp. Maccagnan will also try to retain WRs Chris Owusu and Kenbrell Thompkins and TE Zach Sudfeld, all of whom could become free agents.