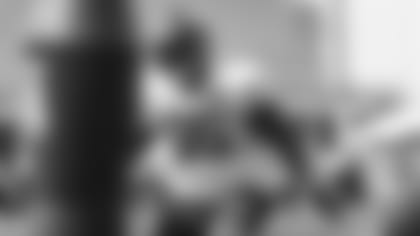 Throughout the season, NewYorkJets.com reporters Eric Allen, Randy Lange, Ethan Greenberg and Olivia Landis will each give their predictions to a series of questions regarding this year's Jets.
Today's question: What are you looking for in the Jets' preseason opener vs. Giants?
EA: The 2019 Jets Draft Class featuring "Big Baby."
Throughout the summer, many people have talked of Quinnen Williams being the top overall talent in the entire draft class. Williams has also become a social media sensation with his infectious smile, the child-like exuberance and his innocent nature.
But make no mistake — Williams has nasty intentions. He is on record saying he wants to dominate and he'll get his feet wet against the Giants. I would expect the 6'3", 295-pounder to start because veteran Leonard Williams (hip) sat out two practices this week and it's improbable to think he would be in the lineup in the first preseason contest. During a media huddle this week, veteran DL Henry Anderson said of Quinnen Williams, "Powerful dude, but he's also really quick. For a guy his size, you don't typically see the quickness and quick twitch that he has." And third-year safety Jamal Adams Williams added Williams has the "mindset of a killer."
Even if Williams starts, I would anticipate he might stay in the game with the second-team defense. If I'm watching at home, I might skip the ball and keep my eyes fixated on nine-five. He has rare physical skills and he gets after it each rep. Blake Cashman, a fifth-round pick from Minnesota who has received some reps with the first team in sub packages, is a player who has impressed with his speed and his coverage ability. How will he fare against a new offense? Chuma Edoga, who has had a solid camp and figures to be the club's swing tackle, could see a lot of action on the left side. And I'm not only interested in Trevon Wesco, a fourth-rounder from West Virginia, because he's a pick but we'll also have to monitor how Adam Gase will attack the tight end position this summer with the Chris Herndon suspension on the horizon.
Football is back and "Big Baby" is eager to get a bite of the Big Apple.
EG: Being this is the first game action since December, it's hard for me to ignore the obvious like Sam Darnold, Le'Veon Bell and C.J. Mosley, but there's been no word on how much any of them will play, if they suit up, so I'm going to avoid discussing them for this answer.
I have a soft spot for rookies, so I'll be keeping an eye on Quinnen Williams and Jachai Polite, who have both been heating up at practice lately. Polite showcased his nasty bend that helped him lead the nation with six forced fumbles in 2018 and total 11 sacks. The Jets have a competition at OLB opposite Jordan Jenkins and if the Florida product can become a consistent force off the edge, to go along with the pre-existing stout interior of the defense, the Green & White will be in good shape. I'm also interested to see how fifth-round LB Blake Cashman fairs as he's received some first-team reps throughout camp.
This is the time of year where the horses start to pull away from the pack. There are a number of position battles taking place and players have an opportunity Thursday to begin to stake their claim on the 53-man roster. At wide receiver, Tim White and Deontay Burnett have both impressed in camp, but it's a different game under the lights. Another factor to keep an eye on is how much can they contribute to special teams? Undrafted rookie WR Greg Dortch has had a pretty quiet camp for the most part, but is listed as the Jets' starting punt returner. On a side note, I want to see Trenton Cannon break loose either on offense or returning a kick. We've seen flashes of the speed, but I want to see him at full-throttle.
OL: Like most preseason games, we probably won't get an abundance of looks at the first team, so it's wise to keep that in mind heading into the Jets' matchup versus the Giants. However, one starter to watch out for will be second-year quarterback Sam Darnold, who is likely to make the start. I'm most interested in seeing him and first-year Jets head coach Adam Gase and their communication in a game setting as opposed to practice, which is all we've witnessed thus far. Darnold has also pulled out more than a few impressive days at camp, showing he's taken progressive steps since last season.
Someone else to keep an eye on is rookie DL Quinnen Williams. Even though he's been nicknamed "Big Baby" by his teammates, he's shown nothing but a beast mentality throughout training camp. Spending most of his time with the second team—while also seeing some reps with the first team—I think Williams will get a chance to showcase what he's got against the Giants. Like Jamal Adams said, "He has a mindset of a killer."
I'll also be watching the wide receiver group as the second-team players have impressed throughout the first phase of training camp, specifically Tim White, Deontay Burnett and Josh Bellamy.
RL: I'm eager to see how the Jets offense spreads its wings in the opener.
Obviously we won't see a lot of Sam Darnold vs. the Giants. And I suspect we won't see much if anything of RB Le'Veon Bell this entire preseason. Still, it will be interesting to watch how Adam Gase, given much props by the Jets as a talented offensive guru, working for the first time with a young, talented QB, makes his debut as the Jets' play-caller.
Will Robby Anderson show some flashes of the "experiments" that Gase and OC Dowell Loggains have been conducting with his route tree? Jamison Crowder has been exciting out of the slot and it will be cool to see how he's targeted by Darnold, backup Trevor Siemian and the rest of the QBs. And with Bell easing into season, Ty Montgomery, Bilal Powell, Elijah McGuire and Trenton Cannon will be splitting up the carries and giving some hints of how Bell and the RBs will be used in the passing game.
Another key area is tight end. With Chris Herndon playing all preseason but then sitting out the first four games of the regular season under NFL suspension, will it be TE by committee the first quarter of the season? Or will Ryan Griffin, Daniel Brown, Eric Tomlinson or rookie Trevon Wesco step up for a greater slice of the playing time before Herndon returns?
Last, it will be revealing to see how the Jets' O-ine handles the scheme of Giants DC James Bettcher after working all offseason and for two weeks of camp against DC Gregg Williams' aggressive fronts. The thinking is that going against Williams' units every day will have the Jets ready for whatever may come at them this season. That has to be the case if Darnold is to operate at peak efficiency in finding all of his offensive weapons.