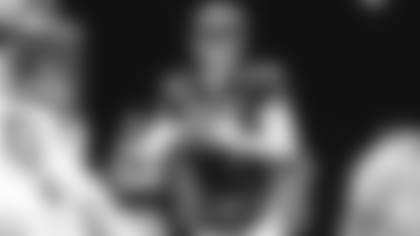 Complementary football has propelled the Jets to three straight wins, from Weeks 10-12, a streak that includes Sunday's 34-3 trouncing of the Raiders.
The Jets have scored 34 points in each of the contests after averaging 12 points in their first eight games. The offense has been on a tear and has averaged 365 yards in that same span while QB Sam Darnold has thrown for 838 yards, 7 TDs and 1 INT (65% completion rate). So, what's clicked for the Jets offense?
"I think offensively, really what you look at is we stayed out of second- and third-and-long, which puts us in a position to get that first-down-second-down-first-down thing going and third-and-manageable to where we can convert," Coach Adam Gase said. "It seems like our drives are longer, we're executing multiple plays better than we were earlier and fewer turnovers. We're doing these little things right that [used to be] one or two guys in a series that would throw the series off. Now, we're sustaining the drives, we're finding a way to get in the end zone, we're getting points in some capacity."
Defensively, Gase said the players have started to mesh well together. The group has held its opponents to an average of 15.6 points per game during the winning streak. In addition, opposing offenses have been limited to 238 total yards per game, compared to 352.5 yards in Weeks 8-9. The Jets have also forced 5 turnovers (3 FF, 2 INT) and scored two defensive touchdowns in the last three games.
"At the end of the day, it comes down to these guys staying on track, not getting frustrated the result wasn't there," Gase said. "They knew they were better. There was a lot of moving pieces, so I'm sure that wasn't fun for any of those guys because every time they lined up, there was a different guy next to him.
"Win or lose, we've just got to keep finding ways to get better. I feel like guys did a good job of that each week, resetting, going out to practice, trying to find ways to get better, practicing hard in the games. They did a good job of sticking with it and these last three weeks, they've seen the benefit of them doing that."
The Jets have a chance to extend their streak to four games at the winless Bengals, who have lost their last two games by a total of 13 points. Cincinnati could receive a shot in the arm with the potential return of seven-time Pro Bowl WR A.J. Green and QB Andy Dalton, who on Monday reclaimed his job as the starter.
"When we get rolling on Wednesday, I expect our guys to be the same as they've been through the entire year," Gase said. "We have a new opponent on Wednesday, this is a different coaching staff and we have a lot to learn from all three phases as far as what their schemes going to be and how we're going to play them. It's hard to win an NFL game. Records aside, every game is tough.
"They've [the Bengals] played two teams extremely tough, going to Oakland and then playing Pittsburgh at their place, both those games were tight until the end, so this is going to be a tough game for us. Any time you go on the road in the NFL it's not easy."
Jetcetera
In injury news, RT Chuma Edoga is week-to-week with an MCL injury and LT Kelvin Beachum sprained his right ankle, but will practice on a limited basis throughout the week. Cornerback Darryl Roberts (calf) and LB Paul Worrilow (quad) both have a chance to practice this week, and S Matthias Farley (quad) could return later in the week.