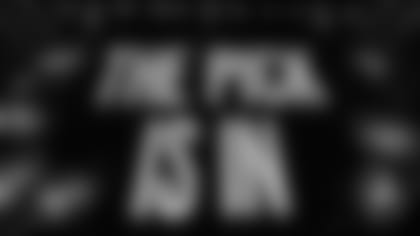 While unrestricted free agency continues to fold, it's always good to remember that the NFL Draft is just about one month away (set to start April 24 in Las Vegas) and that the Jets at the moment have something of a top-of-the-draft bounty at their disposal this year — four of the first 79 selections.
Of course, in the next month anything can happen with those picks as we see how Jets general manager Joe Douglas manages his first draft as an NFL GM. The picks could grow with a tradedown or shrink with a tradeup.
But unless or until that happens, we can contemplate this quartet of selections, Nos. 11, 48, 68 (from the Giants for Leonard Williams) and 79. How many times in franchise history have the Jets had four picks this high or higher in the first three rounds? And how did the Green & White fare in those drafts?
As it turns out, the Jets have had four of the top 79 picks or better eight previous times since the 1967 AFL-NFL common draft. And here are some short takes on how each turned out:
1967 (4 of the top 74) — Two years after the Joe Namath draft and in the first year of the common draft, this one didn't go so well for the Jets. G Paul Seiler out of Notre Dame (Round 1-12th overall), TE Rich Sheron (2-37), DE Dennis Randall (3a-66) and DB Henry (3b-74) combined to play 33 games for the Jets (no starts).
1974 (4 of the top 74) — Better than '67 but not by a whole lot. DT Carl Barzilauskas (1-6) started 48 games his first four seasons in green, then was traded to one of the other green teams, Green Bay. T Gordie Brown (2-31), LB Godwin Turk (3a-58) and DB Roscoe Word (3b-74) all played for the Jets, with Word lasting the longest, two games into his third season.
1980 (4 of the top 69) — Better still, although WR Lam Jones (1-2), leading the way, didn't last nearly long enough despite flashes to justify the Jets trading with SF to get to No. 2 and pluck him out of Texas. S Darrol Ray (2a-40) lasted five years, all as a starter, and LB Lance Mehl (3-69) eight, including his 1985 Pro Bowl season. RB Ralph Clayton (2b-47) played seven games in the NFL, none as a Jet.
1984 (5 of the top 64) — A couple of non-first-round keepers here — C Jim Sweeney (2a-37), who started 158 games over 11 seasons, the last 156 consecutively (if we don't count the three 1987 replacement games), and LB Kyle Clifton (3-64), who finished with 13 seasons, 204 games, 149 starts and a franchise-record 1,471 tackles. DB Russell Carter (1a-10), DE Ron Faurot (1b-15) and TE Glenn Dennison (2b-39) didn't stick around long.
1988 (4 of the top 74) — Similar to '84, two good picks, but both in Round 3. S Erik McMillan (3a-63) was the NFL's Defensive Rookie of the Year, two-time Pro Bowler and take-it-to-the-house machine, while RCB James Hasty (3b-74) started in 111 Jets games and grabbed 24 INTs from '88-94. T Dave Cadigan (1-8) started 51 games, mostly at LG and RG, DB Terry Williams (2-37) lasted only 11 games (no starts) as a Jet and as a pro.
2000 (5 of the top 78) — The Four Aces draft was a bit of aaaa-right. DE Shaun Ellis (1a-12) started 157 games over 11 seasons and reached two Pro Bowls, while DE John Abraham (1b-13) had 64 starts over six seasons and went to three PBs. The two combined for 126 sacks. QB Chad Pennington (1c-16) was a six-year starter whose 66.0% accuracy is still third-best in NFL history. TE Anthony Becht (1d-27) had 133 catches for 1,164 yards and 17 TDs in five Jets seasons. WR Laveranues Coles (3-78) had 459-5,941-37 in his seven Green & White campaigns. Great moments from all.
2006 (4 of the top 76) — This one rivaled 2000 due to the two first-rounders. LT D'Brickashaw Ferguson (1a-4) and C Nick Mangold (1b-29) were the proverbial decade-long O-line anchors — Brick started every Jets game for 10 years, 160 in all, earning three Pro Bowl nods, Mangold started 164 over his 11 years and played in seven PBs. QB Kellen Clemens (2-49) had nine starts in his five Jets seasons combined. LB Anthony Schlegel (3-76) was done as a Jet after one season and four games.
2013 (4 of the top 72) — This one started out with promise. But CB Dee Milliner (1a-9) lasted only three injury-marred seasons, DT Sheldon Richardson (1b-13) made it to four seasons, including NFL Defensive Rookie of the Year in '13 and a Pro Bowl in '14, before his trade to Seattle, and Geno Smith (2-39) had a memorable rookie season followed by three more years to forget before departing. G Brian Winters (3-72) has been a rough, tough contributor for the past seven seasons, although injuries have limited him to only one 16-start season, in '18.