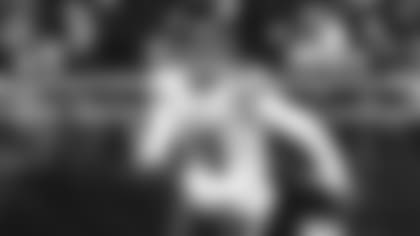 Jets WR Robby Anderson has put together some of his best performances in recent weeks.
In the first 10 games this season he had 25 catches for 359 yards and 2 touchdowns. Since, Anderson ranks ninth in the NFL with 370 yards, including 2 touchdowns on 22 receptions. What's clicked for Anderson?
"I think just opportunities and targets," he said. "If you look at it, the past few games that I've had bigger games, I've had a larger number of targets. I've stated about what I feel the type of receiver I am and I think I've shown that if I'm given the opportunity, I'm able to produce."
Anderson was targeted 53 times through the first 10 games, compared to 32 times over the last four. He became the fifth undrafted free agent in NFL history to eclipse 3,000 yards over four seasons, joining Victor Cruz, Antonio Gates, Drew Pearson and the Jets' former wideout Wayne Chrebet.
For Anderson, his route tree has expanded in Coach Adam Gase's system and he's been asked to run more quick, intermediate routes.
"I think a lot of people are confused by the fact that I'm able to go deep and that means I can only do that," Anderson said. "A lot of people in the NFL can't go deep. They run short routes. I feel like I've always been able to do the things that I'm doing. It just wasn't in the style of offense and play call and things like that."
Anderson has 12 catches of at least 20 yards this season and 2 catches of 40 yards or more. One of those receptions was a a 92-yard touchdown against the Cowboys, which is the franchise's longest play from scrimmage at home. Wide receivers coach Shawn Jefferson said Anderson's knowledge of the offense has allowed him to flourish.
"I think he has a really good grasp of the offense and the little tweaks and stuff like that," Jefferson said. "He's done an awesome job of making contested catches. Those catches are hard to make. Robby is about a buck 70 soaking wet and he's going up against guys that are like 200 pounds and fighting for the ball. He's been coming up with the ball in some crucial moments for us.
"It's just a want-to thing. You can practice it all you want, but in a game, it's you against that guy and who wants it. He's done a hell of a job. He's just been wanting to make those plays and he's doing it."
Anderson's contract expires in March and he wants to remain with the Jets, but understands it's a business. He expressed a similar sentiment after the trade deadline.
"I still feel like I have a lot more to prove, but that's not my main goal," he said. "We're not going to the playoffs, so I'd like to prove I can contribute to things like that. I feel like I'm not going to prove myself to the point until I retire and accomplish my ultimate goals. Until then, I have something to prove."
Jefferson said Anderson can get "a whole lot better. Just think — this is his first year in the offense. It's a fast offense and he's beginning to learn the little nuances of things and it's really showing up big-time on the field."