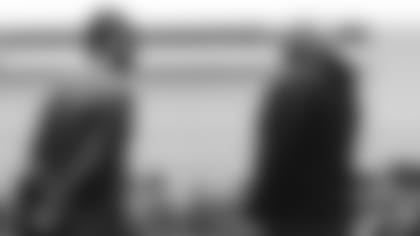 The NFL free agency period officially begins next week and teams around the league are preparing to rebuild, readjust and add value to their rosters through experienced players on the open market. For Jets GM Joe Douglas — who was hired in last June following the team's 2019 FA signings and the Draft — this opportunity will be the first of his career to hold the reins in controlling the Green & White's future.
"I think everyone is always going to try to find value," said CBS Sports analyst Danny Kanell. "I think the thing that you see with the teams that have long, sustained success are the ones that are not only able to find the talent, but that are able to manage it with the salary cap. It's like a hidden secret in the NFL, so it's a big part of the evaluation process that the Jets are going to have to make sure they make the right decisions. Because if you're going to commit a large amount of money, even if it's not the big-ticket items, you're kind of attached to that guy for at least two or three years so you want to make sure you spend wisely."
Last year, the Jets made a splash in March and acquired big-ticket free agents RB Le'Veon Bell and LB C.J. Mosley, both of whom are set to return to the roster this season. And according to Overthecap.com, the team is set to once again have one of the league's higher cap allotments with a projected $0 million, which ranks14th in the league.
"I think that Joe hasn't really seen anything in terms of what his track record is because of the fact that he was hired way past the point that all of these free agents were mostly signed," said ESPN's Field Yates. "I would imagine they know what's competitive in the marketplace and the specific needs that they are going to have. We've been talking about the offensive line but there are some others as well, probably wide receiver is one, whether that's addressed in the Draft or free agency. You can go in there and talk about trying to find value, but you have to pay."
Douglas has mentioned multiple position groups he hopes to improve for the team's future, putting special emphasis on the offensive line. However, there are many more positions on the roster that need upgrading on top of QB Sam Darnold's protectors. The biggest question for the coming weeks and months is whether the GM decides to make those changes through the Draft, or NFL free agency.
"I think he will try to land a big fish or two who can immediately put some teeth in that defense like interior defensive linemen or on the edge," said CBS Sports analyst Jason La Canfora. "You look at Jets needs the last five or six years, I would say a natural edge rusher would be right up there. I think that's something that he probably tries to address. As much as people look at the cap space and all of this availability and say you have to spend it on somebody, personally I'm waiting to see how much they actually do that. ... Winning free agency doesn't usually lead to winning a lot of games."