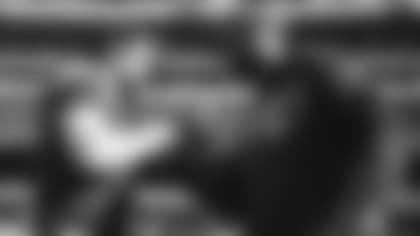 Jets coach Adam Gase believes QB Sam Darnold, who is entering his second year in the same offensive system, will be able to take a step towards mastering the playbook.
"His brain is working so much faster when you go in Year 2 of these things because you know all the little tiny details of what the offense is about," Gase said. "Now it's more about playing faster, adjusting to things that maybe you didn't talk about, adjusting to things that you've never seen before and being able to do those little tiny things so much quicker just because of experience, studying the film and learning from your mistakes."
Gase said Darnold is encouraged when he watches 2019 film because the passer sees how much improvement can be made now that he understands how each play is supposed to be executed. The Jets began their virtual offseason program Monday as position groups will meet four times in each of the next two weeks. Gase feels things are heading in the right direction even though the meetings are virtual, but he said Darnold will need to bring the new offensive faces up to speed, including six new offensive linemen and WRs Breshad Perriman and Denzel Mims.
"Sam is trying to do the right thing where he knows this offense cold and he knows all the little details that he needs to do day in and day out," Gase said. "He has to help all these guys that are new get caught up to speed as fast as possible. He is an extension of the coaching staff in that aspect because he has more experience in this offense than most of the guys that are here and he's going to have to do a good job of just making sure he's on point."
Darnold's original offseason plan was to meet up with the skill players, but everything changed one the shelter-in-place rules came into effect. The San Clemente, CA native has been in his home state training with Jordan Palmer working to improve, per MMQB's Albert Breer, his mechanics among other pre-assigned tasks.
"I know we kind of had discussions before he left at the end of the year, kind of some things to work on," Gase said. "It's really grab a hold of this offense and really learn from studying the film, which he's gone through a lot on his own. This is kind of one of those things we are going to be revisiting here as we start the offseason program."
The 22-year-old franchise signal-caller, who improved in almost every statistical category last season despite a thumb injury that required offseason surgery and a three-game absence due to a bout with mono, is playing in the same system for the first time in his professional career, and Gase likes the skill position players that Darnold will be distributing the football to.
"I feel really good where we're at right now," Gase said. "I know everyone keeps focusing on the wide receiver, which I think will be a pretty good group, but I look at our tight ends, I look at our running backs, I feel like we're in a good spot. Who knows who will be added from here on out. I think Joe has been fairly aggressive when it comes to trading for guys or having to pick somebody up because they got waived. We have a long way to go before we actually start the season, so you never know what actual opportunities will come about."