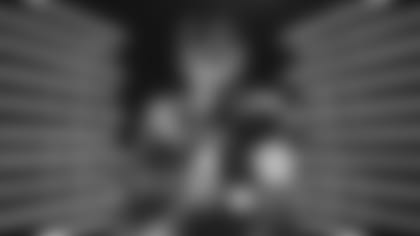 Over the next several weeks, NewYorkJets.com reporters Eric Allen, Ethan Greenberg and Olivia Landis will each give their predictions to a series of questions regarding this year's Jets.
Today's question: What is the next step for Sam Darnold?
EA: Darnold will be a better player in Year 2. The expectations are going to be through the roof largely based on how the red-headed rifleman performed down the stretch last season in addition to the pairing with a new head coach/offensive playcaller in Adam Gase. And while Darnold is a perfectionist, it's not reasonable to expect him to be flawless and carry a team on his shoulders. He is still just 22 and he is learning a third offense in three years. There will be bumps along the way, but Gase is an excellent teacher and the Jets have an intriguing group of skill players around him at wideout in Robby Anderson, Jamison Crowder and Quincy Enunwa, an emerging young tight end in Chris Herndon and maybe the most talented group of running backs in football with Le'Veon Bell, Ty Montgomery and Bilal Powell in the mix. Everything offensively will start with how the O-line performs and that group will be under a microscope. Darnold is unique because he is a special mover, a passer who can buy time and deliver accurate strikes on the run. Gase talks about football being a game where everything doesn't go according to plan around you and Darnold is a natural improviser. While that is a luxury, I expect Darnold to become a better game manager and that means sometimes hitting outlets underneath in order to keep the offense in favorable down and distance situations.
EG: This is a multi-layered question, but the short answer is picking up where he left off. There was clearly a difference in Darnold's play from Weeks 1-9 (55% completion, 1,934 yards, 11 TD, 14 INT) and Weeks 14-17 (64% completion, 931 yards, 6 TD, 1 INT) after he returned from his foot injury. So, how can the 22-year-old take his late-season play into 2019? I certainly think having an aggressive, creative offense with head coach Adam Gase will help, not to mention the additions of RB Le'Veon Bell and WR Jamison Crowder to go along with the players already in house. Darnold has the skill and the necessary weapons around him to take a similar leap that other recent signal-callers tookin their second season such as Carson Wentz, Jared Goff, Patrick Mahomes and Mitch Trubisky. We saw Jamal Adams take a clear leap from Year 1 to Year 2 after the game slowed down for him and I think Darnold is in line to do the same.
OL: At just 22 years old, Darnold has a lot of time and room to grow as a quarterback in the NFL, so if he maintains patience, that is going to be a major key in his development first and foremost. However, when we look at what he can do right off the bat, the most obvious answer is to point towards his last four games of the 2018 season where it seemed like he was doing just about everything right. We saw the biggest jump in Darnold's game from Weeks 14-17 after he returned from a foot injury that kept him out three games. During that stretch, he completed 64% of his passes and threw for six touchdowns and one interception, compared to Weeks 1-9 when he completed 55% of his passes and threw for 11 touchdowns and 14 interceptions. Darnold's new head coach Adam Gase, an aggressive offensive playcaller, will also play a critical role in his development. Finally, the 6'3", 225-pound QB has a pair of new versatile weapons to take some pressure off him and provide more options to the offense in RB Le'Veon Bell and WR Jamison Crowder. With all of this in mind, Darnold should have the tools he needs to take a leap in Year 2.