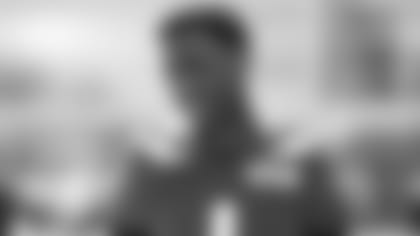 As Sauce Gardner found out by going to the Knicks playoff game with Aaron Rodgers Tuesday night, all eyes are on the Jets in 2023.
The duo went to Madison Square Garden to watch the Knicks take down the Heat in Game 2 of their Eastern Conference second round series after grabbing a bite at Carbone (Rodgers picked up the check) in Greenwich Village.
"It was great," Gardner said. "Just being able to be around a veteran guy like him, a down-to-earth guy. I didn't know he was that funny. Just being able to spend some time with him, it was great, man. Everybody knew who he was. I was able to just try to be in his shadow a little bit. You know what I mean? It was a great feeling."
On Celebrity Row at MSG, Gardner met comedians Dave Chapelle, Chris Rock and Tracy Morgan while flanked by Rodgers and former Rangers goalie Henrik Lundqvist. Gardner, 22, also met actress Jessica Alba, but didn't know who she was. Rodgers, 39, picked on him for that.
"He looked at me like I'm crazy," Gardner said. … "That whole night, he just kept asking me, 'Do you know who that person is?' I'm like 'Bro, that's Amar'e Stoudemire. I know who that is. Now you're just picking on me at this point.'"
On the field, Gardner has caught himself watching Rodgers at practice, noticing how effortless and smooth he operates. The Jets are in Phase 2 of their offseason program, but Gardner is already itching to practice against the future Hall of Fame quarterback throughout the summer.
"I was telling him yesterday that I was just thinking of him making those tough throws that it's going to be hard for me to intercept and break up, but he was just telling me he's going be able to help me out," he said. "Tell me how teams are going try to attack me, tell me the things that I can work on as a cornerback. He was telling me he's got the secret gems that he could just give me. That's not what I was thinking when I say he was going to make me better. But just hearing that from him, it made me respect him even more. He's a great guy.
"I wouldn't expect that, but I'm looking forward to just being able to sit down and watch some film to tell him what we're trying to do, and he could tell us what they're trying to do offense."
Despite a 17-year age difference, Gardner, the reigning Defensive Rookie of the Year, first-team All-Pro and Pro Bowl selection, was offering advice to Rodgers at dinner on what it's like playing in the New York market as he transitions from green and gold to green and white after 18 seasons.
"Me and Aaron just caught ourselves yesterday, just telling each other like, 'I'm built for this,'" Gardner said. "We just had that one-on-one moment out eating dinner. That's all it really is. I was just trying to share with him my experience when it comes to playing in New York and how my mentality was to have the mindset that I'm built for it. Embrace the New York culture, embrace the New York media, the fans, everything that comes with New York instead of trying to be so perfect. At the end of the day, everybody makes mistakes and goes through adversity. So that's what it's all about."
See the best photos of Aaron Rodgers and the Jets beginning Phase 2 of optional team workouts on Monday at 1 Jets Drive.