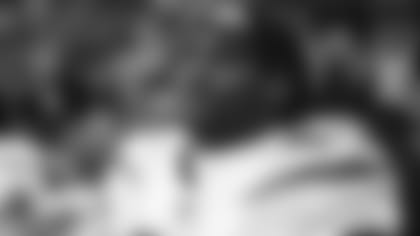 General manager Joe Douglas and his staff have scrupulously gone about improving the Jets roster via free agency and the NFL draft. He has also been adept at plucking productive players off the waiver wire.
Add Quincy Williams to a recent list that includes WR/KR Braxton Berrios and DL John Franklin-Myers.
"First of all, I want to thank everyone for giving me a second chance," Williams, the older brother of DL Quinnen Williams, said at the end of the regular season. "It was a big step for me during the season. I was cut by Jaguars and didn't know where my path would go. I feel like I came into the opportunity that presented itself."
The opportunity that enabled Quincy Williams to amass 107 tackles for the Green & White came about mostly because of injuries to linebackers Jarrad Davis (a signing in free agency), Blake Cashman, and rookies Jamien Sherwood and Hamsah Nasirildeen. His 846 snaps taken were third on the defense behind Bryce Hall (1,126) and his LB running mate C.J. Mosley (1,054).
"One thing about me is that I'm very hard on myself," Williams said. "I'm going into the offseason and will prepare myself like I'm fighting for a position, getting better on things I lack. As I prepare for the upcoming season, it's not going to be like I have the job type of mentality."
Teamed with Mosley, a veteran and the Jets' defensive captain, the twosome were the first Jets to surpass 100 tackles each in the same season since LB Avery Williamson (120) and S Jamal Adams (115) in 2018, and they're the first triple-double Jets LBs since David Harris (123) and Demario Davis (115) in 2014, according to the stats guru Randy Lange of nyjets.com. In addition, his 10.5 tackles for loss was tops on the defense, and his 18 total tackles for loss/no gain (sacks, runs and passes) also led the D.
Drafted in the third round in 2019 out of Murray State, Williams saw limited action with the Jaguars over his two seasons in Jacksonville, limited by injuries and appearing in 18 games (8 starts). Waived at the end of training camp this past August, he was reunited with his brother in early September and played in 16 games in the 2021 season.
Speaking about the chance to play with Quinnen (24 years old), Quincy (25) said: "It's been amazing, everything we dreamed about and talked about when we were younger. We're competitive. In high school [Wenonah HS in Birmingham, AL] we were on the same team and this year brought us back to that. It was amazing. It made my preparation easier."
The brothers made NFL history when they each had a sack in the Week 4 OT win over the Titans, becoming the first on the same team in the same game to get to the opposing QB since sacks became an official stat in 1982.
Quincy said that he plans to spend some time with his brother, though they live in different places, and will be together later in the offseason running camps and sharing some family activities. He realizes that nothing is a given in the world of the NFL and he's committed to solidifying his position on the team.
"The biggest thing to work on is really getting a schedule to start off during the offseason, a daily schedule so then when I get into the season things are easier," he said. "I started late taking C.J.'s schedule and putting my twist on it. Now I'm fine-tuning and harnessing my speed and explosiveness to bring to the game. My weakness has been overrunning plays or being out of my gap. I'll be doing speed drills. I need to better understand when I can go fast and when I can slow it down."
Williams, who was an avid swimmer in high school and qualified for the Junior Olympics in the freestyle and the freestyle medley, said that he feels he grew along with the Jets' young defense as the season progressed.
"I definitely feel like we grew up a lot," he said. "We came to a do-your-job mentality, not thinking about being young, just making the play, trusting our coaches and playing within the scheme. I feel like we took a huge stride and showed what we can be in upcoming years."
See All of the Top Images from the Green & White's 2021 Season