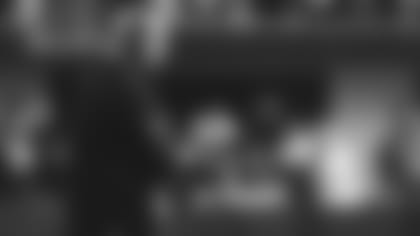 Jets head coach Robert Saleh has begun an immediate search for a new offensive coordinator to replace Mike LaFleur who left the team by mutual agreement on Thursday after two seasons with the Green & White.
"We are casting a wide net," Saleh said. "I'm not looking for particular scheme per se. There are a lot of things that I'm going to learn over the next month, and I just want to make sure that we do everything we can. There's a philosophical fit that we're looking for as well as an understanding of what we're trying to get done and how to utilize our players. Quarterback, obviously, is going to be a big part of it. There's a lot of things I feel like I'm going to learn over the next month. Scheme is not necessarily the focal point."
In addition to finding a new offensive coordinator, the Jets will also be looking to fill the coaching posts at offensive line and wide receiver. Last season, the Jets finished 29th in scoring (17.4 pts/g) and 26th in total yards (318.2 yds/g). But the club is high on its young talent as wideout Garrett Wilson, selected No. 10 overall out of Ohio State, could take home Offensive Rookie of the Year honors after setting rookie franchise marks with 83 receptions and 1,103 receiving yards. Fellow rookie Breece Hall, another home run threat, told reporters this week he's ahead of schedule on rehab following knee surgery after the back averaged 6.88 yards per touch in seven games last season. Versatile OL Alijah Vera-Tucker was also playing at an elite level when he was lost in a Week 7 contest at Denver due to a torn triceps.
"You saw we have a really good core group of guys," Saleh said. "We're going to attack the heck out of O-line with regard to getting healthy and adding to it, and we're going to be aggressive as heck when it comes to quarterback play, making sure that we do everything we can to satisfy that position."
The Jets had nine staring offensive line combinations last season and started three different quarterbacks. Zach Wilson, selected No. 2 overall in the 2021 NFL Draft, went 5-4 as a starter but was in and out of the lineup while completing 54.5% of his passes with 6 TDs and 7 INT. The offense didn't score a TD in Week 16-18 as the Jets started Wilson vs. Jacksonville, Mike White at Seattle, and Joe Flacco at Miami.
"Do I want to be as arrogant as to say I think this is plug and play where we're going to get better? When you can run the ball, can get good special teams and you have a top-five defense, you're supposed to be in the playoffs," Saleh said. "I think that we'll be able to continue on the trajectory that we had been going on. We won four games the first year, got to seven this year and could have been more if we had just been a little bit healthier. I'm very confident that we can get everything done."
Jets Chairman Woody Johnson told reporters that Saleh has already assembled a list of coordinator candidates and the organization hopes the offense can take a similar jump the Jets saw of a defense that finished last in the NFL in total yards in 2021, before jumping to No. 4.
"I leave that up to him and who he is looking at," Johnson said of the search. "I know that he's looking to improve and he's trying to do with the offense with what happened with the defense."
Saleh said the new Jets coordinator will have a say on the team's approach at quarterback in 2023. Ambassador Johnson said he would "absolutely" be willing to spend money on a veteran QB and that position has been the "missing piece" for the Jets, but the team has maintained its confidence in Wilson. While both White and Flacco are free agents, Wilson will have to learn his second offensive system in three years.
"It will be a big challenge," Saleh said. "A big, big challenge. A significant challenge for all the receivers too. And so, there's going to be a learning curve. But the good thing about the group that we have is they love this game. And I know they're going to work their tails off and for the most part they will have a couple of years under their belts of one or two years depending on who you talk to and which player you're talking about. They'll be able to recall on some of that experience, but it is going to be a big OTAs with regards to learning under system."