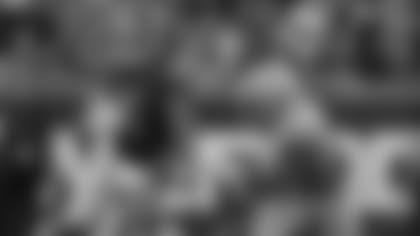 With four picks in the top 79 and eight overall, general manager Joe Douglas has a great opportunity to both fill holes on the roster and add depth in the upcoming draft. Bleacher Report's Matt Miller believes an ideal scenario for the Jets in the first three rounds starts up front at No. 11.
"You're getting Jedrick Wills because he is my top tackle. I believe he would be that left tackle to protect Sam Darnold for the next 10 years," Miller said of the Alabama tackle.
The 6'4", 312-pound Wills has played RT since high school although Miller and most draft pundits believe he can make the transition to LT in the NFL and excel there. The former No. 1 overall recruit in Kentucky is a superb athlete and while he's known for being a menace in the run game, he only allowed 1 sack in 39 games for the Crimson Tide while protecting lefty QB Tua Tagovailoa's blind side.
"The Jets might end up in a position where you might be looking at the second-best offensive tackle and the best wide receiver, which is where it comes down to the best player at a position of need," Miller said. "In my opinion, a left tackle is a lot more important than a wide receiver and they're a lot harder to find. The best offensive tackles in the NFL right now were first-round picks, so it's really a position where you have to spend that premium pick. At wide receiver, we've all called this a historic receiver class. There are going to be some good players to be had in the 40s when the Jets are on the clock."
In the second round, Miller has the Jets selecting USC's Michael Pittman, who started three seasons for the Trojans and played with Jets QB Sam Darnold in 2017. The 6'4", 226-pounder had 101 receptions for 1,275 yards and 11 TDs last season, earning first-team All-Pac-12 honors, and was voted team MVP.
"He's not the fastest guy, but in some ways reminds me of Michael Thomas with how physical he is in his route running that he creates separation just by being physical and being precise with his routes," Miller said. "I'm a fan of Michael Pittman. If he's there at No. 48, I'm jumping all over that. Pittman would give Sam Darnold someone that is going to box out and be physical on breaking routes, slants, he's going to post up in the red zone, and we've seen him have production against NFL-caliber corners and not just in that Utah game."
After back-to-back rounds addressing the offense, Miller believes the Jets should look to add to the defense with their two third-round picks (Nos. 68 and 79).
"I place a big emphasis on edge rusher a little bit more over corner, so I'd be looking at edge rusher with someone like Darrell Taylor from Tennessee," Miller said. "He has quickness, he can stand up and rush off the edge and can put his hand in the dirt but is really going to win with that first-step ability."
Taylor led the SEC with sacks and tackles for loss in both 2018 and '19, totaling 16.5 sacks and 21 TFLs. The 6'3", 267-pounder was named the Volunteers' MVP in '18 and a team captain this past season.
Miller then has the Jets selecting Mississippi State CB Cameron Dantzler (6'2", 188), who started 22 games the past two seasons while totaling 83 tackles, 1.5 sacks, 21 pass defenses and 4 interceptions.
"I don't believe he gave up a touchdown the last three years in the SEC," Miller said, "and definitely has the size to hold up on the edge."