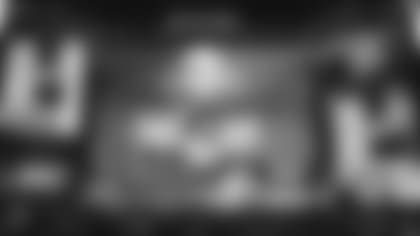 Throughout the offseason, NewYorkJets.com reporters Eric Allen, Ethan Greenberg and Randy Lange will each give their predictions to a series of questions regarding this year's Jets.
Today's question: What intrigues you about the Jets' Second Pick in Round 1?
EA: The suspense is half over now after GM Joe Douglas told reporters this week that "it's a fair assessment" that the Jets will select a quarterback at No. 2 overall. While Douglas didn't tip his hand on which signal-caller it will be, he did say that he feels "really good" about the QB class, plus he pointed to the opportunity to hit the reset button financially. The QB will be the most important pick of all in 2021, but Douglas owns nine additional selections and four others in the top 87 of this draft. I wonder how much Douglas will consider trading up or trading down from No. 23 come selection weekend. The Jets need better front-line talent and overall depth, and the 21 picks over the next two drafts provides Douglas ample opportunity to move. Is there a player on their big board who may slip on Thursday night where Douglas considers using some of his capital to go up a bit? Or will the board fall in a way that the Jets feel comfortable moving down because they have a group of players who they'd be comfortable with and they could add even more picks? Not all first-round picks are built the same, but there are going to be some intriguing names there at No. 23 overall. Douglas can let the board come to him, he can get aggressive and move up for a specific player or he could stockpile even more picks. Last April, Douglas traded down 11 spots in the second round, picked up an extra third-rounder and still was able to get Baylor WR Denzel Mims at No. 59 overall.
EG: The mystery intrigues me. GM Joe Douglas said "it's a fair assessment" the Jets will select a QB at No. 2 overall and with Trevor Lawrence almost certainly being the No. 1 overall pick, that leaves a handful of options at QB. But with the No. 23 overall selection, Douglas can go in a number of directions if he holds onto the slot. The Green & White also have the ammunition to move up from 23 if they want to grab a player they like. They can move back and accumulate more capital, which we saw Douglas do in the 2020 draft. But at 23, most of the mock drafts have the Jets selecting a running back, cornerback, wide receiver, offensive lineman or pass rusher, which illustrates my point -- it's a mystery. It wouldn't surprise me if the Green & White selected a player who played any of those positions. I don't think the moves the Jets have made in free agency have precluded them from adding at the same position. Examples include wide receiver, edge and pass rusher despite the additions of WR Corey Davis, WR Keelan Cole, edge Carl Lawson, edge Vinny Curry and RB Tevin Coleman. The Jets were 2-14 in the 2020 season and have to add talent to both sides of the ball. What types of players will OC Mike LaFleur and DC Jeff Ulbrich want? We know Head Coach Robert Saleh and Douglas preach culture, but we'll see in a few weeks what types of traits they value in each position.
RL: The angle that intrigues me most about the No. 2 overall pick is that it's the start of a draft bounty for the restructuring of the Jets under Douglas and Saleh. Douglas said this week: "As we're sitting here now, we have a lot of opportunity in front of us, 21 picks in the next two drafts, including 10 in the first three rounds." We've mentioned it before but the 21 picks, if all exercised, would be the most in back-to-back drafts since 1997-98, and the possibility of 10 picks in the top 100 the next two years would equal the most in franchise history with 1979-80, when the Green & White also had 10 top-100 picks and selected Marty Lyons, Mark Gastineau and Johnny Lynn in '79, then by Darrol Ray and Lance Mehl in '80. Those five top names were all defensive players. But the draft haul of the next two years doesn't have to be QB followed by defense, but some combination of O and D that produces something close to 10 starters, as Joe D. says you want from your picks in the first three rounds. "With that opportunity," the GM said, "we know we have to make the most of it and hit on these picks."