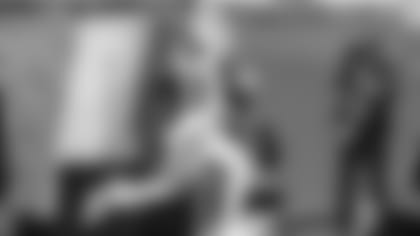 "Okay, you can all say it — it's about damn time."
The Jets put the special in special teams Monday night against the Lions, and coordinator Brant Boyer is finally happy to "have the monkey off my back" as Andre Roberts returned a 78-yard punt to paydirt. Roberts almost scored on another punt earlier in the game and totaled 137 punt return yards. The nine-year veteran's score marked the Green & White's first punt-return touchdown since 2012.
"He does a great job setting up returns," Boyer said. "What he does really well is stretches and cuts and he gets positive yards all the time. He's done it for a number of years and that's why we got him here. He's a proven competitor. He's done it for a long time and he's been in the top 10-12 of this league for a long time."
But the Jets special teams' stellar performance was more than just Roberts and the return game. Kicker Jason Myers booted all nine kickoffs for touchbacks, made six extra points and connected on a pair of field goals. Additionally, punter Lachlan Edwards pinned the Lions at their 10- and 6-yard line and angled his third punt out of bounds to prevent Lions returner Jamal Agnew from returning. In fact, the Jets didn't register a single tackle in coverage because Agnew didn't have a chance to attempt a return.
"I've never seen that before, to be honest. Nine touchbacks, six XPs and two field goals, that's outstanding," Boyer said. "What those kickers did in that game, for them to control that returner and that group of guys, that group is probably top five in the league and that kid didn't get a touch. He's an all-pro returner. That's what we worked on the whole week, trying to control that kid and they went out, followed the game plan, didn't worry about their stats and they went out and controlled them."
Even though Boyer was happy with his unit's performance, he's striving for consistency. He touted the play of Roberts, Charone Peake, Terrence Brooks, Chris Herndon, Trenton Cannon and Parry Nickerson, but what he's happiest with is the fact the veterans are buying in.
"It's one game, it's early," Boyer said. "The guys competed their butts off. The veterans of the whole team literally took veteran leadership and stood up in front of the room and took pride in special teams. They said, 'Let's get this straight. Let's have this be a unit that we can all be proud of in here.' When you have leadership instead of just the coaches, that's exactly what you need. That's what we've been asking for."
The Jets welcome in a Dolphins special teams group that has given the Green & White "fits" in the past as running back Kenyan Drake scored on a go-ahead 96-yard kick return in 2016. Last week, Dolphins returner Jakeem Grant answered a 102-yard house call against the Titans.
"He's gotten us once or twice. He's very dangerous," Boyer said of Grant. "He loves to stretch and cut. He's like a little jitterbug back there. He catches the ball and he's hard as hell to tackle. He breaks a lot of tackles for a little small guy. I think he's got enough ability speed-wise that he causes people problems because what he does is he'll set you up inside and then he's got speed outside to beat you to the edges. He causes you a bunch of problems."