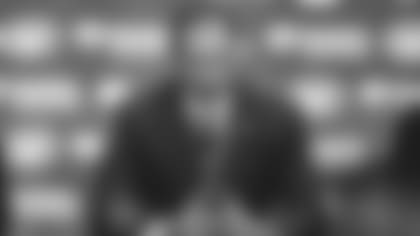 While Jets head coach Adam Gase said the first task on his agenda is to fill out his coaching staff, Gase is eager to begin working with Sam Darnold.
"For me, anytime you start bringing up a young quarterback and start talking about him, I'm going to get excited because that's rare," Gase said. "You don't get that opportunity most of the time, to be able to be a part of a second-year guy. And he played well last year. You see those steps where you say, 'Hey, he can get to this level.' That's what we want to do and hopefully we get this rolling in April and keep going from there."
Darnold will be the first young signal caller Gase will work with in his pro coaching career. When the 40-year-old head coach took over as Broncos offensive coordinator in 2013, Peyton Manning was 38 years old. And when Gase first took over for the Dolphins in 2016, quarterback Ryan Tannehill was entering his fifth NFL season.
"I've been able to, especially in the last few days, really hammer out as much tape as I could on him and start looking at the things that I've seen him do really well, some of the things we could possibly work on," said Gase, who was impressed with Darnold's accuracy and pocket presence upon his film review. "And really it's going to start with him. That's an obvious statement. I'm excited because this is the first time I've been able to get with a guy this young, this early in his career. We're going into year two and he's hungry for knowledge. He wants to be coached. When you have that type of player that does have the physical traits, this is an exciting thing for me to go through."
Gase's first up-close-and-personal look at the 21-year-old signal caller came in Week 2 of last season when the Jets hosted their new head coach and his former team, the Miami Dolphins. In the midst of a 20-6 loss, Darnold became the youngest player in NFL history to throw for at least 300 yards (334). Gase was most impressed with the USC product's fight despite a 20-0 halftime deficit and added, "I know there was stress going on along our sideline because we were thinking we have to hold on…We were thinking if he gets the ball back, he's moving it well right now."
Towards the conclusion of the interview process, the Jets brass and Gase both "phoned a friend" before committing to each other. The Jets rang up future Hall of Fame quarterback Peyton Manning to confirm Gase was the right guy to lead the team and, conversely, Gase phoned Darnold's mentor, Josh McCown, to see if the Green & White were the right fit for him.
"I called him and asked how it was with those two this year," Gase said. "He obviously loves Sam and he kept saying he's only going to get better. When he was hurt and was out, he took all of that in and he learned from his mistakes, [Josh's] mistakes and was better when he came back. So I was really intrigued to watch those games and I did. You could see the confidence. The ball was coming out fast."
While the team is more than just the development of one position, Jets CEO Christopher Johnson said Darnold is "a rare talent" and is a "huge part of this team moving forward."
"We already have a lot of talent on this team right now and we're going to be adding in some more," Johnson said. "There's a lot to developing the whole team, but how can you not make him one of the top priorities?"
Go All Access with the New Head Coach of the Green & White