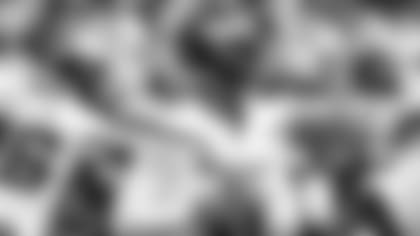 Throughout the season, NewYorkJets.com reporters Eric Allen, Ethan Greenberg and Randy Lange will each give their predictions to a series of questions regarding this year's Jets.
Today's question: What do you expect from the Jets offense vs. Texans in Zach Wilson's return?
EA: Over the past four games, the Jets have averaged 346.5 passing yards a game. That number is the most in the league by more than 60 yards per contest. Since Week 9, they also rank are No. 1in passing first downs (74) and passing TDs (10). And over that four-game run, they lined up with three QBs. When Wilson makes his seventh start of the season, on Sunday in Houston, the Jets will have a third different starter in three weeks. While the offense let too many opportunities slip away last week vs. Miami and will miss RB Michael Carter (high-ankle sprain), the quarterbacks' surrounding cast has taken strides the past month. The Jets believe Wilson was ascending when he went down in New England and the key for him is to quickly get comfortable in the game. And Wilson has a red-hot receiver at his disposal in Elijah Moore, a rapidly developing talent who has scored 5 TDs in five games. Since Week 8, Moore has 24 receptions for 336 yards and 4 TDs. The offense has gotten better and Wilson doesn't have to force the issue. He can't make up for time missed and the Texans, who had 5 takeaways including 4 INTs in their win over the Titans, are tied for fourth in the NFL with 19 takeaways. I think Wilson will show some rust and there is some unknown here, but the offense will continue to produce against a defense that ranks 29th in scoring (27.1 Pts/G).
EG: I expect the Jets offense to continue its hot streak against a defense that ranks bottom-third in most categories. The Texans defense ranks No. 30 in the NFL in total yards (389.3 yds/g), No. 30 in rushing yards (133.5 yds/g), No. 27 in passing (255.8 yds/g) and No. 29 in scoring (27.1 pts/g). Zach Wilson has a favorable matchup against the defense, but he has to do a good job with ball security. Houston is tied for fourth in the NFL with 19 takeaways and forced 5 turnovers in their win over the Titans last week. Meanwhile, the Green & White rank last in the league with 23 turnovers. Wilson has thrown an interception in every game he's started, except in the one he where got hurt, and HC Robert Saleh said that he felt the rookie signal-caller was close to taking a step forward. In Wilson's absence, the Jets have led the NFL averaging 435 yards per game. We've also seen other rookies progress, like Michael Carter and Elijah Moore, so it's possible Wilson was right there, too, when he sustained the PCL sprain. But how will he respond in his first game after missing four? Will he need to knock off some rust or will he make the transition seamlessly? This will also be offensive coordinator Mike LaFleur's first time calling a game in the booth with Wilson under center and the first game John Beck will coach with Wilson starting. As long as the Jets take care of the ball, Wilson and the offense have a good chance to extend the hot streak.
RL: I'm optimistic that Zach Wilson can step in under center and energize the Jets in Houston and beyond. One big reason is Elijah Moore and the wideouts. Some argue Moore has gotten hot while Wilson's been out of action, so might going back to Wilson put a damper on the rookie WR's production? I think that's a backward way of looking at it. Moore has been productive no matter which of Wilson's QB-room mates have been playing so why not more of the same now that the rookie starter is back in uniform? Also, the Jets' offensive rankings have risen, from 31st overall and 30th passing after Wilson's last full start in Game 5, to 21st overall and ninth in the passing game — that's the Jets' first single-digit NFL ranking in net passing yards/game this late in a season since ... wait for it ... 2003. Are a lot of the yards and points coming late in games already decided? For sure, but much of it recently has been appearing earlier, too. It's time to add Wilson's rollout mobility and his downfield dimension, and perhaps some of his learning while observing the last four games, back into the mix and give everyone — players, coaches, fans, opponents — a bigger, better glimpse of what the future holds over the final seven games.