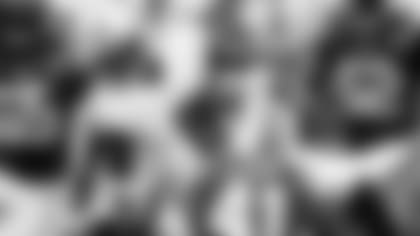 While the Titans offense ranks in the bottom third of the league in most offensive categories, the Jets know they have to account for quarterback Marcus Mariota's legs as he's rushed for 283 yards and seven touchdowns this season.
"You definitely have to be fundamentally sound," safety Jamal Adams said. "He's going by your eyes. He's going to do a lot of motions to look at different things, but you have to continue to do your job at a high level and continue to communicate."
The Jets have played against some mobile quarterbacks this season, headlined by Bears signal caller Mitchell Trubisky, who rushed for 51 yards on six carries. In Week 2, Dolphins QB Ryan Tannehill ran for 44 yards on eight carries and Jaguars QB Blake Bortles ran for 28 yards on three carries including a 23-yard scamper in Week 4. However, Mariota's speed presents a new challenge for the Green & White.
"Obviously he's been up there his whole career from Oregon to now in terms of his remarkable athleticism," said outside linebacker Brandon Copeland, who leads the team with 16 quarterback hits. "We can't focus on that. We know what type of player he is. We have to make sure we really just focus in on the details of our own work and hopefully that'll stop him."
Head coach Todd Bowles said the challenge of concentrating on the 6'4", 222-pound Mariota's ability to run is that's when he hurts you with his arm. The former No. 2 overall pick is completing a career-high 70.3% of his passes and has thrown for 1,886 yards, nine touchdowns and six interceptions in 10 games (nine starts).
"As far as blitzing him and not blitzing him, covering the wideouts they have, trying to deal with the running backs and the tight ends with a huge offensive line is tough," Bowles said. "I think they have a good system and he's working it to perfection right now."
Despite three viable rushing options with Mariota and the running back tandem of Derrick Henry and Dion Lewis, the Titans offensive line has been struggling this season. The offense averages 3.9 yards per rush and the unit has allowed a league-high 39 sacks, which Bowles believes is a result of "a little bit of everything."
"Sometimes it's scheme, sometimes guys aren't open, sometimes he runs and scrambles and they get him," he said. "We've just got to play the whole gamut. You've got to get ahead of him, try to make him throw as well. So, it's a lot of things combined."
Best Images from Thursday's Indoor Practice