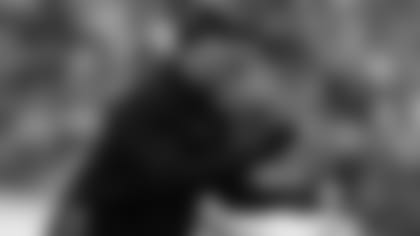 When the Jets hired Nathaniel Hackett to fill their offensive coordinator post on Jan. 26, the reaction seemed to be a mixed bag.
On one hand, Hackett is a well-respected play caller who led two teams to three conference championships – the 2017 Jaguars, the 2019 Packers and the 2020 Packers. On the other, he struggled in his one season as Denver's head coach. In the days leading up to Super Bowl LVII, NFL analysts Rich Eisen, Ian Rapoport and Chris Simms each gave their stamp of approval on the hire.
"I think what [Robert] Saleh said when Hackett was hired was spot on," Eisen said. "That he is an incredibly respected offensive mind that has had levels of success from Aaron Rodgers to Blake Bortles in Jacksonville. … I like it. He's an incredibly positive and sunny-dispositioned person and I think maybe that's what the Jets will need in that locker room for the offensive side of the ball."
Simms added: "He's going to run the right plays into the right looks. That's where he's going to program the offense and the quarterback always. There's never going to be wasted plays. … That's why guys love Nathaniel Hackett. He's going to have the robot programmed and the offense programmed to go 'Hey, they're doing this and we know we want to do this when they do it.' That's where he's going to be special."
Rapoport separates the success of calling plays and being a head coach.
"The one thing, to me, that people don't understand and may never understand because I seem to go through it all the time is that being a head coach and offensive coordinator are different jobs," he said. "He has been in his career a very good coordinator There's a reason he was in that position [to be hired as a head coach]. … The Jets got a really experienced good one in Hackett. I know everyone talks about Aaron Rodgers and whatever, but that's not why they hired him. They hired him because he's very good and I think that'll be big."
Simms believes in Hackett's system, which has withstood the test of time. Hackett's father, Paul, who was the Jets' OC from 2001-4, coached in the NFL from 1981-2010 minus a three-year stint at USC from 1998-2000 . In 14 years in the NFL, Nathaniel Hackett has coordinated the NFL leader in rushing yards (2017) and points per game (2020), a top-10 passing offense (2020, 2021) and the second-best red zone touchdown rate (2017). As a coordinator for the Bills, Jaguars and Packers, those teams went 69-44.
"One, the one thing he is great at is the system is tried and true," Simms said. "Two, incredible detail within the system. Everyone is going to be on the same page, that's the one thing I know about the Hackett family. If you run a slant route, you're going to run it the exact perfect way against that coverage every time so the quarterback knows exactly what to expect because that's how the Joe Montana, Bill Walsh where Paul Hackett was at one point makes it work.
"He's going to really refine things and then he has a magical way of making the quarterback feel like he's part of this with him. When you throw an interception, I throw an interception. That's where I think he's going to be great not only for whoever the starter is, but he's going to be great for Zach Wilson."