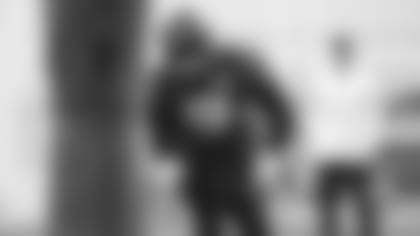 Throughout the offseason, NewYorkJets.com reporters Eric Allen, Ethan Greenberg, Randy Lange and Caroline Hendershot will each give their predictions to a series of questions regarding this year's Jets.
Today's question: What did we learn the first week of OTAs?
EA: Quarterback Zach Wilson has transformed his body since January. Head coach Robert Saleh has thrown the term 'beefy' around and his second-year passer has put on the muscle, telling reporters he is 221 pounds. Wilson (6-2) finished his rookie campaign at 208 pounds and then got to work with Jets dietician Nicolette Mense about a new nutritional attack. With the added weight, Wilson, who plans to play at around 218 in Year 2, said he feels more athletic and faster. The Jets have also talked about a more vocal signal-caller and that comes with comfort and continuity. He showcased his skill set on two plays in 7-on-7 work, firing with great anticipation before Corey Davis broke to the sideline in front of Bryce Hall. Then the natural tools popped when he rolled right and delivered a dime to RB Michael Carter for a long gainer. Just shorts and helmets, but Wilson is confident. Up front, OL Alijah Vera-Tucker, whose versatility was a staple at USC, is excited about the addition of LG Laken Tomlinson and has no issue flipping over to RG. Corners D.J. Reed and Ahmad "Sauce" Gardner are going to be a fun pair to track, two different body types but confident cats who can provide sticky coverage on the outside. Saleh, who said attendance was "outstanding" for the early voluntary OTA sessions, said the '22 Jets are going to be better and the one thing you can notice this spring is that the athleticism has improved all over the roster. But if you want updates on the line play, you might have to wait until training camp as Saleh, with health a priority, won't have many 11-on-11 team drills this spring.
EG: There's not a lot to take away from the team's work on the field because the players are in shorts and T-shirts, but a couple things stand out. Most notably, second-year QB Zach Wilson is physically bigger. He's put on 13 pounds this offseason and currently weighs 221 pounds after taking a diligent approach with his nutrition. HC Robert Saleh referred to Wilson as "beefy" and "thick" although Wilson joked right back that Saleh is the one who is beefy. Saleh also said that Wilson has shown better knowledge of the playbook, has been more decisive in 7-on7 work and is more vocal than last year. While not a lot takes place on the field during OTAs, you could see Wilson working through his progressions quickly in the open media session. Saleh also said the louder a team is at this time of year, the more confident the players are. That's the case this year for the Jets -- they're more confident in Year 2 in the same system as all of their coordinators have returned. The Green & White have a lot of new energy to go with a young core and it's exciting to see how they'll evolve between now and the start of the regular season.
RL: Something we may have learned (besides QB Zach Wilson's "beefiness") is that the offense won't be ahead of the defense this year. As Robert Saleh said on the verge of free agency: "We were young last year and they're going to get better. We get Carl [Lawson] back, we'll add pieces, so we'll be better. What does that look like? I'm not sure yet, but we'll definitely be better." Once OTAs began, DL Quinnen Williams was one of the returning veterans to note the effects of adding those new pieces: "On the defensive side, we've got an amazing group of guys. ... Everybody's sharpening their personal tools, sharpening their personal goals, and just competing every single day, having fun pushing each other to the extreme." Now talk is cheap and the defenders won't be padded up and thudding offensive teammates for another two months. But new vets such as CB D.J. Reed, S Jordan Whitehead and DL Solomon Thomas, plus rookie edge rushers Jermaine Johnson and Micheal Clemons, mixed in with returnees C.J. Mosley, Quinnen and Quincy Williams, John Franklin-Myers, Sheldon Rankins, a healthy Lawson and others sure sounds like a group capable of making major improvements in year two of the Saleh defensive rebuild.
CH: HC Robert Saleh said that everything about OTAs is "neck up." What he meant by that was they would be all fundamentals and technique. Zach Wilson has bulked up from 208 pounds to 221 pounds this offseason. The second-year QB told reporters he is "a better athlete with more weight on," and it was evident throughout the drills. He looked more decisive with his passes and nailed a few deep balls to RB Michael Carter and WR Corey Davis. The defense was also showing off its skills with the additions in the cornerback group. D.J. Reed and Sauce Gardner broke up passes intended for Elijah Moore and Garett Wilson, and maintained tight coverage on all the rest of the receivers during the 7-on-7 periods. Overall, Wilson wrapped up his OTA press conference by saying "we're definitely going to be better" and I can already see the improvement on the team since the end of last season.