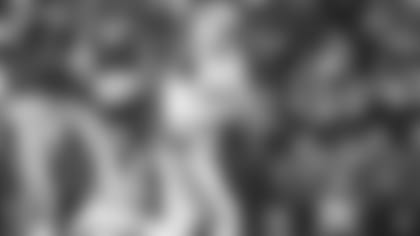 After missing three games with a strained right foot, quarterback Sam Darnold showed few signs of rust in the Jets' 27-23 come-from-behind win over the Bills. With 2:35 remaining in regulation and the Green & White down 23-20, Darnold led the offense on a nine-play, 61-yard scoring drive that culminated with Eli McGuire's one-yard touchdown scamper.
"It's great for his first game back," head coach Todd Bowles told reporters Monday of Darnold. "Obviously he was confident before the fourth quarter comeback, but it just helps him. It just helps him be himself a little more, which he's comfortable with being anyway. But that's really what it does for him."
Bowles wasn't surprised by the rookie's performance as the No. 3 overall pick completed 67% of his passes (16-of-24) for 170 yards with one touchdown and one interception.
"He had two full weeks of practice. He looked good in practice and felt good," Bowles said. "Once you start playing, you just go with the flow of the game and the game felt good to him it seemed. He just played football."
Perhaps the USC product's most impressive play came off-script and resulted in 7-yard touchdown to Robby Anderson that tied the game at 20. Darnold, who was touted for his ability to extend the play in college, evaded pressure and ran from sideline-to-sideline before finding Anderson in the back of the end zone.
"It was a good play. He had his eyes down field the whole time," Bowles said. "You won't make a living doing that, but you have to be a football player at times, too. The play broke down and he was good at making the play when it broke down."
Darnold helped the Jets snap a six-game losing streak in his first game back since Week 9 and while Bowles has seen progress from the first-year pro throughout the year, there is still room to improve.
"We can't have turnovers down there at the end of the field and give up points," Bowles said referring to Darnold's interception in the third quarter. "But he came back and made some plays that didn't faze him and that was good to see from a poise standpoint."
Darnold missed the second series (three plays) after an injury scare when the 6'3", 225-pounder scrambled up the middle on a broken play and appeared to re-injure his foot. Bowles said there's no reason for concern "at this time." 
"I thought I was hurt again," Darnold told Bob Wischusen following the game. "I went up, thought I hurt my foot again. I kind of heard the same noise I thought I heard the first time and I was more bummed out than anything. I got X-rays and the guy said, 'I think you're good.' I stood up on it again after a couple minutes and it was fine. It was just my ankle, so I'm just really happy it wasn't my foot again.
"It was awesome to be able to get back out there and finish the game."
Top Images from Sunday's Victory Against the Bills