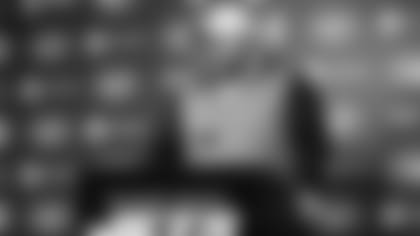 The Jets did make one trade before the NFL's 4:00 p.m. deadline Tuesday, but it was one that was known about for more than a day. The Jets acquisition of a pair of draft picks from the Giants — a 2020 third-rounder and a 2021 fifth-rounder (which can become a fourth-rounder) in exchange for DL Leonard Williams became official once The Big Cat passed his physical with New York's NFC representative.
"It's difficult to say goodbye to a player with that much ability, that much talent, that good of a person," Douglas said of Williams. "We felt the picks that we received for him really gave us flexibility for the future. It's a great opportunity for Leonard and a fresh start for him."
Douglas fielded a number of calls before the deadline on players including S Jamal Adams, RB Le'Veon Bell and WR Robby Anderson, but he insisted the team was not actively shopping the trio.
"There was no fire sale, there was no garage sale going on with these players," he told reporters during a news conference. "We value these guys a lot and ultimately the offers we got for these players didn't equal the value that we had for them within this organization."
The Jets first-year general manager said there are untouchable players on a roster, especially when you talk about franchise quarterbacks. When asked directly if he thought he had a franchise quarterback in Sam Darnold, Douglas said, "I think we do. I think we have a young man who is 22-years-old, who just finished his 17tha game in the National Football Leagu,e and I think we see the growth. I think we see the ups and downs, but we see a guy who's made of the right stuff, a warrior mentality. And we have to take care of him, we have to take care of him as an entire organization but playmakers, protection, everything. We have to wrap our arms around him because I think all you guys could see what he can do when he had that in the Dallas game."
While both Bell and Anderson took to social media and reacted positively to their status on the Jets, Douglas said Adams' belief that he was shopped around was a miscommunication and the third-year safety is part of the team's plans moving forward.
"We were not shopping any of those players that were talked about today," Douglas said. "You guys see Jamal every day — he wears the 'C' patch for a reason. The guy's an absolute warrior, he's the heartbeat of this team and this defense… He's a mission-statement guy. When you talk about the traits you're looking for, that's Jamal."
After a 1-6 start, Douglas said the scoreboard might have said the team is not competitive, but the group is far from than that. He knows the fan base is clamoring for a winner and he said will be looking to upgrade multiple positions through every avenue possible.
"I can tell them I understand their frustration," he said of the fans. "No one is more frustrated than me. I see the frustration on a daily basis. I see it from the fans after the game. I see it from the fans in this building. I can promise you that we come to work every day and there are a lot of people who have a relentless work ethic. They're here every day scratching and clawing trying to figure out ways to make this team better whether it's through coaching, players. We had players here today on their off day grinding, getting extra rehab, getting extra tape. There's a building of people here who care and I can promise that we're doing everything in our power to make sure we don't have a start like this again."