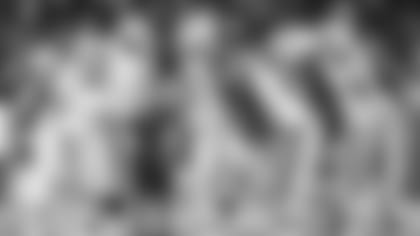 Throughout the season, NewYorkJets.com reporters Eric Allen, Randy Lange and Ethan Greenberg will each give their answers to a series of questions regarding this year's team.
EA: They can prove they are a mature team that is ready to take another step. It's a long season, but there were times in 2017 when the Jets didn't handle prosperity well. After a most impressive effort in a Thursday night trouncing of the Bills, they came back with a lackluster performance in a loss at Tampa. But this team has better personnel and their young players have aged another year. Head coach Todd Bowles and veteran leader Steve McLendon set the tone late Monday night in Detroit, telling players that their 48-17 shellacking of the Lions was just one game. I spoke with a number of Jets this week and they seem to be locked in on the Dolphins and there was not any vibe of satisfaction from their start. The Dolphins are a divisional opponent and there is no way the Jets are sneaking up on them. Miami will come to play, but Adam Gase's group might be walking into a hornets nest. General manager Mike Maccagnan is building a talented roster and Bowles is shaping the identity of this group. He wants a balanced attack on offense and a swarming, attacking defense that turns teams over and gets off the field on third down. If you add to that a solid special teams group, the Jets are going to be an interesting club wire to wire.
RL: "Prove" is a strong word but they can show that as upbeat as they were in the week after Detroit, they still have a collective even keel. They can't afford to think they can just roll their helmets onto the MetLife pitch against the Dolphins, considering they're 2-4 at home vs. Miami since 2012 and they've had only one other season 2-0 start in that same span. Sam Darnold can show his road debut was no fluke by putting together another strong, low-mistake game in his home debut before Jets Nation, and his blockers can show they can protect the new QB just like they did in the final three quarters Monday night, this time against a formidable Cameron Wake/Robert Quinn pass rush. The defense can demonstrate that its takeaway prowess, run-stopping capability and red zone mastery are not just one-night things against Ryan Tannehill & Co. The special teams can validate that they really can be special with continued successes from Jason Myers and Lachlan Edwards, more strong returns from Andre Roberts, and crisp kick coverage against KR Jakeem Grant and old foe Danny Amendola on punt returns. And the team can show a jam-packed stadium that this will not be a home season for sitting on hands, that the fans will be needed and will be rewarded for each and every MetLife game this year, starting with the Dolphins.
EG: The Jets can show that they're ready to take the next step as a team. I don't expect the offense, defense and special teams to repeat Monday night's performance, but if they have a solid showing, consistency will start to build. Throughout the week, the players have been adamant about putting Week 1 in the rearview and have continued to zero in on the Dolphins, which shows maturity. On a micro level, many position groups have something to prove, but I have my eyes in the trenches. Following the preseason, there were tons of external question marks surrounding the offensive line considering all five starters didn't play in a game together until Week 1. Despite Lions DE Ziggy Ansah registering a pair of sacks, the line played very well. This week, they have a taller task with Cameron Wake and Robert Quinn on the outside. Earlier this week, head coach Todd Bowles said when Wake and Quinn on the field, it sometimes feels as if they're six rushers instead of four. On the other side of the ball, how the Jets would apply pressure on the opposing quarterback was a hot button topic in the offseason. The Green & White didn't come away with any sacks, but got good pressure on Matt Stafford last week. If they can get to Ryan Tannehill, the defense should have another good performance in front of their home crowd, which typically leads to some form of dancing.