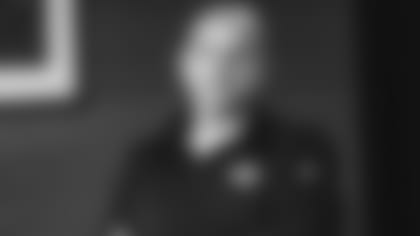 Throughout the offseason, NewYorkJets.com reporters Eric Allen, Ethan Greenberg, Randy Lange and Olivia Landis will each give their predictions to a series of questions regarding this year's Jets.
Today's question: What are your initial impressions of new Jets HC Robert Saleh?
EA: For a man who started his adult life working in the financial industry, the word I think about when it comes to Robert Saleh is "investment." The mantra might be "All Gas, No Brake," but Saleh, an excellent chess player, just placed his stock into the New York Jets. Saleh gave us an insight into how he will approach his players, saying the investment the coaches put into the Jets has to be equivalent to what the coaches put into their own children. He looked at the Jets' leadership team of Christopher Johnson, Joe Douglas and Hymie Elhai and the Dearborn, MI, native felt like he was talking to people in his community. Saleh has already shown the faith in his coaching staff, trusting Jeff Ulbrich to call the defensive plays and hiring a young man, Mike LaFleur, in his early 30s, to run his offense. I received a text after the news conference that read: "Saleh is the kind of guy you'd love to have over to dinner. He changes people into believers." There is a ton of work ahead for Saleh and the Jets, but he is going to invest every day and the Jets' future prospects are promising.
EG: Before hearing Saleh speak to the media, players and analysts spoke glowingly of the new Jets head coach. I now understand why. I think Saleh will bring a calculated, detailed, approach to the team that demands excellence. How could you not love hearing him explain his mantra "All Gas No Brake" in terms of not just effort, but everything that goes into preparation? What stood out to me was when Saleh said he understands the NFL is a business, but said it's a league about investing in people. Specifically, the players. He said you have to invest in them to the same amount you would your children, and when players know you care about them, that's when you get their best. I think the players will really enjoy playing for Saleh. After hearing GM Joe Douglas and CEO Christopher Johnson discuss what they want in their new head coach -- someone with a vision, someone who knows what he wants the identity of the team to be and someone who is a leader with communication skills -- Saleh definitely seems to check all those boxes.
RL: I recall a story from early 2001 in which Wayne Chrebet talked about hearing his new head coach, Herm Edwards, speak on a radio interview after getting the Jets gig. Chrebet said he was ready to stop his car, put on the pads and start practicing right then and there. I suspect Robert Saleh's first remarks on Thursday as Jets coach had a similar effect on the current Jets players. He didn't have as much of the Preacher Herm thing going but came across as a committed teacher type — "integrity, passion, ability to connect," in GM Joe Douglas' triumvirate of qualities. My major takeaway from Saleh's newser: how much he wanted this job — "I felt like I was back home ... I'm supposed to be here" — and what he thought of the players he was about to coach — "I do believe there's a lot of talent on this roster." Coachspeak? Perhaps. But Saleh has the attention of the Green & White, not to mention Jets Nation when he says, "We cannot wait to go on this journey with you."
OL: My first impression of Robert Saleh as the new head coach and leader for the New York Jets was a positive one. He's exudes confidence in both who he is and the values he prides himself, and he seemed sure of how he wants to proceed as a head coach. He's a coach that has spent time under quality leaders and coaches in the NFL, and has allowed his own story and experience to shape him into the coach and man he is today. Throughout the interview process, we heard many times — from both Joe Douglas and Christopher Johnson — that leadership, character, integrity and communication skills were of the utmost importance during this head coaching search. Immediately it is obvious why Saleh was the perfect fit for this job, as he displayed all of those qualities. After hearing him speak on his relationship and collaboration with Douglas, and how he plans to move forward with the players and his staff and the people at the organization, I am confident that the New York Jets have found their leader and their coach.